Donald Trump, swamp thing
Drain the swamp? Trump lives in the swamp.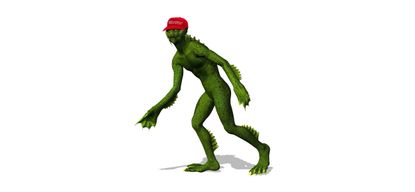 (Image credit: Illustration | Image courtesy iStock)
Sign up to our 10 Things You Need to Know Today newsletter
A free daily digest of the biggest news stories of the day - and the best features from our website
Thank you for signing up to TheWeek. You will receive a verification email shortly.
There was a problem. Please refresh the page and try again.
As the Republican push to replace ObamaCare was falling apart last month, Trump booster Matt Drudge offered a Zen koan of a tweet: "The swamp drains you."
Drudge's phraseology, of course, was a reverse nod to the Trump campaign's promise to "drain the swamp" of Washington, D.C. — the "swamp" being a capital city full of corrupt lobbyists and politicians demanding "pay-to-play" access fees and a revolving-door scheme in which said politicians turn into said lobbyists.
We Beltway types reflexively roll our eyes at such rhetoric. It's the emptiest of empty campaign promises, right there with "eliminating waste, fraud, and abuse" in the federal budget. It's not that we don't see the grip that money exerts on the political process. It's that, for a generation, we've watched money consistently move faster than reforms aimed at curtailing or exposing it.
Subscribe to The Week
Escape your echo chamber. Get the facts behind the news, plus analysis from multiple perspectives.
SUBSCRIBE & SAVE
Sign up for The Week's Free Newsletters
From our morning news briefing to a weekly Good News Newsletter, get the best of The Week delivered directly to your inbox.
From our morning news briefing to a weekly Good News Newsletter, get the best of The Week delivered directly to your inbox.
When Chicago's legendary lawmaker Dan Rostenkowski died in 2010, a former member of the Ways and Means Committee, the House panel that writes national tax policy, recalled that the chairman favored Morton's The Steakhouse as an informal hub of bipartisan dealmaking in the 1980s: "The members would all go there and some lobbyist or group of lobbyists would pick up dinner … There would be steaks and lot of carousing." The restaurant was known as "Rosty's Rotunda" — until, that is, Rostenkowski pleaded guilty to mail fraud and served 17 months in prison.
Mad Men-style Washington dealmaking was eventually smashed by public revulsion at various ethics scandals that helped spark the operational reforms of the "Gingrich revolution" in 1994. Later came campaign-finance reform and the "lobbyist gift ban." Yet can anyone plausibly claim that Washington has become less "swampy" since the Rosty era? Of course not. Money in politics has simply receded to the shadows.
But not all of this dark money is in the shadows. Sometimes the cash lies out in the open, sunbathing for all to see — as in the Trump administration, planted thick as it is with billionaires, multimillionaires, former Goldman Sachs executives, corporate lawyers, and alt-media mavens with ties to a hedge-fund fortune.
Trump World has a couple of tactics to evade charges of "drain the swamp" hypocrisy. The first is to assert that by "swamp" Trump generally meant bureaucrats who have "wielded and peddled influence in this city for too long." But that's laughable; after adopting "drain the swamp" as a campaign slogan in October 2016, Trump released a five-point ethics reform plan specifically targeting lobbyists.
The second is to imply, while money in politics is inherently corrupting, money in money, if you will, is a sign of competence, and even virtue. "I want people that made a fortune," Trump said in December. "The president has brought a lot of people into this administration, into this White House, in particular, who have been very blessed and very successful by this country and have given up a lot to come into the government by setting aside a lot of assets," said White House Press Secretary Sean Spicer last week. These aren't people getting rich off the government, we're told. They're rich people who can fix the government.
As long as the fortune-makers are now working on behalf of "the people," it doesn't matter if, say, the president is a ruthless, vendor-stiffing scoundrel who lines his and his family's pockets with taxpayer-funded weekend jaunts to Trump-branded properties, and the federal employment of whose daughter and son-in-law stinks to high heaven for reasons too numerous to note here.
But set all that aside for a moment.
What does any of this swamp-draining business have to do with health-care reform or the failure thereof? There is a case to be made that major stakeholders in the pharmaceutical, hospital, and insurance industries "sold out" by cooperating with the Obama administration during negotiations over the Affordable Care Act. But I doubt that's what Drudge meant by his suggestion that the "swamp" had "drained" Trump. These industries were cool, at best, toward House Republicans' failed ObamaCare alternative.
A clue to Drudge's thinking came in a piece written by the white nationalist Richard Spencer urging Trump to dump the American Health Care Act, suck it up, and embrace Canadian-style single-payer insurance system — and then get on with the more viscerally appealing businesses of making America great for white people again:
Mike Cernovich, another figure popular in so-called alt-right circles, has similarly embraced single-payer health care as well as "some form of universal basic income." Spencer calls his surrender to universal health care a "taking the red pill": a necessary concession to social-democratic reality that whites must make in solidarity with one other until such time as "we have a European nation" once again.
Forget the odious substance of Spencer's thinking and ponder the more prosaic notion that, as a polity, we could leap from the current system of ObamaCare+Medicare+Medicaid+employer-sponsored insurance to a Canadian-style system without wading into the "whirlpool" of "arcane policies" and "regulations." It's simply staggering. And, astonishingly, Spencer says Trump is the naive one.
What Drudge and the likes of Spencer seem to share, in their varying degrees of racial panic, is a contempt for technocratic politics of any kind, whether center-right or center-left. The process that led to the ill-fated AHCA was distinctly monopartisan. There was arm-twisting, to be sure, but nothing of the sort we associate with famed institutional maestros like Lyndon Johnson or Tip O'Neill. But even that level of in-the-weeds engagement is too much to bear for the twisted idealists of the alt-right.
Somewhere in the Great Beyond, Dan Rostenkowski is laughing over a steak and scotch. He is also deeply confused at what has become of American politics.
Continue reading for free
We hope you're enjoying The Week's refreshingly open-minded journalism.
Subscribed to The Week? Register your account with the same email as your subscription.
Sign up to our 10 Things You Need to Know Today newsletter
A free daily digest of the biggest news stories of the day - and the best features from our website
Scott Galupo is a freelance writer living in Virginia. In addition to The Week, he blogs for U.S. News and reviews live music for The Washington Post. He was formerly a senior contributor to the American Conservative and staff writer for The Washington Times. He was also an aide to Rep. John Boehner. He lives with his wife and two children and writes about politics to support his guitar habit.