Save MSNBC!
Liberals are making money hand over fist for the network, and the CEO is furious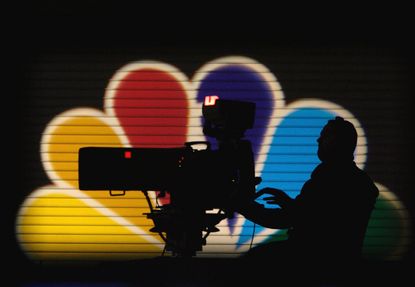 (Image credit: Getty Images)
Sign up to our 10 Things You Need to Know Today newsletter
A free daily digest of the biggest news stories of the day - and the best features from our website
Thank you for signing up to TheWeek. You will receive a verification email shortly.
There was a problem. Please refresh the page and try again.
Immediately after Donald Trump was elected, center-left media operations spied a business opportunity. The New York Times spent a record-breaking sum on an advertising campaign about how a free press was critical to the operation of democracy (and raked in the subscribers), while The Washington Post chose a faintly ridiculous new slogan: "Democracy Dies in Darkness." Meanwhile, new liberal viewers raced toward MSNBC — traditionally the cable news laggard, it now leaped ahead in the ratings rankings. Rachel Maddow, the network's liberal star, has been the top cable news show in the "key demo" (TV-speak for people aged 18-49, which advertisers love best) for two months — something that was utterly inconceivable before the election. Profits are up at NBCUniversal.
However, across the center-left media, more conservative management quickly moved to undermine the liberal-friendly business strategy. The Times brought on Wall Street Journal vet Bret Stephens as a columnist to make bad faith arguments against climate policy, leading many liberals to cancel their subscriptions. MSNBC has gone even further, actually attempting to ditch its entire brand as a liberal network just as it is starting to pay off handsomely.
Ryan Grim reports that MSNBC's dizzying screech toward the mushy center can be pinned on CEO Andy Lack, who took charge in early 2015. The most recent anti-liberal moves — hiring Greta van Susteren from Fox for a 6 p.m. show in January, hiring bowtied climate change denier George Will as a contributor this week, and reportedly considering the odious Trump lickspittle Hugh Hewitt for a primetime show — is actually part of a longstanding program to purge all the liberals from the network. Lack started by axing all the liberal daytime shows, and replacing them with straight news, and then got rid of Ed Schultz and Al Sharpton. Melissa Harris-Perry was fired after an acrimonious dispute with management became public. (Incidentally, all this meant getting rid of most of the network's non-white on-air talent.)
Subscribe to The Week
Escape your echo chamber. Get the facts behind the news, plus analysis from multiple perspectives.
SUBSCRIBE & SAVE
Sign up for The Week's Free Newsletters
From our morning news briefing to a weekly Good News Newsletter, get the best of The Week delivered directly to your inbox.
From our morning news briefing to a weekly Good News Newsletter, get the best of The Week delivered directly to your inbox.
The big three primetime liberals — Chris Hayes, Rachel Maddow, and Lawrence O'Donnell — Lack was apparently saving for last. But the trio's exploding ratings have messed up his plan (Hayes also had the bad manners to win the only Emmy in all of cable news in 2015). One anonymous source told Grim: "The entire primetime lineup is doing record numbers and Lack can't stand it. It makes him furious."
If Lack thought his plan made good business sense, he was dead wrong. There was no real ratings bump for his middle-of-the-road replacement shows in 2015-16, and they're now doing much worse than the liberal primetime lineup. His original replacement for Sharpton was a disaster. Van Susteren's show is missing out on much of the anti-Trump ratings gold, losing audience share compared to shows both before and after it. On the other hand, Lack never considered touching (former Republican congressman) Joe Scarborough's three-hour morning show, despite it doing wretched ratings for most of its existence.
MSNBC's original drift to the left during the Bush years made reasonably decent business sense. There are a lot of liberals and Democrats in America (Hillary Clinton did win the popular vote, after all), Fox already owns the conservative space, and CNN has straight news. Might as well cater to the left and see what you get. Because liberals are younger than conservatives and old people watch TV, a liberal MSNBC wasn't as profitable as Fox, but it was a modest business success — and entrenched a (somewhat undeserved) brand for MSNBC as the left-wing network.
Now that Trump has massively energized the left, liberals are suddenly hungry for political news and commentary, and MSNBC's old "lean forward" strategy is reaping a monster profits harvest.
It is a bit surprising that cable news would get so much of the anti-Trump crowd's attention, given the long-term decline in cable viewership, especially among the young. But that fact in itself ought to lead to rejoicing in the executive suite. Media analysts have long been watching the increasingly advanced age of cable news viewers, and the plummeting minutes of television watched among the young, and wondering when the actuarial tables might extinguish cable news altogether. But now we see new life breathed into it again.
Somebody concerned with MSNBC as a business would conclude that, at least for the moment, liberal content is what gets eyeballs — and more importantly, new and younger ones. Such a person would unquestionably be probing to see where else those viewers might be found, and how better to cement their watching habits. (Five minutes with any ordinary Democrat will tell you why Van Susteren's show is lagging. Though she has toned down her conservatism a bit, liberals don't want to watch a Fox News has-been.)
But what we see now is that large corporations are not natural homes for liberal ideas. Rich people are generally conservative, and large corporations are almost always run by rich people. This skews their worldview — and can trump the quest for profits.
Continue reading for free
We hope you're enjoying The Week's refreshingly open-minded journalism.
Subscribed to The Week? Register your account with the same email as your subscription.