President Trump torched his legislative agenda by firing Comey
There goes health care and tax reform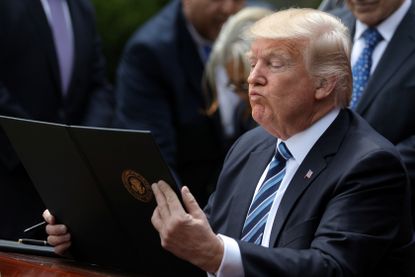 (Image credit: REUTERS/Carlos Barria)
Sign up to our 10 Things You Need to Know Today newsletter
A free daily digest of the biggest news stories of the day - and the best features from our website
Thank you for signing up to TheWeek. You will receive a verification email shortly.
There was a problem. Please refresh the page and try again.
Despite the fact that Republicans control all three branches of government, President Trump has managed to score no major legislative victories in his first 100 days in office. And the firing of FBI Director James Comey may well ensure that he won't do so in the rest of his term either.
It may seem mystifying but Trump, by all accounts, simply didn't anticipate that booting the man who was investigating his ties with Russia would engender such blowback. He figured that because Comey had endeared himself neither to Republicans (who are upset that he didn't indict Hillary Clinon for using an unsecured email server for classified communication) nor Democrats (who are upset because he reopened the email investigation weeks before the election), Republicans would pat Trump on the back and Democrats would rejoice.
To say that this was a miscalculation of epic proportions is an understatement.
Subscribe to The Week
Escape your echo chamber. Get the facts behind the news, plus analysis from multiple perspectives.
SUBSCRIBE & SAVE
Sign up for The Week's Free Newsletters
From our morning news briefing to a weekly Good News Newsletter, get the best of The Week delivered directly to your inbox.
From our morning news briefing to a weekly Good News Newsletter, get the best of The Week delivered directly to your inbox.
The FBI directorship was made a 10-year position in 1976 precisely because it is charged with checking malfeasance by public officials and therefore needs to be shielded from political influence. And although the president has the constitutional authority to sack the director, he is supposed to do so only in the rarest of circumstances — not because, as Trump put it, he "wasn't doing a good job." In the last 25 years, an FBI director has been booted precisely once when President Bill Clinton ousted Williams Sessions in 1993 for using bureau funds for personal expenses.
Trump's move, which many Democrats have convinced themselves is a Watergate-style cover-up, will only strengthen their resistance, making Republicans more impotent in the remaining three months or so days that Congress is in session than they have been in the past 100-plus days.
Thanks to President Obama's sky-high approval ratings when he entered the Oval Office, by this time in his term, he had ramrodded through Congress an $800 billion stimulus package, an expansion for federal funding for CHIP (a children's health insurance program), a $400 billion omnibus spending bill, and the auto bailout. By contrast, President Trump, who boasts "no administration has accomplished as much as me," has practically no major victories in Congress. Sure, he has signed 28 bills, but most of them are trivial housekeeping measures. His first attempt to repeal and replace ObamaCare even went down in flames when House Republicans were forced to pull back because he couldn't scare up enough votes from his own party to pass it. His second has yet to make its way through the Senate.
Republicans were trying to make up for lost time by sequencing an ambitious agenda on a very tight timeline where if one piece slips, everything falls apart. But the Comey fracas is going to make that well nigh impossible to pull off given that Republicans now have to add another item to their already packed calendar and confirm Comey's replacement.
This wouldn't have been a big deal under ordinary circumstances. And if Republicans were to quickly acquiesce to Democratic demands for a special prosecutor or an independent investigation into Trump's Russia ties, they might be able to stay on track. But House Speaker Paul Ryan and Senate Majority Leader Mitch McConnell have both adamantly rejected that idea. This will give Democrats the pretext to drag out the hearings to ensure that the new director has the independence and the integrity to hold the administration accountable.
The problem this simple loss of time poses for the Republican agenda cannot be overstated. They have a very slim 52-vote majority in the Senate, eight shy of what they need to avoid a Democratic filibuster and pass their health-care and tax reform proposals separately. Hence they have to do them together through a parliamentary procedure called reconciliation. The big advantage of this procedure is that it requires only a simple majority to pass. The big disadvantage is that the final bill cannot add to the deficit.
To meet that condition, Republicans need the savings from reforming ObamaCare to partially offset the the $4-6 trillion revenue loss over 10 years from Trump's tax cuts. But the House ObamaCare repeal-and-reform bill is pretty much dead on arrival in the Senate, where few Republicans support it. This means that the Senate has to write its own bill from scratch, something it has barely started doing, and then pass it. After that, both bills need to be merged into one in committee, scored, and put up for a revote.
Rinse, wash, repeat for the tax cut bill — except that the House actually hasn't even started writing it because the Trump administration has yet to send it a detailed proposal beyond a single-page outline of its wish list (which was admittedly quite promising).
As if this wasn't a tall enough order, all has to be accomplished before the 2018 budget resolution comes due in August and the old budget resolution expires. But at that point, Republicans also want to reignite their fight for funding a border wall and an infrastructure overhaul while also prodding reluctant members of both parties to raise the debt ceiling to avoid a government shutdown.
Even if Republicans worked like a well-oiled machine — which they are not — they would have a hard time getting all this done. But post-Comey it will take a miracle.
Indeed, in a small sign of things to come, Sen. John McCain (R-Ariz.), just reversed his previous vote on overturning an Obama-era regulation to prevent methane gas from leaking on public lands. Instead, he joined two other Senate Republicans to defeat his own party's bill — and he very well may have done it to register his disgust with McConnell's defense of Comey's ouster.
Unless something dramatic changes, odds are that the rest of this fiscal year is going to be a near legislative zero for Trump and Congressional Republicans. And when they return in the next one, many of them will be more risk-averse, given that they'll face re-election in 2018, and therefore even less willing to take hard knocks for the president. No one should be surprised if they abandon a major ObamaCare overhaul and push only some lame version of Trump's tax cuts.
Many Republicans weren't ecstatic about Trump's election but hoped that, despite his flaws, they'd be able to pass major legislation because at least they'd have someone in the White House who'd sign their bills. The Comey debacle is a turning point that will expose this to be wishful thinking. A chaos-causing president who lacks basic discipline is no help to anyone.
Continue reading for free
We hope you're enjoying The Week's refreshingly open-minded journalism.
Subscribed to The Week? Register your account with the same email as your subscription.
Sign up to our 10 Things You Need to Know Today newsletter
A free daily digest of the biggest news stories of the day - and the best features from our website
Shikha Dalmia is a visiting fellow at the Mercatus Center at George Mason University studying the rise of populist authoritarianism. She is a Bloomberg View contributor and a columnist at the Washington Examiner, and she also writes regularly for The New York Times, USA Today, The Wall Street Journal, and numerous other publications. She considers herself to be a progressive libertarian and an agnostic with Buddhist longings and a Sufi soul.