The real lessons of Trump's trip abroad
Don't buy into the Washington groupthink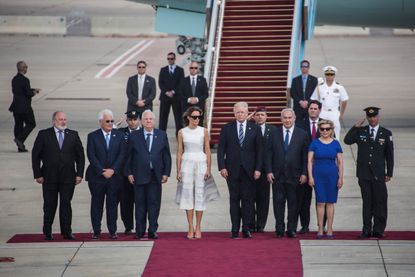 (Image credit: Ilia Yefimovich/Getty Images)
Sign up to our 10 Things You Need to Know Today newsletter
A free daily digest of the biggest news stories of the day - and the best features from our website
Thank you for signing up to TheWeek. You will receive a verification email shortly.
There was a problem. Please refresh the page and try again.
One of the more obnoxious storylines to come out of President Trump's first trip abroad is how he is following the long tradition of presidents embiggening their foreign policy while in office, and thus becoming more mature and adult in the process.
We've seen this movie before, perhaps most famously starring former President George W. Bush, who we are reminded campaigned on a "humble foreign policy" and no nation-building. The 9/11 terrorist attacks changed the course of his presidency and sent the nation to war ever since.
Similarly, Trump, after lobbing dozens of missiles at Syria earlier this year, and then employing sweeping rhetoric on his ambitious tour of Saudi Arabia, Israel, and Europe, is now similarly seen as discarding his "America First" campaign rhetoric, reaching out to religious groups and countries he disparaged as a candidate, and kinda-sorta working with international alliances, such as NATO, that he once disdained as obsolete. What a mature and right-thinking commander in chief he has become, some centrist pundits squawk.
Subscribe to The Week
Escape your echo chamber. Get the facts behind the news, plus analysis from multiple perspectives.
SUBSCRIBE & SAVE
Sign up for The Week's Free Newsletters
From our morning news briefing to a weekly Good News Newsletter, get the best of The Week delivered directly to your inbox.
From our morning news briefing to a weekly Good News Newsletter, get the best of The Week delivered directly to your inbox.
This is obviously nothing but Washington groupthink.
Yes, Bush had to respond to 9/11 rather than fixate on domestic policy and yes, it was good to hear Trump speaking in a more nuanced way about Islam during the first phase of his trip (though still not nuanced enough). But the Beltway conventional wisdom suggests Bush's abandonment of foreign policy humility represented a maturation process. In fact, many of the policies he pursued, ranging from the war in Iraq to Abu Ghraib-style terror detainee practices, were disasters that did at least as much to alienate the Muslim world as Trump's harsh language or travel bans.
None of this is to say that Trump was doing a bang-up job before he went abroad and spoke more moderately. As president, Trump has so far done about as poorly as one might expect of an amateur with little intellectual curiosity and even less command of policy details. But let us also not forget that his election was made thinkable by a series of failures by the very elites who would applaud Trump when he vaguely resembles one of their own.
Republican primary voters have for decades dutifully followed the lead of their party's governing class when choosing a presidential nominee, always picking the safe, hypothetically electable choice after a brief flirtation with some less plausible conservative insurgent. Meanwhile, the Rust Belt has been a Democratic bastion in presidential voting for a quarter century.
It is a major departure from recent political history and norms that these two sets of voters handed Trump the keys to the White House. And while racial and cultural resentments certainly played a role in his election, those resentments have always been with us. Something else went badly wrong to suddenly make those voters willing to take a chance on a brash reality TV star.
"Indeed, as anyone who's spent a bit of time in Washington, D.C., discovers, it's professionally better to be wrong in a crowd than to be right by yourself," Daniel McCarthy wrote after Trump's election. All the people in both parties whose failures made Trump possible can now have a second act by pointing out the president's numerous, obvious shortcomings.
If anything, Trump was too conventional at times during his overseas trip: too cozy with the Saudis, too quick to conflate Shiite and Sunni radicalism, too committed to drawing out a 16-year war in Afghanistan, too solicitous of a foreign policy consensus that has been demonstrably less successful than that which won the Cold War, just as he won uncharacteristic elite praise by impulsively hurling bombs in Syria.
Trump's talk of divorcing American interests and American values can go too far, such as his detestable praise for real and aspiring despots like Philippines President Rodrigo Duterte. But there is a great deal of hypocrisy involved in pretending our interests and values are inseparable, sustained only by judging our foreign policy by intentions rather than results.
An unrealistic foreign policy cannot be a moral foreign policy. President Obama's military intervention in Libya may have been motivated by a genuine concern for human rights. It was just as genuinely a human rights catastrophe for those who had to live with the chaos Obama left in his wake.
"As a Libyan said recently, 'We used to have one Gadhafi, now we have 50", Pope Francis told a newspaper ahead of Trump's Vatican visit.
This type of thinking is especially dangerous as we enter conflicts that are not as black-and-white as fighting the Nazis in World War II or Soviet Communists during the Cold War. And even those wars required alliances with Joseph Stalin and illiberal anti-communist regimes, respectively.
Trump often dissents from an expert consensus that has delivered constant war to little obvious benefit. But his dissent isn't always an unadulterated good, obviously.
That's the real lesson of the Trump phenomenon, and of his first trip abroad: The solution to expert failure isn't giving power to people who don't know anything. It is having experts who practice humility and restraint — the kind of qualities Washington still believes leaders should grow out of.
Continue reading for free
We hope you're enjoying The Week's refreshingly open-minded journalism.
Subscribed to The Week? Register your account with the same email as your subscription.
Sign up to our 10 Things You Need to Know Today newsletter
A free daily digest of the biggest news stories of the day - and the best features from our website