Let the 2020 Democratic primary be a crazy free-for-all
Everyone with a 'D' next to their name wants to run? Good.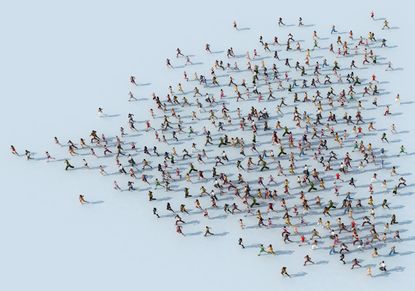 (Image credit: Ikon Images / Alamy Stock Photo)
There was a time in America when our two great parties really did select their presidential nominees in smoke-filled rooms. But in the 1960s, a series of reforms opened up the nominating process, so you didn't have to win the favor of the cigar-chomping bosses to run for president. Anybody could do it.
Today, as Democrats are looking toward the next election, not just anybody but everybody seems to be thinking about running for the White House. Whether you're a senator or a governor or failed former candidate or even a movie star (The Rock 2020? Why the hell not?), everyone with a "D" next to their name seems to be at least mulling a bid. The Hill was able to assemble a list of 43 possible candidates. And you know what? They should run. All of them.
I'll explain why in a moment, but it's plain that President Trump is expanding the field of serious contenders. Less than five months in, his presidency looks to be a disaster, and there's nothing like a president with approval ratings in the 30s to make opposition politicians think that this would be a great time to mount a campaign. Trump has also lowered the bar for experience, preparation, and temperament so much that any Democrat is sure that as the nominee they'd look spectacular by comparison — heck, compared to Trump, your average Labrador retriever looks like a model of keen intellect and thoughtful decision-making.
Subscribe to The Week
Escape your echo chamber. Get the facts behind the news, plus analysis from multiple perspectives.
SUBSCRIBE & SAVE
Sign up for The Week's Free Newsletters
From our morning news briefing to a weekly Good News Newsletter, get the best of The Week delivered directly to your inbox.
From our morning news briefing to a weekly Good News Newsletter, get the best of The Week delivered directly to your inbox.
But the person who really opened up presidential campaigns was Barack Obama. A first-term senator with enormous charisma and potential but far less in the way of traditional qualifications, he decided that fortune favored the bold and took on a candidate whom everyone thought would be the inevitable nominee. After that, people like Marco Rubio and Ted Cruz decided that they didn't need to accumulate decades toiling away on legislation and wait their turn before running for president. What mattered more was talent and timing — and every politician thinks they have the former.
And then there's the experience of Hillary Clinton. You can take many lessons from her defeat, but one of the most painful is that doing everything right doesn't get you any credit with the electorate. No matter how much you know or how much you've done, you can still be beaten by an ignorant clown with a talent for bringing out the worst in the worst people. So why worry about how deep your resume is?
Oddly enough, the 2016 Republican primary campaign can offer a kind of model for the Democrats in 2020. Yes, it was a horror show that gave us Trump. But it was also enormously edifying and enabled Republican voters to express themselves in ways they hadn't been able to before.
First, it gave all those many candidates a chance to test and reveal themselves in a challenging situation. Could Rand Paul win over voters outside his party's libertarian wing? Was Marco Rubio as compelling as people had been predicting? Did Ben Carson know anything about anything apart from brain surgery? Was Chris Christie's Jersey Jerk act appealing after the first five minutes? Was Ted Cruz an actual human person? The answers to all those questions turned out to be the same: No.
More importantly, the free-for-all primary taught the party what its voters really wanted. We might not think about it now as having been particularly substantive, but it clarified many policy questions and made the rift between the party's leaders and its rank-and-file undeniable. It turned out that a plurality of Republicans didn't actually want comprehensive immigration reform — they wanted someone who would promise to build walls and call Mexicans rapists and criminals. They also didn't care about adherence to all the tenets of conservative ideology — they were happy with a candidate who said he wouldn't touch Social Security and Medicare, and pledged to undo free trade policies.
While Democrats don't have much in the way of obvious disconnects between their leaders and their voters, a free-ranging presidential primary will still teach them what those voters care most about. While 2016 did feature a meaningful policy debate in which the more idealistic liberal vision of Bernie Sanders clashed with Hillary Clinton's incrementalist inclinations, the result was that Clinton moved to the left to align better with her party (albeit not while abandoning the pragmatism that rests deep in her bones).
The echoes of that argument are still being felt, and the 2020 primary should make them even louder. For instance, how many of the candidates will make a forthright embrace of single-payer health care? And there will be other issues that need clarification. What does a Democratic foreign policy vision look like, and how would it undo Trump's legacy? What's the most compelling economic message? Is undoing whatever Trump does enough of a program? The more arguments there are in contention, the better chance that the one that triumphs will be persuasive, whether the person who brings it to the table is the one who becomes the nominee or not.
A large field will also test the contenders — the harder they have to work for every vote, the more Democrats will learn who really has the combination of abilities necessary to beat Trump. It's possible that one of the better-known candidates will coast to victory, but there could also be someone few voters know much about right now who turns out to be a stellar candidate.
That doesn't mean that a large primary guarantees a terrific nominee; there are some candidates who run excellent primary campaigns but turned out to be terrible general election candidates (Michael Dukakis comes to mind). But the more competition there is for the Democratic nomination, the higher the chances the primary will produce a nominee and a party ready to win that November. Ten candidates, or 20, or 30? Bring 'em on.

Continue reading for free
We hope you're enjoying The Week's refreshingly open-minded journalism.
Subscribed to The Week? Register your account with the same email as your subscription.