Why Republicans will keep debasing themselves to protect Trump
Defending Trump is demanding new levels of creativity and shamelessness from the GOP. Here's why they keep at it.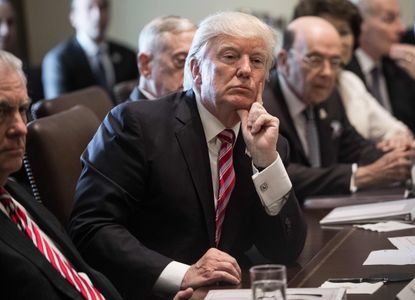 (Image credit: Getty Images)
Being a partisan advocate in a partisan time has its advantages and disadvantages. On the one hand, you don't have to think too much — if all you need to know is that your side is right and the other side is wrong, there's no need to spend hours in agonizing deliberation about where you should stand on every new issue that emerges. On the other hand, you'll often be called on to defend the barely defensible, making yourself look ridiculous in the process. And if what you have to defend is Donald Trump, it's even worse.
He's been making Republicans' life difficult from the beginning, of course, saying and doing one hideous thing after another, whether it was mocking a disabled reporter, encouraging his supporters to beat up protesters, getting into a spat with a Gold Star family, or bragging about his ability to commit sexual assault with impunity. In all those cases it was possible for them to say, "I don't agree with Trump on this, but since I yearn with every fiber of my being for a cut in the capital gains tax, he's still my candidate." But now, with the stakes getting higher, Republicans have to stand behind him in places where his atrocious behavior could threaten his presidency.
Just look at how they've reacted to former FBI Director James Comey's testimony about the pressure Trump put on him to drop the investigation into former National Security Adviser Michael Flynn. A few seized on the fact that according to Comey's notes, Trump said, "I hope you can see your way clear to letting this go, to letting Flynn go," trying to claim that when the president of the United States says, "I hope you can do this," that's not an instruction but a mere expression of sentiment. When that proved too ludicrous to sustain, they offered up a shifting and self-contradictory set of defenses: He never said it, but if he did it was fine, and Comey's lying, except for the parts we don't mind. To that last point, they fell back on claiming, along with Trump himself, that Comey had somehow exonerated Trump by saying that he had told the president that he was not the direct target of an FBI investigation.
Subscribe to The Week
Escape your echo chamber. Get the facts behind the news, plus analysis from multiple perspectives.
SUBSCRIBE & SAVE
Sign up for The Week's Free Newsletters
From our morning news briefing to a weekly Good News Newsletter, get the best of The Week delivered directly to your inbox.
From our morning news briefing to a weekly Good News Newsletter, get the best of The Week delivered directly to your inbox.
Now pause for a moment and think about this: What could it possibly matter whether Trump was or wasn't such a target back a few months ago? To hear Republicans tell it, that fact is like a get-out-of-jail-free card that never expires. But what was most damning about Comey's testimony was his description of how Trump tried to get him to drop the Flynn investigation (an effort that wasn't limited to Comey), which could constitute obstruction of justice — apart from anything Trump might or might not have done with regard to Russia.
Furthermore, it's entirely possible that in the course of their investigations, the FBI, the congressional committees examining the Russia scandal, and the special counsel will find evidence that implicates Trump in some other misdeeds. Or they might not — we'll have to wait to find out, and whether Trump was under investigation before has no bearing on the outcome of those investigations. It's like a mobster telling the judge, "Your honor, what really matters is that no traffic camera caught me speeding on my way to court this morning. So I am obviously innocent and all this talk of racketeering is a baseless insult against my fine character."
And for the president's defenders, it'll probably get worse. Trump has hinted that there are tapes of his conversations with Comey, but now he refuses to say whether he'll turn them over. "Well, I'll tell you about that maybe sometime in the very near future," he said on Friday when asked about it by a reporter. "But in the meantime, no collusion, no obstruction. He's a leaker." For those unfamiliar with Trumpspeak, "I'll tell you about that maybe sometime in the very near future" means "Whether they exist or not, I'm never turning over any tapes." It's in the same way that sometime in the very near future he'll show us his tax returns.
Trump also claimed that he was "100 percent" willing to testify under oath about what he said to Comey. But trust me, he won't — and then Republicans will have to go before the cameras and say that the thing Trump said he was happy to do is something he's absolutely right to refuse to do.
That's not to mention what happens if Trump tries to fire the special counsel.
Don't think it's not possible. Appearing on ABC's This Week, Jay Sekulow — an attorney known for his work with religious right activists who was recently hired to defend Trump — was asked, "Will the president promise not to interfere, not attempt at any time to order the deputy attorney general to fire Robert Mueller?" Sekulow refused to say, replying only that "the president of the United States, as we all know, is a unitary executive ... And I'm not going to speculate on what he will or will not do." The "unitary executive" refers to a controversial theory propagated by conservatives (particularly Dick Cheney) when George W. Bush was president, which essentially says that the president's powers are virtually without limit. It's revealing that the unitary executive theory would be raised by a Trump defender in this context, suggesting that if he does fire Mueller in an echo of Richard Nixon's Saturday Night Massacre, Republicans will be told to say that Trump can do whatever he wants.
Which many of them will do, because Trump's fate is their fate. Lately I've been getting a question from relatives and friends with increasing frequency: Is Trump going to be impeached? When I tell them that as long as Republicans control Congress it's almost impossible, they're disappointed. But it's the truth. An impeachment would only bring electoral catastrophe down on the entire GOP, so if you're a member of Congress, avoiding that eventuality is critical to your own survival.
And that means that while you might be able to voice a reservation here or there, more often than not you're going to have to stand behind President Trump and parrot whatever inane defense he's offering for himself. It can't be much fun, but they sealed their fate when he became their candidate for president and almost all of them stood behind him. Now they have to stay with him, no matter what it costs their conscience.

Continue reading for free
We hope you're enjoying The Week's refreshingly open-minded journalism.
Subscribed to The Week? Register your account with the same email as your subscription.