Obama and Trump both promised peace. They delivered war.
Why American presidents just can't quit war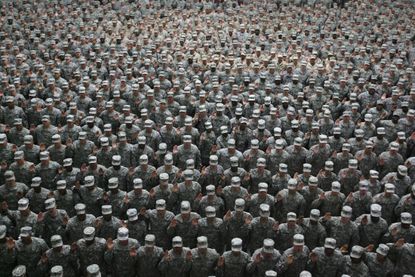 (Image credit: REUTERS/Erik de Castro)
There's an old political joke that goes like this: "They told me that if I voted for Goldwater, we'd be at war in Vietnam within a year. Well sure enough, I voted for Goldwater and now a year later we're at war in Vietnam!"
Everything old is new again. Try this one: "They told me that if I voted for Clinton, we'd be at war with Syria within a year. Well sure enough, I voted for Clinton and less than a year later, we're at war in Syria!"
Before President Trump took office, he didn't want to intervene militarily in Syria in part because he wanted to avoid a confrontation with Russia and focus on ISIS instead. "I don't like [Syrian President Bashar] Assad at all, but Assad is killing ISIS," Trump argued during his second debate with Hillary Clinton. "Russia is killing ISIS. And Iran is killing ISIS. ... I think you have to knock out ISIS."
Subscribe to The Week
Escape your echo chamber. Get the facts behind the news, plus analysis from multiple perspectives.
SUBSCRIBE & SAVE
Sign up for The Week's Free Newsletters
From our morning news briefing to a weekly Good News Newsletter, get the best of The Week delivered directly to your inbox.
From our morning news briefing to a weekly Good News Newsletter, get the best of The Week delivered directly to your inbox.
Then the president started bombing Syria in April. Now Russia has reacted to the downing of a Syrian aircraft by warning coalition airplanes and drones that they're fair game to be targeted if they fly west of the Euphrates river. That includes America's aircrafts.
Hopefully, a crisis between two nuclear-armed powers will be averted. But Trump campaigned on a less interventionist foreign policy, eschewing destabilizing regime change, nation-building, and policing the world. He has governed by deepening our involvement in Syria and giving his defense secretary the authority to set troop levels in our 16-year war in Afghanistan.
We have had two consecutive presidents — Barack Obama and Donald Trump — who have in their own way recognized the limits of American military power in achieving political outcomes across the globe, yet we have been at war the whole time they've been in office. They were preceded by a president who promised a "humble foreign policy," no nation-building, and military involvement only where the exits were clearly marked. But George W. Bush's abandonment of those campaign planks set the United States on a foreign-policy course that has clearly not worked as planned. Still, at least he was operating in the immediate aftermath of the 9/11 terrorist attacks, before all the unintended consequences of Iraq-style regime change were so blatantly known.
Neither Obama nor Trump has that excuse. Obama largely owes his presidency to his 2002 speech opposing the invasion of Iraq and other "dumb wars." Trump won the 2016 South Carolina primary the day after denouncing the Iraq war in terms that got Ron Paul nearly tossed off the debate stage in the same state a decade ago.
Trump has kept up the antiwar rhetoric since assuming office. "We've spent trillions of dollars overseas, while allowing our own infrastructure to fall into total disrepair and decay," Trump told the Conservative Political Action Conference earlier this year. "In the Middle East, we've spent, as of four weeks ago, $6 trillion."
After the crowd, which once cheered such things under Bush, booed, Trump added, "If our presidents would have gone to the beach for 15 years, we would be in much better shape than we are right now, that I can tell you."
Obama and Trump each represented the worst caricatures of antiwar political figures. Obama was seen as an idealistic peacenik with excessive faith in his own diplomatic skills and a propensity to "apologize" for America. Trump is perceived as an isolationist with contempt for foreigners and a desire to construct "Fortress America" to keep them out.
You can quibble with either caricature, but they make both Trump and Obama less effective in arguing against military interventions.
Neither Obama nor Trump were ever as antiwar as advertised either. Obama's "kinetic military action" in Libya repeated many of the jihadist-empowering mistakes that destabilized Iraq while merely avoiding the domestic political consequences of U.S. casualties. Trump has often supported (Libya) or been noncommittal about (Iraq) wars when they start, only turning against them after they have gone badly.
The foreign policy advice presidents receive is predominantly hawkish — almost uniformly so on the Republican side. So is the reinforcement they get from the Washington establishment. Bombing Syria transformed Trump from an "idiot" in hawkish Republican Sen. Lindsey Graham's eyes into the second coming of Ronald Reagan. Obama bombing seven majority-Muslim countries never elicited the same backlash as Trump trying to restrict immigration from them. Meanwhile, Democrats have become more hawkish toward Russia due to the hacking their party endured during last year's presidential election and the alleged collusion with the Trump campaign, now under investigation by a special counsel and several congressional committees.
Things happen all over the world that seem to cry out for some kind of American response. Some are none of our business, but that is often a hard argument to win when people are suffering abroad. Others, like Russian electoral meddling or North Korea's fatal mistreatment of a U.S. citizen, legitimately do merit action of some sort, but everything short of risking war feels ineffectual.
Until some of this institutional bias in favor of intervention changes, we will keep voting for presidents who promise peace but deliver war.

Continue reading for free
We hope you're enjoying The Week's refreshingly open-minded journalism.
Subscribed to The Week? Register your account with the same email as your subscription.