Donald Trump Jr.'s dangerous liaisons
Is the president's son in legal peril?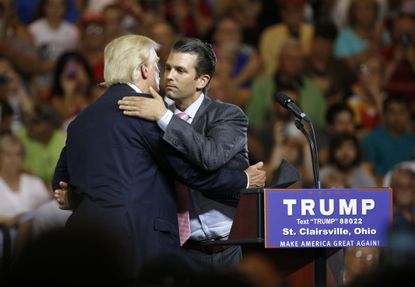 (Image credit: AP Photo/Patrick Semansky)
Sign up to our 10 Things You Need to Know Today newsletter
A free daily digest of the biggest news stories of the day - and the best features from our website
Thank you for signing up to TheWeek. You will receive a verification email shortly.
There was a problem. Please refresh the page and try again.
It has been clear for quite a while that the Russian state intervened in the 2016 election on behalf of Donald Trump. And given the ties between the Trump campaign and various Russian officials and the tendency of Trump's associates to lie about or "forget" meetings with the Russians, there was always the possibility of collusion. It always seemed unlikely to me, however, that clear evidence of such collusion would emerge even if it had ocurred. As it happens, I overestimated Donald Trump's son.
A series of increasingly damaging New York Times stories makes it clear that Donald Trump Jr. was not merely aware of Russian interference in the 2016 election, but actively encouraged it. Make no mistake — this means potential legal trouble for Trump Jr. and political trouble for his father's administration.
On Monday night, the Times reported that Donald Trump Jr. had been informed that a lawyer with connections to the Russian state was offering material that "was part of a Russian government effort to aid his father's candidacy." This morning, Trump Jr. tried to pre-empt the next scoop by posting the emails along with a statement on Twitter.
Subscribe to The Week
Escape your echo chamber. Get the facts behind the news, plus analysis from multiple perspectives.
SUBSCRIBE & SAVE
Sign up for The Week's Free Newsletters
From our morning news briefing to a weekly Good News Newsletter, get the best of The Week delivered directly to your inbox.
From our morning news briefing to a weekly Good News Newsletter, get the best of The Week delivered directly to your inbox.
This led the Times to run with its story, which highlighted an incredibly damning exchange. Told that the Russian government had documents that "would incriminate Hillary and her dealings with Russia and would be very useful to your father," Trump Jr. responded, "If it's what you say I love it especially later in the summer." Trump Jr. then arranged for a meeting between himself, Trump's unpaid campaign manager Paul Manafort, Trump adviser/son-in-law Jared Kushner, and what he believed to be a Russian state official.
Let's pause to observe how remarkable this is.
Donald Trump Jr. was told that the Russian state wanted to use incriminating information to intervene in an American presidential election. Not only did he not report this to the FBI, his response was to welcome Russian intervention and to arrange for a meeting with what he believed to be a representative of the Russian state and two of Trump's closest aides-de-camp. And he put it in writing!
Trump and his apologists tried to focus on collusion as the relevant standard in order to distract from the clear evidence that Russia intervened on behalf of his campaign in 2016. Alas, this strategy didn't take the incompetence of the Trump campaign into account.
It is now beyond dispute that the Trump campaign tried to collude with Russia, while knowing that the Russian state was trying to harm Clinton's chances of winning. Evidence of further collusion may well emerge — as the fictionalized version of Deep Throat observed about the Nixon administration in All the President's Men: "These are not very bright guys" — but what we know now is already enough to constitute one of the biggest scandals in the history of American politics.
In addition to representing a clear-cut betrayal of his country, these emails create a serious potential legal problem for Trump Jr. It is illegal to solicit a contribution of anything of value from a "foreign national … in connection with any federal, state, or local election." This is exactly what Trump Jr. did.
Will he end up in jail? Probably not. His first advantage is that his father, who he sold out his country to help elect, is now in charge of the Department of Justice. And even if Trump can't quash a prosecution, he has the unlimited power to pardon anyone he chooses for any crime. It is more likely than not that President Trump will now pre-emptively pardon Trump Jr., Manafort, Kushner, and anyone else from his campaign implicated in Russian electoral interference.
The president's control of the law enforcement apparatus is one reason the framers established another remedy: impeachment. But this, too, remains unlikely to happen. After all, Senate Majority Leader Mitch McConnell knew about Russian interference on Trump's behalf during the campaign and actively worked to shield it from public view. Unless Trump starts threatening to veto tax cuts or nominate liberal judges to the federal courts, congressional Republicans will continue to protect him no matter how much evidence of impeachable offense accumulates. And, alas, the Constitution has no provision for do-overs, so the tainted election can't be undone.
Which leads us to the final mechanism of control: the ballot box. Trump is already highly unpopular, and it's now clear not only that Russia helped deliver the 100,000 votes that allowed the popular vote loser to win the Electoral College but that the most important members of his campaign knew about it and welcomed it. This won't make it any easier for McConnell to ram his tottering and extraordinarily unpopular health-care bill through the Senate. And while it would take a true wave election for the Democrats to take over the House of Representatives in 2018, this is the kind of scandal that can produce that kind of wave.
Trump Jr. probably won't be punished for his crimes, but if his incompetence leads to Republicans losing their grip on Congress, this would be a much better punishment anyway.
Continue reading for free
We hope you're enjoying The Week's refreshingly open-minded journalism.
Subscribed to The Week? Register your account with the same email as your subscription.
Sign up to our 10 Things You Need to Know Today newsletter
A free daily digest of the biggest news stories of the day - and the best features from our website
Scott Lemieux is a professor of political science at the College of Saint Rose in Albany, N.Y., with a focus on the Supreme Court and constitutional law. He is a frequent contributor to the American Prospect and blogs for Lawyers, Guns and Money.