Trump's survival strategy
On the Russia scandal, the president is now talking only to his most avid supporters. Here's why.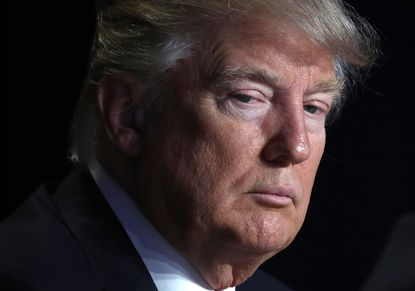 (Image credit: Win McNamee/Getty Images)
Sign up to our 10 Things You Need to Know Today newsletter
A free daily digest of the biggest news stories of the day - and the best features from our website
Thank you for signing up to TheWeek. You will receive a verification email shortly.
There was a problem. Please refresh the page and try again.
When it comes to dealing with the Russia scandal, the Trump administration is in quite a pickle. One administration figure after another seems to have conveniently "forgotten" their meetings with Russian officials. President Trump's 2016 campaign manager and his former national security adviser are being given head-to-toe examinations by special counsel Robert Mueller — and who knows, one or both of them might already have flipped. The president's own financial connections with Russia — particularly the oligarchs who had an unusual interest in funding Trump's projects and buying his properties — provide fodder for Mueller to look deep into his finances. Trump himself admitted on national television that he fired the FBI director in order to quash the Russia investigation. And then of course there's little Donald Jr., who arranged a meeting for himself, Jared Kushner, and Paul Manafort with a Russian attorney for the purpose, laid out explicitly in an email, of obtaining the Russian government's help in destroying Hillary Clinton.
But believe it or not, the administration has a strategy. Get all the facts out now to deal with them as quickly as possible? No. Persuade the broad public that their motives were noble and their actions scrupulously ethical? That'd never work. Their strategy is instead to focus intently on assuring Trump's most rabid supporters that this is all a bunch of fake news, and they can't believe anything they hear. It seems, like most of the tactical moves this administration makes, surpassingly stupid. But there's a logic to it — not a perfect one by any means, but one that might not be as crazy as it seems.
The core of the strategy is to blanket the conservative media, not only with Trumps but also with the rhetoric of resentment that helped the president win the far right's heart. So on Tuesday night, not long after we all read those amazing emails, Trump Jr. went on the program of Fox News lickspittle Sean Hannity to defend his actions, where he was duly praised and served a menu of the plushest softballs. President Trump will follow up by going on The 700 Club to give an interview to lunatic televangelist Pat Robertson (who among other things claims that God warns him of upcoming terrorist attacks with remarkable specificity). There will not be too many persuadable voters tuning in.
Subscribe to The Week
Escape your echo chamber. Get the facts behind the news, plus analysis from multiple perspectives.
SUBSCRIBE & SAVE
Sign up for The Week's Free Newsletters
From our morning news briefing to a weekly Good News Newsletter, get the best of The Week delivered directly to your inbox.
From our morning news briefing to a weekly Good News Newsletter, get the best of The Week delivered directly to your inbox.
When Trump himself talks about this issue, it's usually to tell people that the whole thing is phony and fake. Like this, which he sent out Wednesday:
The only problem is that the "source" who released the email in which Trump Jr. responds "I love it" to a suggestion that he set up a meeting to receive damaging information on Clinton from the Russian government was ... Trump Jr. himself. When The New York Times told him that it was about to publish his emails, he put them up on Twitter. Fake news!
In the Oval Office, "the president is using his relatively light schedule to watch TV and fume about the latest scandal," Politico reports. So he has fallen back on a familiar argument, that anything you hear in the news that reflects poorly on him and his administration is fake, phony, made up. Which might be an effective way of inoculating his supporters against future twists in the scandal: If you convince them not to believe whatever they hear even before they hear it, then they may dismiss the next blockbuster revelation, their support for Trump undimmed.
It's easy to look at that and say that those hardcore Trump supporters are a small minority of the whole electorate — maybe 20 or 30 percent, depending on who you might include — so it's a strategy that can't succeed. But Trump doesn't necessarily need to win over a majority of the public.
If all he wants to do is survive, then he only needs the support of enough of his party's voters to convince Republican members of Congress to stick with him. Those members know that if Trump is impeached, it would be a catastrophe for their party, one that would drag them down with him. Most of them are also elected in conservative districts where the only fear they have is a primary challenge from the right. If the folks back home are saying, "Trump's right, this whole thing is fake news!", then supporting impeachment — or even just distancing yourself from Trump in anything but the mildest way — looks like the kind of decision that could end your political career.
For decades, conservatives have been told that the media is full of liberal bias; Trump took that argument and made it personal and vicious, characterizing reporters as dishonest knaves and encouraging his fans at rallies to jeer at them. Now part of the administration's strategy in dealing with the Russia scandal is to amp up their war with the media, as The Washington Post reports:
In the end, that's Trump's real problem, whatever communication strategy he chooses. Much as the administration might try, you can't spin away the remarkably clear and explicit evidence of collusion we saw in Trump Jr.'s emails, especially when for months you've been saying that the idea that there might have been collusion is ludicrous. If there's nothing more that comes out, then the public may decide that while there were some shady goings-on, in the end it didn't amount to much. On the other hand, nobody truly believes this will be the last revelation of this scandal.
So for now, Trump is talking only to his most avid supporters. It's not much of a governing strategy, but if your goal is nothing more than surviving to fight another day, it just might be enough.
Continue reading for free
We hope you're enjoying The Week's refreshingly open-minded journalism.
Subscribed to The Week? Register your account with the same email as your subscription.
Sign up to our 10 Things You Need to Know Today newsletter
A free daily digest of the biggest news stories of the day - and the best features from our website
Paul Waldman is a senior writer with The American Prospect magazine and a blogger for The Washington Post. His writing has appeared in dozens of newspapers, magazines, and web sites, and he is the author or co-author of four books on media and politics.