This is the debate America should be having on health care
How do we provide easily accessible and dignified care to everyone while also making sure our health-care system keeps innovating?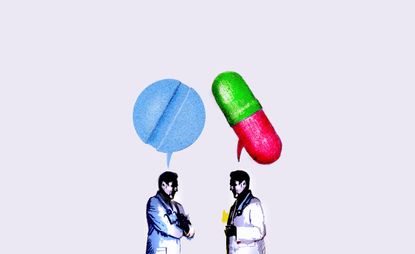 (Image credit: Illustrated | Screenshot, omyos/iStock)
The Republican effort to repeal ObamaCare seems to have finally crashed and burned. But the Democrats shouldn't savor their victory for too long.
Despite ObamaCare, over 11 percent of Americans are still uninsured at any given time. A far bigger portion will face a spell of uninsurance at some point. In fact, if you believe the statistic that the gap between ObamaCare and TrumpCare would kill 200,000 people over the next decade, that same logic says the gap between ObamaCare and truly universal coverage will kill 300,000.
The question Democrats must now ask themselves: How do they want to get from here to there?
Subscribe to The Week
Escape your echo chamber. Get the facts behind the news, plus analysis from multiple perspectives.
SUBSCRIBE & SAVE
Sign up for The Week's Free Newsletters
From our morning news briefing to a weekly Good News Newsletter, get the best of The Week delivered directly to your inbox.
From our morning news briefing to a weekly Good News Newsletter, get the best of The Week delivered directly to your inbox.
If you ask me, this country has never had the substantive debate over universal health care it needs. We keep getting distracted by questions like whether we can afford generous and universal coverage (we totally can) or whether such a project would be an attack on "freedom" (complete nonsense). The actual question we should be asking ourselves is this: How do we provide easily accessible and dignified care to everyone, while also making sure our health-care system keeps innovating new cures and treatments and other ways to lengthen lives?
You could view single-payer as one pole in this debate. It emphasizes user-friendliness: Every American would have the same government-provided insurance package, safe in the knowledge that every last doctor and provider in the country would take it.
The other pole would be something like ObamaCare on steroids: A system of regulated and properly subsidized private insurance for everyone, similar to what countries like Switzerland already have. This would inevitably be less user-friendly, since customers would still have to shop among and deal with private insurers. But unlike the single-payer monopoly, it would also provide a competitive market for insurers, who would all compete to see who could provide the best care delivery to customers.
Yet it's important not to overstate these distinctions.
Just because ObamaCare is unwieldly, for example, doesn't mean a market-based approach is automatically too complex for most people. The package of benefits and charges that insurers offer customers on the exchanges needs to be more universal and standardized. But with better designed subsidies and some smart bureaucratic reform, the experience of shopping for coverage on the exchanges would be far more user-friendly than it is now.
Similarly, making the government the monopoly buyer of health care would not be a death knell for innovation. The government's role in pushing forward research and development could be expanded with more funding, and by developing a web of publicly provided prizes and awards for new medical breakthroughs. Even under single-payer, we'd still have a private industry of care providers. And that industry's capacity for innovation could be improved by increasing workplace democracy, expanding the welfare state so more entrepreneurs are free to take risks, and by ending the death grip of copyright law.
Still, deciding which of these two routes to go down matters.
That's because one of the biggest problems with the U.S. health-care system is how fractured it is. We have one single-payer system for the elderly (Medicare), another one for the poor (Medicaid), a horribly inefficient employer-based system for many workers, and ObamaCare's exchanges for everyone else. If we pursued single-payer by, say, expanding Medicare so it covered everyone, all those populations on those other forms of coverage would have to be shifted over. If we chose to expand ObamaCare instead, we'd again have to find a way to wind all those other systems down and transition their beneficiaries into the exchanges.
In its own way, the GOP has actually given more thought to the second option. House Speaker Paul Ryan (R-Wis.) has long advocated transforming Medicare into the equivalent of an ObamaCare exchange. And the Senate version of TrumpCare would've slowly strangled Medicaid while shifting that population into ObamaCare's private plans. Except instead of making those plans more humane and affordable, the GOP was hell bent on making them less so. Too many people would have simply been priced out of coverage.
But regardless of which route we picked, America would undergo enormous disruptions and changes. So it would behoove the Democrats to figure out their priorities and end goal now, before they eventually retake power.
Ultimately, I come down in favor of single-payer because of its simplicity and the inherent solidarity that comes with giving every American the same coverage. As seriously as I take concerns about innovation, there is a weird techno-futurism to them. American health care's capacity to heal and improve life is already extraordinary. Making sure everyone has full access to that care strikes me as far more important than maximizing the potential for it to get even better in the future.
Still, I think it's a fascinating debate. And it's high time at least one of our two major parties started having it.

Continue reading for free
We hope you're enjoying The Week's refreshingly open-minded journalism.
Subscribed to The Week? Register your account with the same email as your subscription.