Is there anything Republicans won't tolerate from Trump?
Jeff Sessions is toast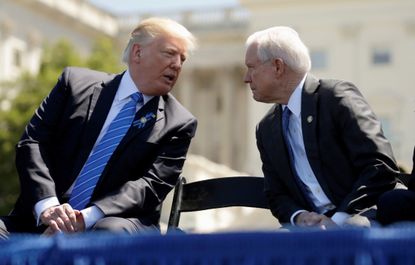 (Image credit: REUTERS/Kevin Lamarque/File Photo)
Sign up to our 10 Things You Need to Know Today newsletter
A free daily digest of the biggest news stories of the day - and the best features from our website
Thank you for signing up to TheWeek. You will receive a verification email shortly.
There was a problem. Please refresh the page and try again.
President Trump is making no effort to conceal his contempt for Attorney General Jeff Sessions, who angered Trump when he recused himself from the investigation into the Russia scandal, as he was required to do because of his own contacts with Russian officials and his position in the Trump campaign, the subject of the investigation. But those are just "rules," and we all know what matters most is whether you're loyal to Trump. So the president is trumpeting his displeasure far and wide, telling The Wall Street Journal on Tuesday, "I'm very disappointed in Jeff Sessions," and tweeting, "Attorney General Jeff Sessions has taken a VERY weak position on Hillary Clinton crimes."
Pause for a moment to marvel at the fact that the president of the United States is not only publicly humiliating one of his Cabinet members (and the first senator who endorsed him), but all but ordering the country's chief law enforcement officer to go after his defeated political opponent. That's a common occurrence in dictatorships and weak states where the victor of an election tosses the loser in jail, but it's not something we're used to seeing in America.
The truth, though, is that this has nothing to do with Sessions being too soft on Clinton, any more than being too hard on Clinton was the reason Trump fired FBI Director James Comey; you may remember that was the comical explanation Trump initially offered for the firing, before admitting that he was trying to shut down the FBI's Russia probe. It's about Trump's desire to end any investigation into Russia, and whatever other crimes might be discovered along the way.
Subscribe to The Week
Escape your echo chamber. Get the facts behind the news, plus analysis from multiple perspectives.
SUBSCRIBE & SAVE
Sign up for The Week's Free Newsletters
From our morning news briefing to a weekly Good News Newsletter, get the best of The Week delivered directly to your inbox.
From our morning news briefing to a weekly Good News Newsletter, get the best of The Week delivered directly to your inbox.
Sessions will probably be gone soon; new White House communication director Anthony Scaramucci admitted to a radio host that it was "probably right" that the president wants to get rid of him. Which raises the question of whether Trump will appoint a replacement who will then be ordered to fire special counsel Robert Mueller. At that point, every Republican in Congress will have to ask themselves whether there's anything they won't let this president get away with.
We already know what the speaker of the House thinks. Paul Ryan was asked what he thought about the possibility of Trump firing Sessions, then installing a new A.G. who would fire Mueller — and whether Congress would do anything about it. He replied, "Look, the president gets to decide what his personnel is, you all know that. He's the executive branch, we're the legislative branch, he determines who gets hired and fired in the executive branch, that's his prerogative." So go right ahead.
Nevertheless, some of Sessions' old colleagues are coming to his defense, speaking publicly about the great respect they have for him. But most of their comments have simply been about what a great guy they think Sessions is. Sen. Lindsey Graham (R-S.C.) seems to be the only one who has objected to what Trump seems to be doing to the rule of law; he released a statement calling Trump's tweet "inappropriate" and saying, "Prosecutorial decisions should be based on applying facts to the law without hint of political motivation." The rest, though, seem mostly concerned about their old buddy and the agenda he's carrying out at DOJ.
Just to be clear, Jeff Sessions is a uniquely odious figure, perhaps the most malevolent force within the Trump administration. His most visible actions as head of the Justice Department have included shutting down oversight of local police departments accused of misconduct; renewing an '80s-style "war on drugs"; advocating for asset forfeiture programs that literally steal money and property from people who are not even accused of a crime, let alone convicted; promoting mandatory minimum sentencing that members of both parties have come to see as cruel, unjust, and counterproductive; and rolling back civil rights protections for transgender children. While some Trump appointees have been most notable for their incompetence, if he gets his way Sessions will have a profoundly malignant impact on the nation.
Taken in a vacuum, the fact of Sessions no longer being attorney general would be cause for nothing but celebration. But it won't happen in a vacuum. If it happens, it will be part of an effort on President Trump's part to obstruct justice and evade responsibility for his own actions and those of the people around him.
And what will Republicans do about it? Probably nothing. Just look at how they react to all of Trump's other offenses. On a near-daily basis, Trump gives us more to be appalled by, even if some acts of boorishness don't actually affect too many people's lives. Just this week he broke with longstanding tradition by giving an intensely political speech to an audience of servicemembers gathered at the commissioning of an aircraft carrier, urging them to support the Republican agenda, then followed that up with a speech to the Boy Scouts in which he did the same. Presidential speeches to the Boy Scout Jamboree are a decades-old tradition and usually cover such scout-friendly topics as service, community, and citizenship. Not so for Trump, who "bragged about the 'record' crowd size, bashed President Barack Obama, criticized the 'fake media' and trashed Hillary Clinton's presidential campaign."
To that and a hundred other repugnant actions and statements, Republicans respond that they want to focus on the important work of taking away people's health care and cutting taxes for the wealthy. Perhaps it's because Trump's rampage across norms of conduct feels to them like merely a slightly exaggerated version of what they've been doing for years in Congress, whether it was matters of procedure like the "filibuster absolutely everything" strategy or matters of civility like the time an honored member of their caucus shouted "You lie!" at President Obama during a speech to a joint session of Congress like a drunken frat boy. Now they're trying to pass a sweeping bill to remake the American health-care system, cripple Medicaid, and toss tens of millions of people off their health coverage, all without a single hearing or committee examination, and with votes taken almost before senators learned what it is they're voting on. So what's a little obstruction of justice?
There's a line somewhere, some action Trump could take that would cause Republicans to stand up and use the powers of Congress to resist. For instance, they could refuse to confirm any new attorney general unless that person pledged that they would not fire Robert Mueller for anything other than good cause — in other words, not because President Trump just wants them to. But don't imagine they will. If they had anything resembling principle or backbone, we would have seen it already.
Continue reading for free
We hope you're enjoying The Week's refreshingly open-minded journalism.
Subscribed to The Week? Register your account with the same email as your subscription.
Sign up to our 10 Things You Need to Know Today newsletter
A free daily digest of the biggest news stories of the day - and the best features from our website
Paul Waldman is a senior writer with The American Prospect magazine and a blogger for The Washington Post. His writing has appeared in dozens of newspapers, magazines, and web sites, and he is the author or co-author of four books on media and politics.