Transparent went to the Middle East and all I got was a heart-breaking show about selfishness
Not even a trip to Israel will change the Pfeffermans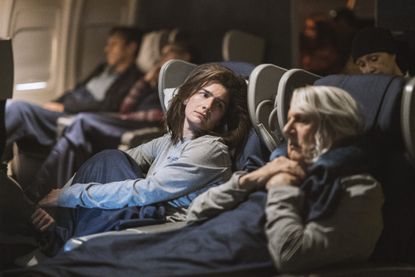 (Image credit: Amazon Prime Video)
Transparent refuses to proselytize. Its fourth season, which aired Friday, confirms that creator Jill Soloway's stunning, complicated show about self-exploration and sexuality will not endorse a political message — even in Israel, even in Ramallah — nor a recipe for satisfaction. Quite the opposite: It visits the Middle East to reaffirm that under no circumstances will the members of this maddening family do anything but turn inward. What's interesting is the extent to which this approach no longer works for them. "You're the most unsatisfied person I know," Len tells his wife Sarah in a sentence that doubles as a kind of tagline for the season.
It's true: No one is satisfied. The Pfeffermans — a family so believably and cinematically rooted in Los Angeles that the show's domestic spaces thrum with their fictional memories, a group so selfish that you loathe them even as their ugly love for each other infects you, so embarrassing that you cringe as you forgive misstep after cruel misstep — are still evolving. They're as compelling as ever, and their stories ring deeply true. But four seasons in, it seems wrong to call their development growth. For one thing, it lacks the anarchic verve and risk that characterized it in the first season. For another, it's not clear that it's always an improvement; at times the show's take on this understanding of personal growth seems less celebratory than value-neutral.
Take Ali. The youngest Pfefferman's warp-speed education in the Israel-Palestine conflict (about which she appeared to know nothing prior to this trip) takes place at an idyllic commune outside Ramallah. The insta-radicalization and sexy-camp vibe makes her stridency on the subject of settlements less convincing than performative — a way of cementing her bond with yet another activist she finds cool and sexy. (Ali's tendency to learn through horny osmosis was memorably summed up in season one, where she's called a "vaginal learner.") The result? When it comes to priorities, Ali's political convictions are a distant second to her interest in herself.
Subscribe to The Week
Escape your echo chamber. Get the facts behind the news, plus analysis from multiple perspectives.
SUBSCRIBE & SAVE
Sign up for The Week's Free Newsletters
From our morning news briefing to a weekly Good News Newsletter, get the best of The Week delivered directly to your inbox.
From our morning news briefing to a weekly Good News Newsletter, get the best of The Week delivered directly to your inbox.
It's hard, therefore, to distinguish whatever grief she felt at finding the commune abandoned from her disappointment at not getting to explore her identity further. Particularly since she appears to have done nothing and notified no one when her companion and guide — a gay Palestinian member of the commune who had spoken about the pressures placed on people like him to inform on like-minded thinkers — is detained indefinitely at a checkpoint. (Ali looks distressed, but gets in a cab and goes to her family.) Her family crisis trumps their political one.
It's a very quiet indictment, but a significant one. In a season stuffed with twists, the show's reluctance to endorse its gender explorers' choices — Ali's especially — is perhaps the most surprising twist of all. For all its love, and for all Jill Soloway's advocacy outside the show's world, Transparent observes more than it preaches.
That wasn't always the case. If we tend to imagine self-realization as a positive good, so, in its heady early days, did Transparent. It was immensely moving to watch Maura come into her own and realize a vision of herself as she'd always wished to be. But there are longer arcs at work here, and Transparent recognizes this too. Mistakes will be made, and the upshot is that the beautiful, poetic historical characters we met in flashbacks have come back in their uglier, less romantic manifestations. Moshe Pfefferman, Maura's father, is cheesy and thoughtless — he's the Cool Guy! — but he's also kind and generous and even accepting in a limited way. Still, there are hard invisible limits to his willingness to connect with Maura, and no possibility of catharsis. The lack of resolution is painful. So is the discovery of certain truths: Maura's discoveries that her father is alive and that Gershon was trans are as agonizing as they are transformative.
This sharp double-dealing is what Soloway does so well. It turns out that the project of opening your entire life up, exploding its assumptions, and striking out for what feels true isn't exactly stabilizing. (More on that here.) It isn't just that truth is difficult or that change is hard; it's that people, with nothing but their instincts to guide them, hang loose in the air, scrambling for scripts. What are the rules for being a good person? A good man? A good parent? A good partner? "What's the dynamic for you?" Ali asks Lyfe, a trans activist. "Are you always the guy? Are you always having sex with the girl?" "I'm just a human person," Lyfe says. "And I just want to be a body, that can do what bodies do." It's an honest but maddening answer.
Shelly remains one of the most interesting Pfeffermans, and it remains a slight problem that Transparent only seems to see her in glimpses. The extent to which her kids keep treating her according to fairly stereotypical scripts while maintaining an open fluid dynamic with their other parent has always been a problem; it's as if Shelly's refusal to abandon the structuring script of their childhood entitles them to continue to treat her with the casual misogyny and contempt we reserve for mothers. But the show, to its credit, keeps belatedly recognizing that. Shelly takes her children to task for not asking her about her "secret," the one she mentioned in that show-stopping performance she gave in the third season. No one is curious about her, she points out. No one seems to have paid attention. "That was about me," Maura says, in a typically narcissistic moment. "No," Shelly says, "it was about me."
If Len's line about Sarah being unsatisfied could be the tagline for the season, "it's about me" could be the show's alternate title. It takes chutzpah to take your fictional family to the Middle East, recognize the region's complexities, and still make the show all about them. But that's what this series does well and honestly: It takes selfishness seriously. This series has long been criticized for the toxic narcissism of its characters, but nothing — not even a trip to Israel — can change that.
"It's about me" is the show's main structuring truth. It's the only thing the show is unambiguous about, and in that sense, it is the show's politics. And it's the kind of unflinching admission good fiction requires — a recognition that real people are beautiful and loving and horny and truth-seeking and ugly and myopic and terrible. There's no question that this voyage of self-discovery is worthwhile, and urgent, and necessary, but Transparent is open about the fact that the flip side of self-discovery isn't necessarily political wokeness: It's self-worship.

Continue reading for free
We hope you're enjoying The Week's refreshingly open-minded journalism.
Subscribed to The Week? Register your account with the same email as your subscription.