The media needs a tax tutorial
The media is already screwing up its coverage of the GOP's tax cuts. They must do better.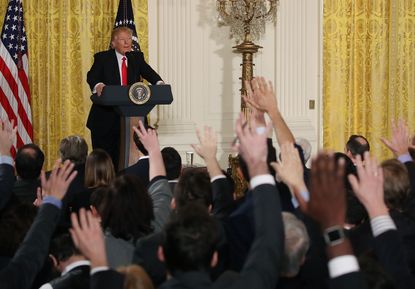 (Image credit: Mark Wilson/Getty Images)
The Trump administration and Republicans in Congress have got one hell of a deal for you, America. All we have to do is give a huge tax cut to the wealthy and corporations, and everyone will benefit. Not only that, it won't cost us a dime.
If you think that this sounds about as plausible as the idea that dropping a few thousand dollars on Trump University seminars will make you into a real estate millionaire overnight, you're catching on. Unfortunately, many of your fellow citizens are not so savvy. And the people whose job it is to protect them from such falsehoods, fantasizing, and flim-flammery — our nation's journalists — are failing.
On Wednesday, the administration released a 9-page document outlining its proposal for a massive tax cut that will, like all Republican tax cuts, be aimed primarily at the wealthy and corporations. While Congress will be writing the actual bill, the contours are clear: a significant reduction in the corporate tax rate (from 35 percent down to 20 percent), a reduction in the top income tax rate (from 39.6 percent down to 35 percent), and a series of other changes that will primarily benefit the wealthy, like eliminating the inheritance tax and the alternative minimum tax, and lowering the tax rate for "pass-through" entities like, guess what, the Trump Organization.
Subscribe to The Week
Escape your echo chamber. Get the facts behind the news, plus analysis from multiple perspectives.
SUBSCRIBE & SAVE
Sign up for The Week's Free Newsletters
From our morning news briefing to a weekly Good News Newsletter, get the best of The Week delivered directly to your inbox.
From our morning news briefing to a weekly Good News Newsletter, get the best of The Week delivered directly to your inbox.
To be fair, there are also provisions that would benefit those with more modest incomes, like a doubling of the standard deduction. But the big winners are corporations and the wealthy.
To appreciate how the press is allowing the GOP to deceive the public, you first have to understand the fundamental argument Republicans are making. Their central justification for the tax cuts is that while it looks like they're a big giveaway to the elite, in fact they are sprinkled with a magical pixie dust that not only spreads their benefits to everyone, but enables us to cut $1.5 trillion in taxes over the next 10 years without costing the government a cent. In fact, not only won't the deficit go up, it will go down!
This argument is, in a word, false. Untrue, bogus, fallacious, fraudulent, phony. Yet again and again, reporters allow it to go unchallenged.
Here's just one representative example of how Republicans get let off the hook when making this claim, from NPR's Morning Edition on Wednesday, in which host Mary Louise Kelly interviewed Marc Short, the White House's director of legislative affairs:
This is actually more substantive than most interviews on the topic, but it falls into a depressingly familiar pattern. Kelly says (accurately) that if you slash taxes, that will mean less revenue, which means higher deficits. A good start! Short then counters that the tax cut will create so many jobs that revenue will increase. Instead of challenging him on this claim, Kelly moves on to another question.
By doing so, she allows Short to say something utterly false. Corporate tax cuts do not create so many jobs that they increase revenue. They never have and they never will. It's like saying that if I eat a pint of ice cream after lunch every day, I'll be slightly less hungry come dinnertime, and I'll actually lose weight. It would be great if it were true, but it isn't.
The simplest follow-up question that reporters should ask Republicans would be: "What evidence do you have that cutting corporate rates increases job growth? Has that worked in the past?" And no, "It's just common sense" isn't an answer. If reporters began asking that follow-up, they'd find that conservatives don't have any actual evidence.
Because most of the benefits of a cut in corporate taxes flow to the wealthiest people, the cut doesn't increase the consumer demand that drives the need for new hires. It isn't like corporations desperately need a tax cut to get the money to make the hires they need to meet demand; in fact, corporate profits even after taxes are near an all-time high. And historical analysis shows that there is no relationship between the statutory corporate tax rate and economic growth. We've had some of our best economic performance (like in the 1950s and 1960s) when the corporate rate was much higher than it is now.
In other words, there is absolutely no reason to believe that cutting corporate taxes will create jobs or increase growth.
Which is why, every single time a Republican makes the claim that cutting taxes will create jobs and increase growth, the journalist doing the interview has an obligation — not an option, but an obligation — to say, "Hold on a minute. According to all the evidence we have, what you just said is false. Can you tell me what evidence you have for that claim?"
That's not combative or hostile or biased, it's basic journalism. It's making sure that important political figures don't throw up a fog of misleading justifications for what they'd trying to do. We may not be able to stop them from trying to deceive the public. But we don't have to make it easy.

Continue reading for free
We hope you're enjoying The Week's refreshingly open-minded journalism.
Subscribed to The Week? Register your account with the same email as your subscription.