How to make Roy Moore disappear
All it would take is a bit of compromise from Democrats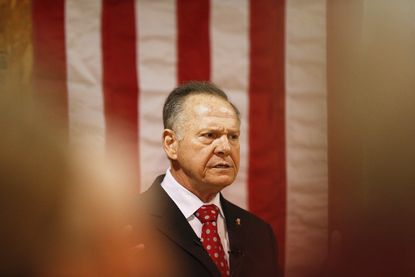 (Image credit: AP Photo/Brynn Anderson)
One of the many consolations of being a principled non-voter is never having to make decisions like the one before the people of Alabama in their Dec. 12 special election to fill the Senate seat created by the departure of Jeff Sessions for the Trump administration.
What decision is there to make, you ask? Judge Roy Moore, the Republican candidate, has been credibly accused of harassing or assaulting several teenagers, one as young as 14, when he was in his 30s. There is more than enough credible evidence to believe that he is a wicked man, unworthy of holding federal (or any) office. All decent persons should abandon him and back Doug Jones, his Democratic opponent ... right?
But if you are avowedly pro-life, it is legitimately complicated.
Subscribe to The Week
Escape your echo chamber. Get the facts behind the news, plus analysis from multiple perspectives.
SUBSCRIBE & SAVE
Sign up for The Week's Free Newsletters
From our morning news briefing to a weekly Good News Newsletter, get the best of The Week delivered directly to your inbox.
From our morning news briefing to a weekly Good News Newsletter, get the best of The Week delivered directly to your inbox.
For decades now, the game of eight-dimensional chess that is attempting to mount any kind of political opposition to legal abortion in this country has meant voting for candidates who, regardless of their views on any other pressing issues from health care to taxes to foreign policy and with a blithe disregard for their own moral character, are likely to vote to confirm Supreme Court justices who, in turn, if by some bizarre turn of events the right case should come before them, will — maybe — vote to overturn Roe v. Wade. How likely it is that the vote of the candidate in question will matter when the time comes, or whether there will be a vote in the first place, is of no consequence, even when squared against important questions about the economy, the unwinnable wars in which the children of the working class will die, the fate of our entitlement programs, and everything else voters are expected to take into account.
For millions of Americans, there is no more important cause than protecting the unborn.
What I cannot understand for the life of me is why the Democratic Party does not attempt to exploit this obvious vulnerability by compromising on the question of abortion.
Abortion is unlike any other issue in our politics. It is one on which it is impossible to have a moderate position except by ignoring it altogether. Either it is an anodyne health-care procedure undergone by hundreds of thousands of women in each year, like a tonsillectomy, or it is state-approved murder. As difficult as it is for me even to begin to imagine what it would be like to subscribe to the former view, I recognize that it does have its adherents. What I cannot understand is what other than rank servility before a coastal donor class and willful stupidity could justify the Democrats' utter refusal even to acknowledge that the position demanded of their candidates — even, apparently, for mayor of Omaha, Nebraska — is held by fewer than 30 percent of Americans.
Consider the relative stakes. There are any number of "health" procedures that, while their benefits might seem obvious to those who stand immediately to benefit from them, are nevertheless banned or heavily restricted in this country for any number of reasons. If one really believes that terminating a pregnancy is nothing but a sensible decision sometimes made by women in consultation with qualified medical personnel as opposed to the cult of child murder carried on by an organization founded by a well-known racist eugenicist, the proper attitude towards it is not the unilateralism of the Democrats but one of pragmatism and compromise. If, on the other hand, you think abortion really is murder, considering it the single most important issue facing this country, with no remotely close competitors, this unilateralism is entirely understandable.
If the Democrats were willing to run credible candidates who could speak to the manifold ways in which the Republican agenda is actively hostile to the interests of working people, especially in the Midwest and the South, while affirming even modest anti-abortion views, they would win again and again. Exit polling from 2016 showed that virtually no one in this country believes in both libertarian economics and social conservatism. The huge mass of voters who want all of us, from the elderly who have spent their entire lives expecting to receive benefits from Social Security and Medicare to those still in their mothers' wombs, to be treated with dignity are theirs for the taking.
I would not vote for Roy Moore if I were a resident of Alabama, not simply because I find the act of voting distasteful, but because he is by all appearances a man who molested teenagers. But I would not hold it against anyone who did vote for him.
If this sounds ridiculous, remember that this is exactly what Tim Kaine and two generations of Democrats have said about what they only privately consider infanticide.

Continue reading for free
We hope you're enjoying The Week's refreshingly open-minded journalism.
Subscribed to The Week? Register your account with the same email as your subscription.