When the bitcoin craze becomes a panic
This was so predictable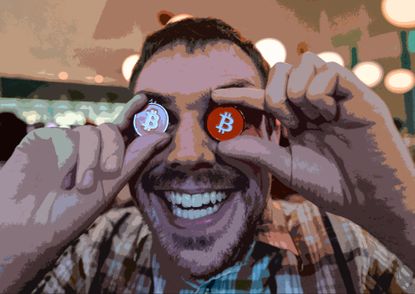 (Image credit: Yoshikazu Tsuno/AFP/Getty Images)
It had to happen sooner or later.
Digital cryptocurrencies have been on a rocket ride in 2017. The most famous, bitcoin, rose from under $1,000 at the start of the year to $5,000 in October. Then it blasted off to nearly $20,000 per bitcoin by mid-December. Other cryptocurrencies were carried along by the craze.
The thing is, it's always been hard to identify a "there" there. Digital cryptocurrencies like bitcoin aren't very good mediums of exchange or stores of value. Nothing seems to be fueling the price rise other than, well, excitement over the price rise.
Subscribe to The Week
Escape your echo chamber. Get the facts behind the news, plus analysis from multiple perspectives.
SUBSCRIBE & SAVE
Sign up for The Week's Free Newsletters
From our morning news briefing to a weekly Good News Newsletter, get the best of The Week delivered directly to your inbox.
From our morning news briefing to a weekly Good News Newsletter, get the best of The Week delivered directly to your inbox.
Eventually, the whole thing was going to descend into outright self-parody. And last week seemed to be the tipping point.
The most widely circulated example of a #NotTheOnion headline was arguably when The Long Island Iced Tea Corp. rebranded as "Long Blockchain Corp." last Thursday — and its stock promptly shot up by 200 percent.
Now, the blockchain software technology that underlies bitcoin actually does have some potential real-world uses. So a company getting into blockchain development might actually turn out to be a good long-term bet. "We view advances in blockchain technology as a once-in-a-generation opportunity, and have made the decision to pivot our business strategy in order to pursue opportunities in this evolving industry," said Philip Thomas, the CEO of the company formerly known as Long Island Iced Tea.
Except, as you may have noticed, this is a bloody iced tea company. Their expertise and institutional knowhow is in peach and lemon flavoring. They have no actual infrastructure in place to deal with the cryptocurrency business: The company is having "preliminary" discussions about buying a developer that specializes in blockchain, and another firm that offers cryptocurrency technology services, and that's it.
Other examples were even more egregious.
A pharmaceutical company named Bioptix announced in October that it was getting into the cryptocurrency business by setting up a currency exchange and a bitcoin operation. This isn't even blockchain development; it's just helping people trade cryptocurrencies. Which obviously depends entirely on the value of said currencies remaining high.
But who cares? Bioptix changed its name to Riot Blockchain Inc., and its stock nearly quadrupled from late November to late December. (It fell back afterwards, but still remains over twice as high as its October value.)
A firm that specializes in batteries and flavored liquids for electronic cigarettes rebranded itself from "Vapetek Inc." to "Nodechain Inc." and announced it would shift to mining digital cryptocurrencies. A British company called On-Line PLC that works to shepherd online startups changed its name to "On-Line Blockchain PLC" and said it was going to "provide systems to support the roll out of [blockchain technology and cryptocurrencies] across a range of applications." Both promptly saw their stock prices boom. And the list goes on.
Any mania like this, over an asset whose underlying use value is so mercurial and hard to pin down, inevitably opens investors up to the danger they'll either get burned or fleeced. But at this point, all a company has to do is put "blockchain" or "crypto" or whatever in its name, and a whole bunch of investors will immediately shout "take my money!"
Appropriately enough, just as the whole episode was reaching its iced-tea-companies-providing-blockchain-services zenith, the bottom dropped out.
Bitcoin's price peaked Sunday, Dec. 17, at $19,666. It began a very slow descent after that, but nothing dramatic. Then, this past Thursday, it fell off a cliff, dropping around 27 percent in roughly 24 hours. By Friday morning, a single bitcoin was going for less than $12,000 — the digital currencies single biggest one-day drop in three years. As of this morning, bitcoin was back up above $15,000 — but the volatility here ought to be obvious to all.
The bust last week was bad enough to temporarily disable buying and selling on Coinbase, one of the biggest bitcoin trading markets in America.
Moreover, a boatload of other digital currencies also crashed in the exact same time period, either by the same amount as bitcoin or by much more. The total estimated stock value of the cryptocurrency market plunged from $650 billion to as low as $440 billion in a single day.
Now, this wouldn't be the first time bitcoin has gone through a rollercoaster ride: In September, it fell 40 percent at one point before recovering. In November, it fell 30 percent in four days before resuming its upward climb. So who knows?
But this sort of massive collapse is built into bitcoin's nature. There's nothing holding the price up except investors' hope they'll be able to sell for more than they bought. Conversely, whenever the trend reverses, there's no limit (save zero) to how low it can go. The panic will feed on itself as surely as the enthusiasm did. And that's especially true in a market as heavily concentrated as bitcoin: Around 40 percent of the currency is owned by about 1,000 people, meaning a few big selloffs by a few key players is all you'd need to start a rout.
That level of concentration also makes the bitcoin market extremely sensitive to any unexpected crisis: A major digital currency exchange in South Korea had to shut down just last week after getting hacked twice in the past few months.
No one knows the future. But it wouldn't be surprising if bitcoin's silly season also turned out to be its last.

Continue reading for free
We hope you're enjoying The Week's refreshingly open-minded journalism.
Subscribed to The Week? Register your account with the same email as your subscription.