Mitt Romney is exactly what the Republican Party needs right now
Sen. Mitt Romney would be no Trump stooge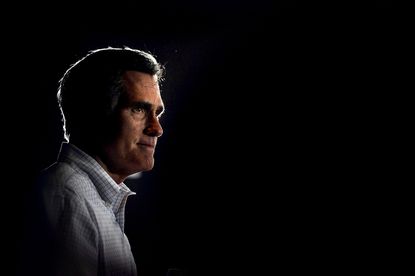 (Image credit: Patrick Smith/Getty Images)
Sign up to our 10 Things You Need to Know Today newsletter
A free daily digest of the biggest news stories of the day - and the best features from our website
Thank you for signing up to TheWeek. You will receive a verification email shortly.
There was a problem. Please refresh the page and try again.
The Republican Party is mired in the chaos that the Trump presidency inevitably created, with the feud between the president and his former chief strategist Stephen Bannon only the latest bit of entertaining drama besetting the party. Into that madness may stride a man with a firm jaw and a strongly defined haircut, ready to stand up at last for sanity. I speak, of course, of Willard Mitt Romney.
This week, Sen. Orrin Hatch (R-Utah) announced that he would not be running for an eighth term, leaving open a seat that will be safely Republican even if a Democratic wave sweeps the rest of the country. Since Utah is one of the 25 or so states where Romney owns a home (I exaggerate — somewhat), he can claim residency there, and indeed, after Hatch made his announcement, Romney switched his Twitter location from Massachusetts to Utah.
It's tempting to hope that Romney, an old-school Republican who to many represents a tradition of noblesse oblige in public service that has been lost, will be able to drag his party back from its current mania to a more reasonable place. Romney won't do that — the GOP is Donald Trump's party and will remain so as long as he's president. But Romney could at least make a start.
Subscribe to The Week
Escape your echo chamber. Get the facts behind the news, plus analysis from multiple perspectives.
SUBSCRIBE & SAVE
Sign up for The Week's Free Newsletters
From our morning news briefing to a weekly Good News Newsletter, get the best of The Week delivered directly to your inbox.
From our morning news briefing to a weekly Good News Newsletter, get the best of The Week delivered directly to your inbox.
Before going further, I should acknowledge that leading up to the 2012 election I spent over a year writing about what a cynical, dishonest panderer Romney was, someone who was happy to indulge in the shallowest campaigning if he thought it could win him a momentary advantage. In addition to the retrograde policies he proposed as a presidential candidate, he indulged his party's ugliest impulses, among other things claiming falsely that Barack Obama was letting shiftless welfare queens steal your tax dollars ("You wouldn't have to work. They just send you your welfare check."), and charging that Obama had "a very strange, and in some respects foreign to the American experience type of philosophy." Wink, wink.
I don't regret a word of what I said then. But even as we remember all that, we can give Romney some credit for speaking the truth about Trump in early 2016, when he made a last-ditch attempt to convince his party not to nominate a morally repellent con artist to be its presidential nominee. Here's some of what he said at the time:
You might suspect that if he became a senator, Romney would go through another of the political transformations he has undertaken before and become an advocate for the president. He has shifted in the past for political expediency: When he ran for governor of liberal Massachusetts, he became a pragmatic moderate, the only kind of Republican who can get elected there, and when he needed to get the GOP presidential nomination, he turned himself into a Tea Partier. He also traveled to Las Vegas in 2012 to personally accept the endorsement of Trump, who was at the time trafficking in a racist birther conspiracy about President Obama.
But right now, the smart move is to stay an anti-Trump conservative. That wouldn't stop Romney from getting elected in Utah, where he's already extremely popular and there's plenty of skepticism of Trump. And nothing gets you glowing news coverage like opposing a president from your party. Trump could well lose in 2020, after which every Republican will be seeking to wash off his stench.
That isn't to say that Romney would vote against legislation Trump supports, however — because there really isn't any such thing as a Trump legislative agenda. When you hear that someone like Ben Sasse or John McCain who have been critical of Trump still "support" him 95 percent of the time or some such number, take it with a grain of salt. All it means is that they're Republicans voting for Republican bills, and Romney will do the same.
But Romney might actually be willing to step across the aisle, if not in the next couple of years then when there's a Democrat in the White House. When he was governor of Massachusetts, he showed that he can be serious about policy and work with Democrats when the situation demands it. It isn't hard to imagine a point some years down the road when Democrats say to him, "There's a problem everyone agrees should be solved; would you be willing to work with us on it?", and he says yes.
That alone would make him different than almost all his GOP colleagues, who wouldn't vote for a Democratic bill to acknowledge that puppies are cute. There's no guarantee that Romney would be a force for bipartisanship, of course, but it's at least possible.
So no, Mitt Romney can't save the Republican Party. But he certainly can't make it any worse — and who knows, maybe he can at least begin to make up for some of his past sins and show that the GOP could be something other than a collection of extremists and outright lunatics. That in itself would be a profound public service.
Continue reading for free
We hope you're enjoying The Week's refreshingly open-minded journalism.
Subscribed to The Week? Register your account with the same email as your subscription.
Sign up to our 10 Things You Need to Know Today newsletter
A free daily digest of the biggest news stories of the day - and the best features from our website
Paul Waldman is a senior writer with The American Prospect magazine and a blogger for The Washington Post. His writing has appeared in dozens of newspapers, magazines, and web sites, and he is the author or co-author of four books on media and politics.