The false dichotomy of 'peace or war' with North Korea
Denuclearization and nuclear war are not the only choices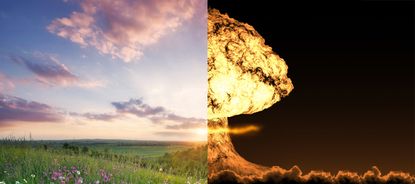 (Image credit: Illustrated | Biletskiy_Evgeniy/iStock, Neoslam/iStock)
President Trump's goal for the summit with North Korean leader Kim Jong Un was "to eliminate [Kim's] nuclear missile program, not contain it," Sen. Lindsey Graham (R-S.C.) said on ABC Sunday. "There's three outcomes here," the hawkish senator continued. "Peace, where we have a win-win solution; military force where we devastate the North Korean regime and stop their program by force; or to capitulate like we've done in the past." As "Donald Trump is not going to capitulate," Graham added, "there's really only two options: peace or war."
This sort of rhetoric is deeply irresponsible and detrimental to American security. The fact that Graham refuses to countenance is that for North Korea — as for any state, and especially any universally despised regime bent on survival — possession of nuclear weapons does not necessarily entail intent to use them offensively. Cruel and power-mad though he may be, Kim cannot be foolish enough to think he could survive military conflict with the United States. He will not initiate war because his nuclear arsenal, as his government has explicitly stated on many occasions, exists to ensure he will not be deposed à la Moammar Gadhafi or Saddam Hussein.
In that light, the danger in Graham's dichotomy is evident. Peace as he describes it — in which the United States in extremely short order obtains from Pyongyang complete denuclearization — is not the only alternative to war. Deterrence is an option, particularly when coupled with a gradual improvement of relations and opening of North Korea to the outside world, which the Trump-Kim summit could inaugurate.
Subscribe to The Week
Escape your echo chamber. Get the facts behind the news, plus analysis from multiple perspectives.
SUBSCRIBE & SAVE
Sign up for The Week's Free Newsletters
From our morning news briefing to a weekly Good News Newsletter, get the best of The Week delivered directly to your inbox.
From our morning news briefing to a weekly Good News Newsletter, get the best of The Week delivered directly to your inbox.
War between North Korea and the U.S. (and any of either countries' allies) would be hellish on a scale few alive today have witnessed. The human cost would be unthinkably high. Contra Graham, war with North Korea cannot be "worth it."
But the senator's false binary makes that horrible prospect more likely. Graham has already drafted an Authorization for Use of Military Force (AUMF) against North Korea, a wildly premature step that speaks volumes to the Kim regime. This sort of maximalism — whether from Graham or other senators across the aisle who have expressed similarly unrealistic demands — is reckless and counterproductive. Preventive war on North Korea would be an unforced error with grim consequences for generations to come.
Fortunately, Graham was not at the negotiating table in Singapore. But his pernicious thinking may well have already affected Trump's approach. The president's statement Saturday that he is giving Kim only "a one-time shot" to reach an acceptable denuclearization deal, after which "[Kim] won't have that opportunity again," does not bode well.
Rather than heeding Graham's bad advice, Trump would do well to follow the more sensible approach of the American public.
As new polling data commissioned by RealClearPolitics and the Charles Koch Institute shows, fully 70 percent of Americans support dealing with U.S.-North Korea tensions via diplomacy. Fewer than a third believe complete denuclearization is a realistic goal, but that does not deter enthusiasm for talks. In fact, even if Kim refuses to eliminate his nuclear program, a strong majority — 62 percent — want to maintain diplomatic engagement anyway. Fewer than two in 10 support any sort of military action, including airstrikes.
Americans' view of Kim's goals for his arsenal are likewise realistic and rational, the RCP/CKI poll found, with most saying Pyongyang wants nuclear weapons to deter regime change or to use as a bargaining chip to normalize international relations via sanctions relief. On all of these questions, the South Korean public, which was also polled, expressed similar views.
"Many observers have raised concerns about the utility and morality of meeting with one's avowed enemy," Micah Zenko writes at Foreign Policy. "Yet, by any objective reading, Trump's decision to meet Kim deserves praise. U.S. leaders should generally be far more willing to engage in personal diplomacy with enemies." But for such engagement to be effective for U.S. aims, Zenko argues, both sides must keep in mind moving forward that "true diplomatic breakthroughs are almost never achieved in one day but rather are based on iterative confidence-building measures and small, verifiable changes in both sides' behaviors."
There is no place here for "peace or war" drama. Prudent and useful diplomacy is not a quick, all-or-nothing proposition.
This single summit cannot produce North Korean denuclearization with the finality and speed Graham desires, and expecting it to do so at best will lead to disappointment. The brief statement Trump and Kim signed Tuesday may — and hopefully will — serve as the basis for real change over time, but these are very early days.
If voices like Graham's hold sway, we could still face catastrophic war. The practical patience of most Americans' take on the situation offers a safer, if slower, route to security and, someday, peace.

Continue reading for free
We hope you're enjoying The Week's refreshingly open-minded journalism.
Subscribed to The Week? Register your account with the same email as your subscription.