Omarosa's Unhinged is an unconvincing mess of a book
I read all 356 groan-inducing pages so you don't have to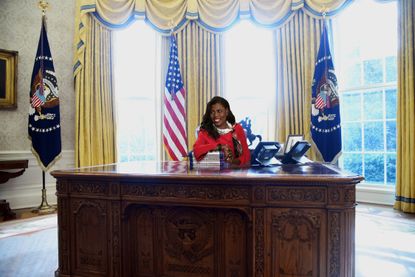 (Image credit: Illustrated | Alex Wong/Getty Images, SAUL LOEB/AFP/Getty Images, Olivier Douliery-Pool/Getty Images)
Before sitting down to enjoy all 356 unembargoed pages of Unhinged, Omarosa Manigault Newman's memoir of her stint in Donald Trump's White House, I decided to do my due diligence as a reviewer and familiarize myself with her earlier literary work. I can now say with confidence that 2008's The Bitch Switch: Knowing How to Turn It On and Off is a much better book than this one.
The reasons why are instructive. The Bitch Switch is a hilariously deranged but occasionally amusing self-help book that counsels women to embrace their most vicious instincts in order to become wealthy and powerful — Hillary Clinton is a favorite go-to example of how it can be done. It also contains quite sensible advice on dealing with bad men. Permit me a (very) lengthy block quote:
The Bitch Switch also contains numerous lists, flow-charts, and brainstorming exercises meant to instill in the reader a sense of where the author is coming from. It is, above all, a book with focus. Unhinged, on the other hand, is a mess, and a boring one at that. There are, all told, probably about 10 pages worth of material in the present volume that could possibly be of interest to anyone who was alive and above the age of reason at any point between August 2015 and the present.
Subscribe to The Week
Escape your echo chamber. Get the facts behind the news, plus analysis from multiple perspectives.
SUBSCRIBE & SAVE
Sign up for The Week's Free Newsletters
From our morning news briefing to a weekly Good News Newsletter, get the best of The Week delivered directly to your inbox.
From our morning news briefing to a weekly Good News Newsletter, get the best of The Week delivered directly to your inbox.
The central conceit of this memoir is the purported existence of one or more tapes said to feature President Trump using the N-word, perhaps in reference to Omarosa herself. The possibility is dangled in front of the reader virtually on page one and not revisited for hundreds of pages. After a short prelude in which she recounts her last day at the White House eight months ago, she rewinds and tells us her entire life story, complete with the names of every teacher she ever had and the details of her winning the Miss Buckeye Elk Pageant in high school (not to be confused with her victory in the Miss Youngstown Pageant the same year). We are treated to affectless summaries of her time doing various jobs in Bill Clinton's White House and her attempt to work for Hillary's 2016 campaign.
Then comes chapter after groan-inducing chapter of Wikipedia-level recounting of the election. There is a nearly page-long summary of the results of the Iowa caucus. We are reminded what day Rick Santorum left the race and what candidate he then endorsed. The number of Ted Cruz's primary victories is duly tallied. By chapter eight, even this business has been abandoned in favor of a mere diary-like listing of dates. The occasional abrupt transitions away from the attempt to create an original narrative out of these universally attested facts to personal events such as the death of her second husband or her remarriage in 2016 (which is handled in less space than she devotes to the Trump-Rubio hands controversy) have a bizarre leveling effect, leaving us wondering whether she considers her family roughly as important as, say, Carly Fiorina's poll numbers from nearly three years ago.
Hundreds of pages later we are finally back in the White House, where Omarosa is fussing about what acronym will be associated with her job title and complaining about the difficulty of organizing unimportant conferences. This material is mostly excruciating. When the N-word tape comes up again, Omarosa is vague and even resorts to printing a lengthy transcript from an NPR podcast interview with a former producer of The Apprentice said to be familiar with it. Spoiler alert: As of the the last chapter, she still hasn't heard it herself.
The biggest problem with Unhinged is not that it is ultimately a shaggy-dog story or that it is full of bad writing and atrociously edited, but simply that it is not convincing. Does Omarosa really expect us to accept that she joined the Trump team because she "wanted to work with Donald to understand his broken outlook, and I believed I was teaching him about the danger of starting a cultural war, a race war, of stirring up these dark elements in our society"? Is this even compatible with her insistence elsewhere that "during the campaign [she] had expressed concern for [Trump's] mental health?" Apropos of last year's Unite the Right rally in Charlottesville, Virginia, she tells us, "Given our relationship, I couldn't believe Trump was a racist — but the people at this protest obviously were!" This must be one of the most significantly ambiguous givens in the history of English prose. Over and over again she insists to us that she was able to help the president in good conscience because of an indelible feeling that he was at bottom a good man, repeating the fact that she had known and respected him since The Apprentice in 2003. What finally changed her mind? Even she admits that she was comfortable working for him until virtually the moment she was no longer doing so. After being summarily dismissed by Chief of Staff John Kelly, she says she felt "as if a hypnotist's assistant had snapped his fingers and the hypnosis was now over." Maybe, but who was the hypnotist?
Unhinged is at its best when Omarosa is doing things like insisting that Trump's love for his daughter Ivanka is unabashedly incestuous and that the latter "exploits his fixation with her to get her way." This is a perfectly vile thing to say. It is also, I think, exactly what Omarosa really believes. This side of her also comes out when she tells us, "I always found Hope [Hicks] to be very nice, capable, sensitive, and out of her depth," and that Trump "is clearly obese" because of "his addiction to Big Macs and fried chicken." In a similar vein, she frankly admits that she was happy to accept "a high-profile job" from David Pecker, the publisher of the National Enquirer, in lieu of demanding a retraction from the magazine of a misleading report about her brother's funeral. Here, finally, we see the person Trump seems to have recognized as a kindred spirit. There are not nearly enough of these bits.
I opened this book expecting to find the bSwitch engaged, hissing, and crackling with freakish blue lightning, like one of those improbable monster-creation gizmos in an old Frankenstein movie. Instead, I read 300-plus pages of unconvincing self-exculpation, mawkishness, and impossibly dull padding.
A missed opportunity for literature, I say.

Continue reading for free
We hope you're enjoying The Week's refreshingly open-minded journalism.
Subscribed to The Week? Register your account with the same email as your subscription.