John McCain, last of the American heroes
The indomitable Arizona senator is dead at 81. We may never see his like again.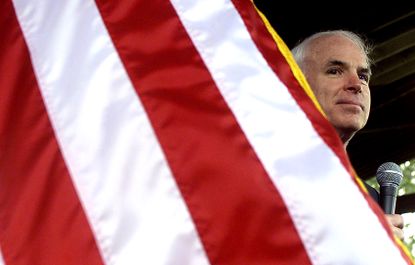 (Image credit: TIM SLOAN/AFP/Getty Images)
Sign up to our 10 Things You Need to Know Today newsletter
A free daily digest of the biggest news stories of the day - and the best features from our website
Thank you for signing up to TheWeek. You will receive a verification email shortly.
There was a problem. Please refresh the page and try again.
John McCain was born in a naval hospital, the son and grandson of admirals. He spent his childhood among the military elite and wealthy Southerners. Some of his childhood summers were spent at the patrilineal ancestral home, a plantation in Teoc, Mississippi. As a teen he attended an all-male prep school in Alexandria, where he rubbed shoulders with many elite sons of the South.
On its face, John McCain's upbringing was the picture of "privilege." But he became so much more than this. He was a truly great American — and of a sort that we may well never see again.
McCain died on Saturday at 81. He was diagnosed with gliobastoma, an aggressive brain cancer, last summer, and his family announced Friday he had decided to discontinue medical treatment because "the progress of disease and the inexorable advance of age render their verdict."
Subscribe to The Week
Escape your echo chamber. Get the facts behind the news, plus analysis from multiple perspectives.
SUBSCRIBE & SAVE
Sign up for The Week's Free Newsletters
From our morning news briefing to a weekly Good News Newsletter, get the best of The Week delivered directly to your inbox.
From our morning news briefing to a weekly Good News Newsletter, get the best of The Week delivered directly to your inbox.
McCain was a great American. He had a sweeping vision of America's role in history and in the world. You probably don't agree with everything he ever said or did, but upon his death, we should reflect on the qualities that made him so beloved, so hated, and so consistently a force in American politics.
Despite his patrician roots, McCain was never known for smooth gentility. He was a bruiser. His belligerent impulses got him into trouble in his school days, and earned him plenty of demerits at the Naval Academy, where he bristled at fat rule books and patronizing superiors. That mulish streak served him well though when he was shot down in a bombing run over Hanoi in 1967. He spent nearly six years as a prisoner of the North Vietnamese, enduring torture and more than three years' worth of solitary confinement. When McCain was recognized as the son of a high-ranking American officer, his captors tried to score public relations points by offering him an early release. He refused.
Few of us will ever prove our mettle in such sterling fashion. Most, no doubt, would emerge from such an ordeal traumatized and emotionally broken. But for McCain, the suffering seemed to have made him stronger, deepening those qualities that would become his hallmarks: an indomitable sense of self, a passion for justice, and a strong aversion to anything that, in his eyes, seemed to compromise his dignity or personal integrity. McCain's political career was fraught with controversy from beginning to end, but even as a junior congressman he was unafraid to criticize his party, and even in his final months, his words still carried weight.
Surviving Vietnam was remarkable enough. Surviving several decades in the Senate with that kind of disposition seems almost miraculous.
Some, of course, would contend that his integrity really didn't survive that whole span. McCain, who began representing Arizona in the Senate in 1987, showed pluck back in the 1990s, when he cultivated bipartisan friendships and championed campaign finance reform. His dealings with Arizona's native tribes were complicated at points, but he clearly had a genuine and abiding interest in improving the lives of indigenous Americans. He won plaudits during his failed bid for the 2000 Republican presidential nomination, for which he traveled the country in a bus nicknamed the "Straight Talk Express."
Remember, though, when he bowed to his party's wishes by finally endorsing George W. Bush in 2000? Remember 2008, when, as the GOP's presidential nominee, he selected Sarah Palin as his running mate? Remember the many compromises of his 2010 Senate campaign?
McCain also never had particularly warm relations with the religious right, and populists still revile him for his scathing criticisms of President Trump, and for his scuttling of the last-ditch Republican effort to repeal the Affordable Care Act. Trump's infamous "not a war hero" remark still seems to excite far more emotion on the Trumpian right than it ever did for McCain himself, which is hardly surprising. McCain and Trump have many commonalities, both having campaigned at various points as unscripted, pugnacious outsiders who could take on the Washington establishment. Is there any question, though, as to which was the real tough guy?
Ironically, the torrent of bipartisan criticism may be one of the best testaments to McCain's stubborn independence. You needn't agree with his every stance in order to marvel at the strength he displayed, plugging away through that maelstrom of political pressures. If we're honest, don't we really wish there were more public figures with that kind of mental and emotional toughness, who could hold onto some independent judgment even in the face of a bad news cycle? We all struggle to credit our political enemies with bona fide "courage," but would anyone sincerely contend that our political system is suffering from a lack of partisan team players?
Reflecting back on McCain's life, it's tempting to lapse into nostalgic bromides of a "don't raise 'em like they used to" variety. Indeed, in certain ways, it's quite true that McCain represented a dying breed. Military service used to be viewed as a significant qualification for political office. That's no longer the case. McCain's elite family no doubt contributed to his strong sense of personal honor, and also to the surly and even superior way in which he gave detractors the brush-off. How many old-style patricians are left in today's cultural landscape? One assumes, as well, that McCain was raised with traditional notions of manhood and its attendant obligations. Exceedingly few boys today would grow up with that same mix of influences.
We shouldn't over-indulge this sentimentalism, however. No doubt these influences all helped to make the Maverick, but truthfully, there is no formula or socialization process that can reliably yield such a character. The qualities people admired in McCain transcended any particular class or era. We can never predict the precise mix of privilege and hardship that will produce a tough-minded, principled man.
For the moment, then, we should just appreciate the delightful idiosyncrasies of the remarkable American who has just left us. He was the midshipman who barely graduated, and ended up with a drawer full of prestigious medals. He was a sterling American patriot and crusty good-old-boy who loved nothing more than a righteous fight.
He was, to his final breath, John McCain.
Continue reading for free
We hope you're enjoying The Week's refreshingly open-minded journalism.
Subscribed to The Week? Register your account with the same email as your subscription.
Sign up to our 10 Things You Need to Know Today newsletter
A free daily digest of the biggest news stories of the day - and the best features from our website
Rachel Lu is a writer based in Roseville, Minnesota. Her work has appeared in many publications, including National Review, The American Conservative, America Magazine, and The Federalist. She previously worked as an academic philosopher, and is a Robert Novak Journalism Fellow.