Let's go spelunking through years of my cousin's crazy right-wing emails
Follow me on a mind-bending journey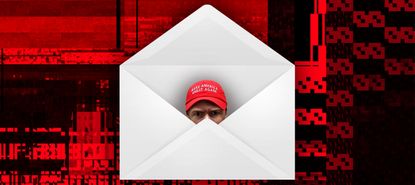 My second cousin sends me emails — conspiracy theory emails, bad joke emails, emails that got debunked by Snopes months before they arrived in my inbox.
In 2007, I was in college, and my mother, sensing she'd soon have rather less influence over my schedule, announced we were going to Kentucky for Thanksgiving. In my family, it's normal to know your second and even third cousins, but I don't know the Kentucky branch of the family well. Still, Thanksgiving was lovely, and among those attending was this cousin. (For privacy, I'm tweaking some otherwise insignificant details here, but let's call him Rob.)
Rob is maybe 12 or 15 years older than me, and yet the closest to my age of the Kentucky lot. To my mother, this relative proximity meant he stood as my prime chance to develop a closer relationship with this branch of the family. And so: "Bonnie, give Rob your email."
Subscribe to The Week
Escape your echo chamber. Get the facts behind the news, plus analysis from multiple perspectives.
SUBSCRIBE & SAVE
Sign up for The Week's Free Newsletters
From our morning news briefing to a weekly Good News Newsletter, get the best of The Week delivered directly to your inbox.
From our morning news briefing to a weekly Good News Newsletter, get the best of The Week delivered directly to your inbox.
I did not want to give Rob my email. I could not imagine what we would email about! He is not a very talkative man, to my recollection, and I have met him — at most — four times in my life, only one of which I can remember. But the email directive was made around the dinner table, and the dinner really was delicious, and my efforts to wink-wink, nudge-nudge my mother into recantation were not successful, so I handed over the email address.
The emails started almost immediately, and they haven't stopped since. They are sent to a list of about 20 people, and there is almost never any content written by Rob himself — it's all forwards with no personal introduction beyond an intermittent "Sent from my iPhone."
One message, a rarity sent directly to me, came with a brief comment: "Thought you might enjoy this,???" I did not. Because the content of these emails, not to put too fine a point on it, is political garbage.
My special delivery message, dating to 2008, was a story about an exchange student who warns his oblivious professor of America's slow slide into communism. (Possibility this started as a Cold War-era chain letter: real.) The version of this forward which is, for reasons unfathomable, published at Fast Company, ends there. But the version I got concludes on a more bizarre note, declaring, "You can never hire someone to provide a service for you cheaper than you can do it yourself" (patently, obviously false, and deadly to the very market economy the email aims to defend), and, "if you see that all of this wonderful government 'help' is a problem confronting the future of democracy in America, you might want to send this on to your friends."
I'm a libertarian and not exactly enthused about the scope and power of our government, but, yeah, that's gonna be a hard pass.
Another warning from the same year purports to be written by a former neighbor of FDR's son. I share a screenshot because mere quotation does not do the original justice:
Am I among the YOUTH? Unclear.
There is much more, all packed with half-truths, dire warnings, and a dash of xenophobia. The email's climax claims immigrants can move to the United States at 65 and draw Social Security benefits because the "Democratic Party gave these payments to them, even though they never paid a dime into it!" The reality, of course, is far less scandalous and only benefits immigrants from a select list of mostly Western and wealthy nations.
Naturally, the Social Security missive ends on a call to action:
Changes don't seem to have evolved in the subsequent decade, and it might be my fault: I've never forwarded any of Rob's emails, except for a laugh, and several months after that Thanksgiving I set up a Gmail filter to send his messages straight to the trash. (Needless to say, I did not tell my mom.) I'll check in every now and then to see what currently animates his outrage, but that's about it.
Since I turned off the filter a couple months ago, it's been a mixed bag. At the end of the summer, there was a long message claiming "the British have passively succumbed to the Muslim invasion." Titled "Fw: Fwd: Goodbye England (Something to think about)," the message was full of unsourced and inaccurate nonsense. I was going to suffer through fact checking it, but the Brits already have it handled.
September was a busy month, starting with "Fw: Re: Fwd: Important 911 message....."
Alas, the young lady's video was not actually included in the email, so I could not determine whether I blame her a bit.
After this came an 1,800-word screed purporting to explain just about every issue of the day. Apparently the "entire Mideast situation is going to change by year end," and "Nicky [sic] Haley will be elected president in 2024 She will be the first >>> woman president. Mark it down." A note commemorating Bob Hope was a welcome interval, followed by an email with a broken image attachment titled simply "Fw: Tennis." I don't know what the picture was supposed to be, but from the timing there's a strong chance it was that racist cartoon of Serena Williams.
In this case, I think I'm grateful for the mystery.
Rob went silent throughout October and the first half of November, resuming contact a few days ago with a long message about former President Barack Obama's ethnic background that seems to be a relic of the 2008 Democratic primaries and a dumb blonde joke that somehow involved abortion.
I was hopeful during that quiet. It was, to my memory, his longest break to date, and I wondered if perhaps Rob had outgrown the forwards. Clearly he has not.
I'm not sure whether or how I should respond to these emails. Answering each with a factual correction reminds me of the fairy tale about emptying a lake with a spoon, and, like the girl in the story, I despair at the prospect. When Rob is at his emailing peak, the time commitment would be substantial, and I do not imagine I'd have significant effect. Would he even accept the sources I'd provide — or write them off as "fake news" hiding the truth?
Rob is the sort of person who shows up in lengthy feature pieces attempting to delve into the mind of that exotic creature, the Trump voter unashamed. I think about him and my other family members who would fit the bill when I read those stories, which often seem somehow to mix a sincere pursuit of understanding with an implicit, patronizing sneer: "Can you believe they'd say that? Good thing we're not like them."
But I am like them, genetically. Am I my cousin's political keeper? Is there a familial obligation here unmet? I sincerely don't know.
For now, at least, I'm reviving the filter that sends the messages to trash. And maybe if I'm ever back in Kentucky, Rob and I can talk in person about what he emails, why he emails it, and whether he'd at least be willing to do a little fact checking before he hits send.

Continue reading for free
We hope you're enjoying The Week's refreshingly open-minded journalism.
Subscribed to The Week? Register your account with the same email as your subscription.