Trump searches for justice
Why won't Google just give it to him!?!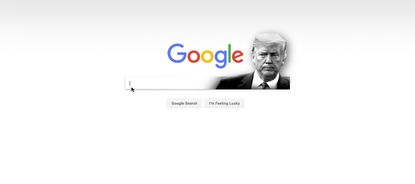 (Image credit: Illustrated | NICHOLAS KAMM/AFP/Getty Images, MrsWilkins/iStock, Screenshot)
It was only a month ago that President Trump defended Google as "one of our great companies" after the EU slapped it with a $5 billion fine. Now it seems the tech titan is actually part of a conspiracy worthy of discussion in a QAnon forum.
In a series of Tuesday morning tweets, Trump alleged that Google has intentionally "rigged" its search results against conservative news sites, promising that the "very serious situation" will "be addressed." Soon after, Larry Kudlow, director of Trump's National Economic Council, said the administration was "taking a look" at whether Washington should regulate Google's search engine.
And what is the damning evidence for Trump's conspiratorial claims? Paula Bolyard, a writer at right-wing PJ Media, did a Google News search on "Trump" and found that 96 of the first 100 results were from "liberal" sources. To determine the political leanings of the various publications, Bolyard used a "media bias" chart created by former CBS News reporter Sharyl Attkisson, who now hosts a weekly TV show for the conservative Sinclair Broadcast Group.
Subscribe to The Week
Escape your echo chamber. Get the facts behind the news, plus analysis from multiple perspectives.
SUBSCRIBE & SAVE
Sign up for The Week's Free Newsletters
From our morning news briefing to a weekly Good News Newsletter, get the best of The Week delivered directly to your inbox.
From our morning news briefing to a weekly Good News Newsletter, get the best of The Week delivered directly to your inbox.
That's it. That's the proof Team Trump apparently finds powerful and persuasive enough to suggest action against one of America's largest and most innovative companies.
Obviously, the entire situation is absurd. To believe Bolyard's conclusion of clear liberal bias, you have to believe that a "fair" search engine — one whose business relies on providing users the most useful, relevant, and authoritative news results — would somehow rank Infowars, ZeroHedge, and the Drudge Report as highly as Bloomberg, CNBC, and Reuters — which is how the Attkisson chart equates those sites. Reuters, by the way, is an international news agency started in 1851, which has won numerous Pulitzer Prizes and has had 14 journalists killed while reporting over the past two decades and a half. Infowars has speculated that NASA could be keeping child slaves on Mars. Hey, they report, you decide!
My own equally empirical and thorough analysis produced a much different take on Google bias than Bolyard's. I typed "Trump is" into the Google homepage search box to see what terms would autocomplete the phrase. Of the 10 results, six were clearly positive (such as "Trump is winning" or "Trump is awesome") vs. just two clearly — and low-ranked — negative ones ("Trump is a disaster" and "Trump is a Russian asset"). Apparently Google's homepage team didn't get the anti-Trump memo. Or perhaps hacker patriots have successfully penetrated the tech giant. More on this as events warrant.
But it isn't just the vaporous evidence of a diabolical Google conspiracy that should alarm free-thinking Republicans. In the past, conservatives and libertarians have attacked the notion that government should be regulating speech. They celebrated when the FCC in 2011 conclusively eliminated the Fairness Doctrine requiring licensed broadcasters to air opposing views on key public issues. The rule's revocation in 1987 is thought by some to have helped launch the conservative talk radio revolution. And when Democrats from Nancy Pelosi to John Kerry flirted with reviving the Fairness Doctrine in 2009, Newt Gingrich called the idea "affirmative action for liberals" and Sean Hannity "an assault on the First Amendment." So far silence about President Trump's proposal now, but maybe that's just Google censoring my search results.
Perhaps when conservatives think through the practical implications of what Trump is suggesting, they will strongly oppose any such efforts at censorship. Just who will decide what sorts of search results are fair and by what method? Does anyone want alphabetical results or one based on simple popularity? Before Google, 1990s web searches on "President Clinton" would produce the "President Clinton Joke of the Day" as the top result rather than the White House. Government regulation would also risk impeding further search innovation, while greater algorithm transparency might help spammers or foreign powers game the system.
Not that anyone at the White House — certainly not Trump — has seriously thought through the effects, intended or otherwise, of regulating search engines. Instead, Trump's tweets are just a clumsy effort to gin up pre-midterm enthusiasm among Republicans by telling them they are under existential siege by hostile elites, whether in Manhattan, Hollywood, or Silicon Valley. That's tribalist politics in the Trump era. What's really worrisome is that Trump is helping fuel a growing anti-tech hysteria on the right. Even before the Trump tweetstorm, some GOP pols and pundits have mused about breaking up Big Tech, turning these companies into public utilities, or stripping them of legal immunity from what others post on their sites.
Conservatives should also consider why there already aren't search competitors marketing themselves as providing supposedly more balanced results to the pro-Trump half (or 40 percent) of the country. Where is the Fox News of search engines? Maybe the market is sending a signal that there really isn't much demand for a non-problem. Or perhaps the conspiracy goes even deeper than we think.
Editor's note: This article has been slightly revised since it was first published.

Continue reading for free
We hope you're enjoying The Week's refreshingly open-minded journalism.
Subscribed to The Week? Register your account with the same email as your subscription.