If Kavanaugh loses, do Democrats really win?
How Democrats could claim Kavanaugh's scalp yet lose their fight for the Senate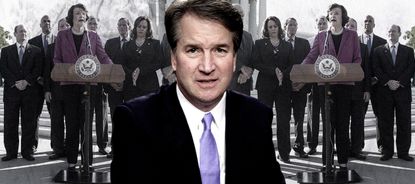 A confirmation initially characterized by partisan grandstanding has turned into a real fight. Christine Blasey Ford's accusations that Supreme Court nominee Brett Kavanaugh drunkenly tried to force himself on her when they were in high school — including details of how he allegedly tried to remove her clothes against her will and stifle her screams — have compelled the Judiciary Committee and the White House to bow to the inevitable and schedule hearings at which both Kavanaugh and Ford will testify about the decades-old alleged incident.
Those hearings, an unwelcome development for both Kavanaugh and the Republican-controlled committee, could cause Kavanaugh's nomination to implode, and grant the Democrats another surprise win. Yet if they do, Democrats, as much as Republicans, should be prepared for the blowback.
To explain why, let's walk through how the rest of his confirmation process could play out.
Subscribe to The Week
Escape your echo chamber. Get the facts behind the news, plus analysis from multiple perspectives.
SUBSCRIBE & SAVE
Sign up for The Week's Free Newsletters
From our morning news briefing to a weekly Good News Newsletter, get the best of The Week delivered directly to your inbox.
From our morning news briefing to a weekly Good News Newsletter, get the best of The Week delivered directly to your inbox.
Had the Judiciary Committee moved to vote on Kavanaugh's nomination without hearing testimony from Ford, they would implicitly have been saying one of two things: Either they are so prepared to believe Kavanaugh's own categorical denial, they see no reason even to hear from and cross-examine his accuser; or, that even if Kavanaugh is lying, it hardly matters because the matter is so trivial.
I doubt his nomination would have garnered even one Democratic vote under such circumstances. And the votes of Republican senators like Susan Collins (R-Maine), Lisa Murkowski (R-Alaska), Bob Corker (R-Tenn.), and Dean Heller (R-Nev.), who's in a tough re-election fight right now, would be far from assured. Moreover, Republicans would have to think of the fire such a move would light under the campaigns of threatened Democratic senators like Claire McCaskill (D-Mo.) or Heidi Heitkamp (D-N.D.). Judiciary Committee member Jeff Flake (R-Ariz.), who is retiring, probably did his party a favor by pushing for a hearing.
Yet the hearing is unlikely to go well for the GOP.
First, while Kavanaugh has promised to "refute" the allegations, which he vigorously denies, it's unclear just how he can do it. The scenario that Ford describes cannot plausibly be spun by talking about different "interpretations" of her intent. Covering a woman's mouth to stifle her screams doesn't admit to ambiguity. Nor is it especially plausible to claim this is a politically-motivated fabrication, not when there's written documentation that she spoke about the attack to her therapist six years ago.
That leaves mistaken identity: Kavanaugh can claim that the attack may well have taken place, but he has no idea since he wasn't there at the time. If Sen. Orrin Hatch (Utah) is to be believed, this is indeed the approach Kavanaugh will take. The problem is that Ford's own recollections are decidedly fuzzy as to time and place, which means any alibi that Kavanaugh offers will be ineffective, or even backfire; how can he be so sure he wasn't at the party if Ford isn't sure when the party was. In a court of law, of course, Ford's vagueness would surely be sufficient to win acquittal. But this isn't a court of law — it's the court of public opinion and hearings might well end with a reasonable public doubt about Kavanaugh's own veracity (something Democrats have been complaining about in other contexts). Do Republicans really want to go into November running on a platform of "I believe Brett Kavanaugh?"
Unless the GOP is so confident they can thoroughly destroy Ford's credibility that hearings would redound to their benefit, the committee would be far wiser to advise the White House to simply withdraw the nomination and choose someone else. Though White House sources claim it's too late, there is technically still time, before the next Senate is seated, to hold hearings and confirm a different nominee. Justice Kennedy only resigned in late June, after all. If Kavanaugh cared primarily about tilting the court in a decisively conservative direction, he'd fall on his sword now, withdraw his nomination, and save everyone the trouble.
He might yet do that. And if he does, Democrats should be prepared for the politics to shift swiftly and rapidly against them.
Doubt cuts both ways. Instead of a story about how the Republicans tried to muscle a would-be rapist onto the court, we'll hear about how a pillar of Republican jurisprudence was denied his seat because of scurrilously false allegations dating from when he was in high school, and that he was effectively convicted without ever being allowed to confront his accuser and clear his name. There's a reason Ford herself was reluctant to come forward publicly, and the ferocious storm of abuse that will come her way if Kavanaugh's nomination is derailed is precisely the reason why.
To be clear: Nobody is owed a Supreme Court seat, and plenty of political aspirants have seen their chances dashed on smaller rocks. Douglas Ginsburg had to withdraw his nomination for using recreational marijuana, after all. But if the Republican base becomes convinced that Kavanaugh is completely innocent, and that his case is comparable to the Duke Lacrosse players or the fictitious gang rape at the University of Virginia reported in Rolling Stone, that could motivate them powerfully to go to the polls.
Moreover, the electoral salience of the Supreme Court would rise enormously if Kavanaugh dropped out or was rejected and his replacement nominee had not yet been confirmed. The Court is an important issue for both parties, but Republican control of the Senate depends overwhelmingly on who turns out in a number of deep red states where the issue favors conservatives: In Texas and Tennessee, where the GOP is defending seats, and in North Dakota, Missouri, and Indiana, where Democrats are vulnerable, as well as in Nevada, Arizona, and Florida where the issue of the courts is more equivocal. In all of these states, closing the partisan enthusiasm gap could make the difference between victory and defeat.
None of that is to say that Democrats should in any way pull their punches with Kavanaugh. They had reason enough to oppose him before these allegations came to light. But like the saying goes: Politics ain't beanbag. That applies to Kavanaugh who, if he in fact is innocent of the accusations and withdraws or loses anyway, would have forfeited his life's ambition along with his reputation. But it applies to the Democrats as well.
It would be bitterly ironic, but the Democrats could wind up claiming Kavanaugh's scalp, yet losing their fight for the Senate, and seeing another solidly conservative nominee slip smoothly into Kennedy's seat in his stead.

Continue reading for free
We hope you're enjoying The Week's refreshingly open-minded journalism.
Subscribed to The Week? Register your account with the same email as your subscription.