How Democrats can split the Republican base
These wedge issues can divide and conquer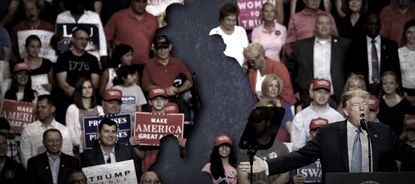 (Image credit: Illustrated | Rick Loomis/Getty Images, jessicahyde/iStock)
Since the days of Ronald Reagan, wedge issues have been one of the signature tactics of conservative politics. The idea is to take something which divides the opposing political camp and use it to sow division — hammering Democrats as "pro-abortion" to split socially conservative working-class voters from wealthier college-educated liberals, for instance.
However, it's increasingly clear that Democrats have an opportunity to turn the tables on the GOP. During the Trump presidency, Republican policy has been all-out plutocracy almost across the board. Polling shows a number of pre-sharpened wedge policy ideas that might well split the Republican base.
Probably the most obvious wedge is protection for people with pre-existing conditions. Before ObamaCare was passed, it was generally legal for insurance companies to deny coverage for people with illnesses or conditions that might prove expensive to treat, if they had not maintained previous coverage.
Subscribe to The Week
Escape your echo chamber. Get the facts behind the news, plus analysis from multiple perspectives.
SUBSCRIBE & SAVE
Sign up for The Week's Free Newsletters
From our morning news briefing to a weekly Good News Newsletter, get the best of The Week delivered directly to your inbox.
From our morning news briefing to a weekly Good News Newsletter, get the best of The Week delivered directly to your inbox.
One of the ObamaCare regulations was a ban on that kind of discrimination, and it is enormously popular. Fully 64 percent of Americans oppose repealing that ban — 70 percent of Democrats and 71 percent of independents, but also 49 percent of Republicans. Just 36 percent of Republicans support repealing that ban and returning to the pre-2010 status quo.
This issue is especially strong because it has been extensively discussed, and many if not most people personally know someone who has a pre-existing condition. One of those people is Sen. Claire McCaskill (D-Mo.) herself, who got breast cancer two years ago and is in a tough re-election race. Her Republican opponent, Missouri Attorney General Josh Hawley, has signed his state up with the latest conservative judicial activism lawsuit trying to repeal ObamaCare through Federalist Society argle-bargle.
This would get rid of all of ObamaCare's protections, and McCaskill is hammering him on it. A few Republican senators have proposed a limp bill that would partly restore the pre-existing conditions portion, but as Paul Blest points out, not only is there no sign whatsoever that Republicans could actually pass the bill, it also would not restore community rating rules to prevent sick people from being price-gouged and thus leave many people with chronic conditions unprotected.
One sign of the strength of McCaskill's position is that in response, Hawley has chosen to lie straight through his teeth, claiming in an ad that he supports those protections while not even mentioning the lawsuit, much less leaving it.
But that's only one potential wedge issue.
Another is raising the minimum wage. In 2016, a minimum wage of $10.10 an hour polled at 66-26 approval — and 55-31 even among Republicans. If anything, that has only increased over the last two years. In Florida, Democratic gubernatorial candidate Andrew Gillum is running on a $15 minimum wage, while his Republican opponent Ron DeSantis refuses to directly answer questions on the issue. It appears to be part of a working strategy, too: Gillum has consistently polled with a small lead.
These two ideas are easy and familiar ones. But one of the more promising angles of attack in both policy and political terms is worker codetermination, as Sens. Elizabeth Warren (D-Mass.) and Tammy Baldwin (D-Wis.) have proposed. This would change American corporate law to require that workers elect one-third (Baldwin) or 40 percent (Warren) of corporate boards.
Polling shows 55 percent of the population supports this idea while only 22 percent disapprove, with committed Republicans at 35-39. Undecided numbers, meanwhile, are quite large at 25 percent — reflecting the fact that this idea has barely been discussed at all.
The interesting thing about this policy is that stacking corporate boards with workers would have a tremendous effect on the American economy. Wages, benefits, and corporate investment would almost certainly be sharply increased — funded by cutting back grotesquely excessive corporate profits and executive salaries. All this could be done without having to raise taxes or build a single new program. (It's class war policy even a centrist could love.)
No doubt when the GOP's propaganda machine got going, Republican disapproval would increase a bit. But this native reaction no doubt reflects the fact that this idea sounds perfectly reasonably — why shouldn't workers have a voice in running the companies for which they work? For Democrats with a bit of courage and energy, it's a highly promising way to peel off Republican base voters from the big donor plutocrats that have an absolute death grip on the party elite.
Democrats, it's time to divide and conquer.

Continue reading for free
We hope you're enjoying The Week's refreshingly open-minded journalism.
Subscribed to The Week? Register your account with the same email as your subscription.