The cult of Beto
Why are liberals losing their minds over this doomed Texas Senate candidate?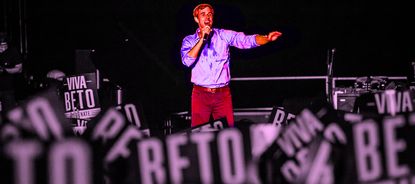 (Image credit: Illustrated | Tidarat Tiemjai/iStock, Chip Somodevilla/Getty Images)
There is no way Robert Francis O'Rourke, alias "Beto," a.k.a. the no-doubt gleaming future of the Democratic Party is as delusional about his prospects for success as his followers. That would be impossible.
The Texas congressman is your average 46-year-old liberal failson politico, the grandson of a secretary of the Navy, the son of a judge, a hanger-on in his party who graduated from playing in an amazingly bad hardcore punk band to a seat on the El Paso City Council. After that, he challenged Rep. Silvestre Reyes, an eight-term Democratic incumbent and chairman of the Congressional Hispanic Caucus, with the help of outside cash and despite endorsements from both Bill Clinton and Barack Obama. The two issues of crucial importance to reviving the fortunes of the working class on which O'Rourke fought his campaign were support for same-sex marriage and drug legalization, both of which Reyes, a Catholic, opposed.
Now O'Rourke is the Democratic nominee facing off against Sen. Ted Cruz. This is not some prize that party leadership granted to its favorite son. Defeating a sitting Republican senator in the Lone Star State is the kind of impossible job you give to someone you know slightly but don't much care about, someone minimally competent but ultimately expendable, someone whose particular qualities don't matter all that much because it's a just a slot that needs to be filled and you're just happy someone is bored or desperate enough to fill it — the kind of job you give, in other words, to Beto.
Subscribe to The Week
Escape your echo chamber. Get the facts behind the news, plus analysis from multiple perspectives.
SUBSCRIBE & SAVE
Sign up for The Week's Free Newsletters
From our morning news briefing to a weekly Good News Newsletter, get the best of The Week delivered directly to your inbox.
From our morning news briefing to a weekly Good News Newsletter, get the best of The Week delivered directly to your inbox.
Fair enough. But why does anyone outside of Texas care? Why is a guy who has never led in a poll against the most loathed politician in the most loathed political body in the country already being discussed as a potential presidential candidate, as someone who could win the White House even if or perhaps even because he loses to Cruz in November? Why are people calling him the next Obama? Is it because he's good at raising money?
No single article or tweet could do justice to the brain-destroying tedium of hyperbole, the willful exaggeration, the gushing faddishness, the hipster capitalist complacency, the novelty songwriting contest banality, the experimental filmmaker commercial-directing pseudo-profundity, the sheer late-night TV-level humorlessness of the Beto cult. In a recent column Dana Milbank promised to reveal the ingredients behind "the special sauce that flavors Betomania." Here they are:
"O'Rourke's cool factor: skateboarding at Whataburger, playing the air drums, doing his laundry on Facebook Live, and scoring appearances with Ellen DeGeneres and Stephen Colbert ..."
Fifty thousand people attended a — free — Willie Nelson concert at which he appeared.
"His partisan jabs are delicate."
He sometimes says "pendejo."
O'Rourke is not an especially compelling speaker, unlike the young Obama, to whom he is often compared, for reasons that I cannot understand. (A more apropos comparison, in fact, would be with Alan Keyes, the hapless longtime Republican hanger-on who was allowed to serve as Obama's doomed opponent in his 2004 Illinois Senate race.) Nor is Beto representative of the much-vaunted progressive revival in the party. In fact, he is a proud member of the misleadingly named New Democrat Coalition, the center-right organization founded by Bill Clinton that is "new" in the sense that Pavement's first two LPs are. Beto has criticized single-payer health care. He does not support a restoration of Glass Steagall or any of the other populist policies that were a cornerstone of Bernie Sanders' 2016 campaign. He is of the opinion that "standing on a stage" with the leader of Russia, something every president since Franklin Roosevelt has done, is an impeachable offense. He sports a 100 percent lifetime record from Planned Parenthood Action and NARAL. He is a typical neoliberal Democrat.
It's worth recalling that excitable rank-and-file Democrats do this to themselves every few years, especially in Texas. Remember Wendy Davis and the famous shoes with which she was going to vault from the floor of the Texas Statehouse to the governor's mansion, the White House, and, presumably, to infinity and beyond? The last I heard, after losing the governor's race in a spectacular landslide she was doing wine-and-cheese one-offs with F-listers at the Democratic convention in Philadelphia, where she signed the electric pink Nikes for a lucky fan who had purchased them with his own money years earlier at her estate sale.
If the seemingly impossible happens and Beto knocks off Cruz this fall, he will have earned the distinction of having unseated the least popular man in the U.S. Senate via a king's ransom from non-Texans and the endorsements of every moderately famous person ever to have appeared in a film or make a hit single not named either Chuck Norris or Gene Simmons.
Viva Beto, I guess?
Editor's note: A previous version of this article mischaracterized endorsements for former Rep. Reyes. It has been corrected. We regret the error.

Continue reading for free
We hope you're enjoying The Week's refreshingly open-minded journalism.
Subscribed to The Week? Register your account with the same email as your subscription.