Climate change is here now. We must do something.
We can't ignore it any longer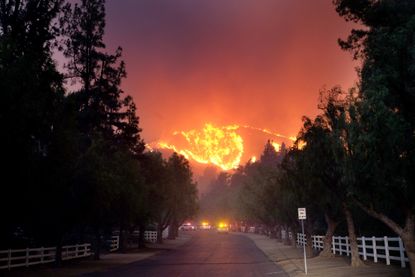 (Image credit: Getty Images)
The death toll from California's devastating Camp Fire has risen to 42, officials announced Monday. This makes it the deadliest wildfire ever in a state that has routinely seen big blazes.
Ignore President Trump's tweets blaming state officials for poor forest management. The bigger problem here is climate change. And the horrific death toll is one more piece of evidence in a case that's been building for quite some time: The consequences of a warming planet won't be felt in some far-off future. Climate change is here now, and it is a full-fledged emergency.
California has been burning with little respite since the summer. In late July, 14 different fires across the state burned nearly 688,000 acres, destroyed 2,000 structures, and killed 10 people. Now, there are three fires burning, and they are huge. The Woolsey Fire near Los Angeles has burned more than 90,000 acres and left two people dead. The Hill Fire in Ventura County has claimed another 4,500 acres. And of course, The Camp Fire has killed 42 and destroyed 7,000 structures. More than 200 people are missing.
Subscribe to The Week
Escape your echo chamber. Get the facts behind the news, plus analysis from multiple perspectives.
SUBSCRIBE & SAVE
Sign up for The Week's Free Newsletters
From our morning news briefing to a weekly Good News Newsletter, get the best of The Week delivered directly to your inbox.
From our morning news briefing to a weekly Good News Newsletter, get the best of The Week delivered directly to your inbox.
As The Washington Post notes, "the Camp Fire tops the Tubbs Fire in its devastation, and the Tubbs Fire, which burned down large swaths of Santa Rosa, set the record less than a year ago."
This is no one-off. This is a disaster on top of a disaster. Fires like these are going to keep happening year after year. California Gov. Jerry Brown called this the new abnormal. "And this abnormal will continue certainly in the next 10 to 15 to 20 years," he said. "Unfortunately, the best science is telling us that dryness, warmth, drought, all those things, they're going to intensify. We have a real challenge here threatening our whole way of life, so we've got to pull together."
California has a long history of major wildfires. Why blame the latest devastation on climate change?
Because the climate really is changing. This isn't just anecdotal; we can measure the changes. In California, the days are getting warmer — and the nights are, too. This limits nighttime humidity, which has traditionally made it difficult for big fires to gather strength in the overnight hours. Add to that a declining spring snowmelt and a reduced rainy season, and the result is that California's forests are dry tinder just waiting for a spark.
Of course, the damage goes well beyond the California fires. The deadly effects of climate change can be seen around the world.
In Florida, sea level rise attributed to climate change has put coastal properties at risk and forced the state and local governments to plan for $4 billion to raise roads, build seawalls, and protect sewage systems. In Alaska, a single village has received a $15 million grant to move its residents to higher ground as rising sea levels and melting permafrost erodes their coastal habitat. Internationally, the number of hungry people grew in 2017 for the third year in a row — a growth scientists attribute to extreme weather events, drought, and other developments brought on by climate change.
Maybe I sound alarmist, but alarms let us know about emergencies that require a response. This is an emergency, and we need to respond.
The chief argument for inaction on the climate is that the consequences of a warming planet are far off in the future, and they might not even materialize. Why harm economic prospects for today's workers for a problem that might never come to fruition?
It's coming to fruition now.
There will be more than a few people who disagree with me. But this is where enlightened self-interest and a smart gambler's judgment of the odds should take over: If climate change increases the chance that your home will burn, or be flooded, or that your family will go hungry sometime in the next few years, shouldn't you support action that might avoid that fate? Do you really want to take the chance?
The House of Representatives will have a lot on its agenda when Democrats take control. Aggressive action on the climate should top the list. It is no longer history that will judge today's officials for their inaction, but the survivors among their living, breathing constituents. The emergency is here, and it is killing people. It's time to do something about it.

Continue reading for free
We hope you're enjoying The Week's refreshingly open-minded journalism.
Subscribed to The Week? Register your account with the same email as your subscription.