Are zoos ethical?
Examining the pros and cons of supporting these controversial institutions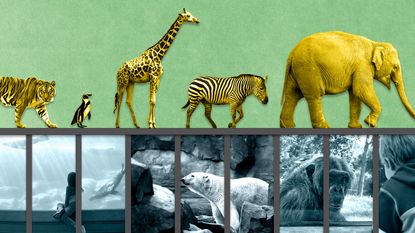 (Image credit: Illustrated | Gettyimages)
Zoos have been controversial for nearly as long as they've existed. Proponents argue the institutions are safe, controlled environments where the public can view and learn about wild animals. Opponents insist zoos are inhumane bastions for the animals they house. Who is right?
Pro: Zoos are a key part of wildlife conservation
Zoos are certainly controversial, but they "protect against a species going extinct," argues Dr. Dave Hone at The Guardian. In a controlled, protected environment such as a zoo, endangered species "are relatively safe and can be bred up to provide foundation populations." Some species now exist only in the captivity of zoos, and without the protections zoos offer, "there would be fewer species alive today and ecosystems and the world as a whole would be poorer for it." Zoos can also "help reintroduce animals into the wild," Karlyn Marcy writes for the Association of Zoos and Aquariums, as was the case with previously endangered species such as the California condor.
Con: Wild animals don't thrive in captivity
"Many animals clearly show us that they do not enjoy captivity," writes Emma Maris for The New York Times. Maris cites a 2014 study that showed captive animals "rock, pull their hair, and engage in other tics." When it comes to captive tigers, Maris notes that they were observed to pace back and forth. "It is almost as if they feel driven to patrol their territory, to hunt, to move, to walk a certain number of steps, as if they have a Fitbit in their brains," Maris adds. There are categories of observed behaviors that prove animals hate being locked up, including "coprophagy (eating feces), regurgitation, self-biting and mutilation, exaggerated aggressiveness and infanticide, and 'stereotypies,' which are endlessly repeated movements."
Subscribe to The Week
Escape your echo chamber. Get the facts behind the news, plus analysis from multiple perspectives.
SUBSCRIBE & SAVE
Sign up for The Week's Free Newsletters
From our morning news briefing to a weekly Good News Newsletter, get the best of The Week delivered directly to your inbox.
From our morning news briefing to a weekly Good News Newsletter, get the best of The Week delivered directly to your inbox.
Pro: Zoos are havens for valuable research
Some zoos are poorly run and should be closed. But "there's a strong moral case for why these institutions ought to exist," Richard Moore, a researcher at the Berlin School of Mind and Brain, writes for digital magazine Aeon. "The research my colleagues and I conduct isn't harmful to the animals and, if it goes well, it will help us get a better grasp on the cognitive differences between humans and apes." Moore, who works closely with apes, says his research can also provide insight into human evolution. "Zoos recognized by the two main accrediting bodies in Europe and the United States are rigorously vetted ... and there's no solid evidence that apes living in well-designed enclosures get stressed or disturbed by human observation."
Con: Animals in zoos are sometimes abused
While the majority of zoos are non-profits, "wild animals in zoos are reduced to commodities and given inadequate habitats," writes Zoe Rosenberger for Sentient Media. Zoos, Rosenberger adds, often amount to little more than places for animal exploitation, "profiting from the visitor attention and conservation grants they garner while providing the captive animals with a poor quality of life." Rosenberger notes that some exhibitors "use their licenses to operate roadside zoos and petting zoos, which are both notorious for animal abuse." This sentiment was shared by Madison Coleman, who writes for research library Ballard Brief that animals face abuse in zoos "both due to the inherently stressful nature of captivity as well as certain conditions within these facilities that exacerbate the mistreatment."
Pro: Zoos can improve the lives of wild animals
"Blunt and sweeping indictments of zoos and aquariums fail to account for how ethical institutions enrich and ultimately protect the lives of animals, both in human care and in the wild," Dr. Robin Ganzert, CEO of the American Human Association, writes for Time magazine. It is unfair to categorize all zoos as bad, she argues, given that "responsible zoos and aquariums exist to facilitate and promote the conservation of animals." The best zoos in the world "are uniquely positioned to combat [the threat of extinction]." However, "positive contributions of zoos and aquariums in conserving wild animals cannot — and should not — outweigh the health and well-being of the animals living under the care of these institutions," she says.
Con: Zoos perpetuate the idea that animals are human property
"Many of the perceived benefits of keeping animals in zoos are simply not morally or logically justified," writes Cristina Crivelli for Penn State. While zoos allow the public to enjoy nature, "seeing animals in zoos is not the only way to educate people on animals, and it is not even arguable that animals are more comfortable in zoos than in their natural habitats," Crivelli adds. She also notes the ever-increasing popularity of veganism as a lifestyle, saying, "Humans should leave non-human animals alone; they're not our property, or things to be owned, profited off, or exploited for our pleasure." There is no morality in zoos, Crivelli writes, concluding, "There are other ways of keeping animals safe and away from the threat of endangerment."

Continue reading for free
We hope you're enjoying The Week's refreshingly open-minded journalism.
Subscribed to The Week? Register your account with the same email as your subscription.