The great Black Friday swindle
Don't fall for the flim-flam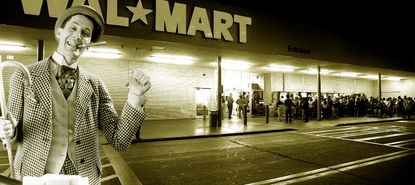 (Image credit: Illustrated | Screenshot/YouTube, iStock)
The Black Friday retail sales blitz has become an omnipresent fixture of American popular culture, its intensity and scale seemingly ratcheted up with every annual cycle. And tens of millions of us have been caught up in the madness. Around 38 percent of Americans plan to participate this year, per a Reuters poll.
Unfortunately for all of us, Black Friday is an elaborate con job.
Black Friday's rise as a cultural phenomenon came with a lot of ugly hand-wringing. There are news stories of massive crowds storming retail floors, scrambling over one another for deals, and sometimes literally trampling each other in the process. Relatively privileged commentators then inevitably worry about rising materialism, consumerism, barbarism, and an attendant decline in American virtue.
Subscribe to The Week
Escape your echo chamber. Get the facts behind the news, plus analysis from multiple perspectives.
SUBSCRIBE & SAVE
Sign up for The Week's Free Newsletters
From our morning news briefing to a weekly Good News Newsletter, get the best of The Week delivered directly to your inbox.
From our morning news briefing to a weekly Good News Newsletter, get the best of The Week delivered directly to your inbox.
But given the economic circumstances most Americans find themselves in, the Black Friday rush is understandable.
Wages for the broad majority of workers have been virtually stagnant for decades. Unemployment may be remarkably low, but wage growth is actually slower compared to previous business cycle peaks with higher unemployment rates. Fixed costs like education, housing, child care, and health care chew up bigger portions of the typical household budget than they used to. Forty percent of U.S. adults would be unable to cover a $400 emergency expense. And this has all happened while we Americans work longer hours than our peers elsewhere in the West.
Forty-five percent of Black Friday shoppers will likely be young people, ages 18 to 29. That's also the age group that's been most brutalized by the economy. Thanks to the combined blows of the Great Recession, the housing crisis, and the student debt crisis, their household wealth is in shambles. Entering the post-2008 labor market probably did permanent damage to their future earning prospects.
If the quest for Black Friday deals seem tinged with a bit of manic desperation, well, maybe it's because most Americans have reason to be at least a little desperate.
But it's worse than that. Black Friday doesn't just reveal how messed up America's economy is, and how low-key lousy so many American shoppers have it. It's also an example of how businesses hoodwink those desperate shoppers.
The Econ 101 story about shopping deals is that retailers are trying to clear out unsold inventory. The product didn't sell at the starting price, so businesses cut the cost and eat a loss to just get rid of it, and maybe make up some money in volume. That is indeed how it worked in decades past. But recently, retailers have gotten more sophisticated — and more manipulative.
These days, when retailers get products from the suppliers, they often immediately mark them way up, sometimes as high as 70 percent. That gives them room to drop the prices down for "sales events" while still making a healthy profit. For instance, 31 big department store and apparel chains increased the number of deals 63 percent from 2009 to 2012. Average discounts grew from 25 percent to 36 percent. Yet the difference between what retailers paid for their inventory versus what they sold it for remained steady at roughly 28 percent.
Rather than an economically necessary markdown, many deals are actually psychological manipulation to draw shoppers in and make them think they've gotten a bargain.
Adding insult to injury, another study by The Wall Street Journal found that Black Friday deals specifically aren't all they're cracked up to be. The paper looked at over 50 retailers, including the big names like Walmart and Amazon. It examined items as diverse as high-end watches, flat screen TVs, Elmo toys, and kitchen appliances. The verdict? Prices throughout the year during other sales events were actually lower.
In fact, analysis of 1,743 different products showed prices climbing anywhere from 8 percent to 23 percent in the weeks just before Black Friday. Retailers slowly nudge costs up just to make the ensuing price reductions look more dramatic. (Nor is this just an American problem; it happens in Britain too.)
Of course, there are plenty of legitimate deals to be found on Black Friday. But more and more, retailers use clever pricing schemes to manufacture "deals" out of thin air. By all accounts, retailers couldn't stop snookering people with those manufactured sales at this point even if they wanted to. They'd lose too many customers. The bargain events have created a kind of feedback loop between shopper frenzy and retailer manipulation. And now we're all stuck inside it.
Enjoy your Black Friday deals, everyone.

Continue reading for free
We hope you're enjoying The Week's refreshingly open-minded journalism.
Subscribed to The Week? Register your account with the same email as your subscription.