The best and worst White House Christmas displays
From the Trumps' blood-drenched evergreens to the Reagans' holiday magic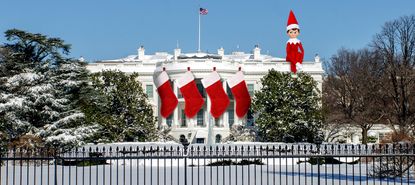 (Image credit: Illustrated | Tim Brown/iStock, pashapixel/iStock, Screenshot/Amazon)
There is nothing like Christmas at the White House. Each winter, America's first family looks to both pay tribute to decades of presidential tradition while also staking out a display all their own — sometimes to varying success.
This is how 14 first ladies prepared for the most wonderful time of the year.
14. Betty Ford, 1975
Subscribe to The Week
Escape your echo chamber. Get the facts behind the news, plus analysis from multiple perspectives.
SUBSCRIBE & SAVE
Sign up for The Week's Free Newsletters
From our morning news briefing to a weekly Good News Newsletter, get the best of The Week delivered directly to your inbox.
From our morning news briefing to a weekly Good News Newsletter, get the best of The Week delivered directly to your inbox.
You can't fault a woman for the decade she has to decorate in. First lady Betty Ford, who lived in the White House through the heart of the 1970s, wasn't exactly fortunate when it came to holiday trends: Think tinsel. Lots and lots of tinsel. Still, despite the unfortunate tackiness of the era, Ford could have avoided some missteps in her "Children's Christmas"-themed White House in 1975 — just look at that sad, skinny Santa Claus! And put some lights or ornaments on that Christmas tree — anything!
13. Eleanor Roosevelt, 1939
President Franklin Roosevelt spent some 10 Christmases in the White House, which would admittedly be an exhausting amount of Christmases to have to decorate the mansion for (the president's final two holidays of his 12 years in office were held at the family's home in Hyde Park). Seeing as it was the end of the Great Depression, it is understandable that Eleanor Roosevelt did not go overboard with extravagance in 1939, although that does nothing to forgive the abominable lametta on her tree.
12. Melania Trump, 2018
First lady Melania Trump has not found tremendous success decorating the White House just yet (remember her ominous grove of dead trees from last year?). This year's arboreal blunder comes in the form of red evergreen trees, which are unnervingly evocative of the bloodthirsty red weed from War of the Worlds. While she gets points for being bold and thinking outside the box, you never want a Christmas display in which the Twin Peaks brain tree would fit right in.
11. Michelle Obama, 2016
Michelle Obama's last Christmas in the White House was a mishmash of themes, colors, and Portuguese water dogs. While the enormous replicas of Bo and Sunny are cute, they aren't exactly Christmasy. Obama also went overboard with American flag references, which felt out of place beside the wintery displays. Save red, white, and blue for July.
10. Frances Folsom Cleveland Preston, 1898
The Cleveland family Christmas tree was the first to have electric light bulbs, although they did nothing to take away from the nostalgic feel of Frances Cleveland's Oval Room display. With the window wreathes and a gorgeous old nativity set adding cheery touches, the whole picture comes together looking downright Dickensian. Still, those dolls are creepy.
9. Claudia "Lady Bird" Johnson, 1967
(AP Photo)
Lady Bird Johnson might not have had the flashiest White House holiday decor, but she did have the coziest. Her display looks so welcoming and natural that you half expect there to be a present for you waiting under the tree. While that's all well and good for any other home in America, this is the White House, and the Johnsons are docked for their overall lack of pomp. Good dog, though.
8. Mamie Eisenhower, 1958
Mamie "Mrs. Christmas" Eisenhower was an enthusiastic decorator, and in 1958 she erected 27 trees throughout the White House, not a one of them fake. Unfortunately, FirstLadies.org reports that she was also an enthusiastic dispenser of tinsel and white spray paint (alas, there are reportedly no color photographs of the whole affair). Perhaps Eisenhower's greatest fault of all, though, was piping Christmas carols into every room of the White House. Yes, yes, we get you love Christmas, but make it stop!
7. Hillary Clinton, 2000
Hillary Clinton's Christmas decor was a lot, but that wasn't necessarily a bad thing. Favoring a green-and-gold color scheme, Clinton's decor in 2000 had a grandmothery feel about it, which was both comforting and festive. Fittingly, her theme was "Holiday Reflections," and her displays contained elements of "the seven [previous] Christmas themes of the Clinton administration." Although the resulting stocking bonanza might be too much for some people, what can I say — I'm a maximalist.
6. Jacqueline Kennedy Onassis, 1961
Jackie Kennedy was the picture of elegance, and her White House at Christmastime came to match. Her tasteful Nutcracker-themed Blue Room tree launched the tradition of themed Christmases in the White House, and what a note to start on — strung with light blue ribbon and dangling figurines, the Balsam fir evoked Peter Tchaikovsky's ballet. Notably, Kennedy dispensed with Eisenhower's enthusiastic use of tinsel.
5. Pat Nixon, 1969
Pat Nixon strived for "elegance, beauty, and grace" in her White House decorations, and she didn't fall short. Her refined decorating proved that a little could go a long way — say, a green bow on an Irish setter or simple red pillars. She also launched one of the most beloved White House holiday traditions: the enormous gingerbread house.
4. Barbara Bush, 1990
Barbara Bush loved a good poinsettia, and extended the rich red theme to every room in the 1990 White House. But perhaps the best part about her display was her enthusiasm over every little detail — as she led the press tour, she repeatedly implored the photographers to get close and really look at the handicraft of her staff. Even the presidential plumber contributed a white castle made of pipes. Not a detail was overlooked; even Millie got a red bow on her collar.
3. Rosalynn Carter, 1978
Rosalynn Carter had a mildly terrifying tree of dolls in the 1978 White House, but if you can put aside that creepiness, you might appreciate the old-timey look of her Christmas display (even the Carters' Christmas card was a throwback to the days of yore). Of all the nostalgic decorations employed by first ladies over the years, Carter's is the most impressive, with a marigold sting of pompoms nicely tying together with the window drapes, and generally making the whole room feel warm. Additionally, like many other White House families, Carter made the reason for the season a prominent part of her decor: just look at that fabulous, towering nativity.
2. Laura Bush, 2007
You've got to hand it to the Bush family; they sure know how to decorate for Christmas. Laura Bush took a page out of first lady Hillary Clinton's playbook with the gold and green palette in 2007, but made it all her own. While the natural-looking theme was a risk — Bush chose to represent "Holiday in the National Parks" that year — the understated beauty works, with the fluffy piles of "snow" on the bows of the trees and wreathes making it feel like you were outdoors. The Christmas cookies, of course, were in the shape of animals you could find in the parks.
1. Nancy Reagan, 1987
No one did Christmas quite like Nancy Reagan. From hanging out with ALF to throwing fake snowballs with Dom DeLuise to sitting on the lap of Mr. T, Reagan embraced her role as the conductor of the White House Christmas. The first lady's childlike excitement about the holidays got at the heart of what Christmas is all about; in fact, you could frequently find Nancy sprawled out among the children, enjoying the entertainment. In her 1987 display, she had a music-themed Blue Room tree, although perhaps the best room was one in which eight towering evergreens were adorned with silver lights and surrounded by soft drifts of fake snow. "The room is warm, but it feels like it's snowing," DeLuise told the press in awe. Now that's Christmas magic.

Continue reading for free
We hope you're enjoying The Week's refreshingly open-minded journalism.
Subscribed to The Week? Register your account with the same email as your subscription.