Boycott Starbucks? Don't bother.
Howard Schultz shouldn't be president. That's no reason to destroy his former company.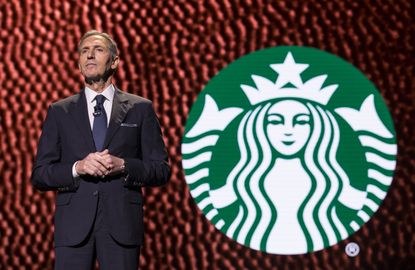 (Image credit: Stephen Brashear/Getty Images)
Sign up to our 10 Things You Need to Know Today newsletter
A free daily digest of the biggest news stories of the day - and the best features from our website
Thank you for signing up to TheWeek. You will receive a verification email shortly.
There was a problem. Please refresh the page and try again.
Democrats are already in panic mode over the 2020 election: Howard Schultz, the former Starbucks CEO, is contemplating running as "centrist independent," and liberals across the land seem terrified he'll end up a spoiler for their ambitions, handing the White House back to President Trump for a second term.
Their solution: Boycott Starbucks.
That's not a great idea.
Subscribe to The Week
Escape your echo chamber. Get the facts behind the news, plus analysis from multiple perspectives.
SUBSCRIBE & SAVE
Sign up for The Week's Free Newsletters
From our morning news briefing to a weekly Good News Newsletter, get the best of The Week delivered directly to your inbox.
From our morning news briefing to a weekly Good News Newsletter, get the best of The Week delivered directly to your inbox.
Certainly, Schultz's candidacy isn't a great idea either — we'll get to that in a moment — and boycotts have a long, often honorable history in American politics, used by pre-Revolutionary tea drinkers and Civil Rights-era activists alike. Senator Marco Rubio's (R-Fla.) ongoing attempts to allow state and local governments to discriminate against Americans who boycott Israel disrespects both that tradition and the First Amendment of the Constitution.
So it's understandable that anti-Trump activists might look to a boycott to pressure Schultz into abandoning the race. Will Bunch, the Philadelphia newspaper columnist, recently made a good argument for Democrats considering skipping their next half-caf skinny latte: "It feels like in this so-called democracy, the only power everyday people have is as a consumer," he said in a tweet. "We can't get states to control guns but Dick's Sporting Goods will, if they want to keep their customers."
Fair enough. But there are several reasons a boycott of Starbucks might be unnecessary — or, at the very least, overkill — when it comes to Schultz's presidential campaign.
First, his candidacy is unlikely to amount to much. Nobody's taking him seriously as a threat to actually capture the Oval Office; the real worry among Democrats is that he'll peel enough anti-Trump votes away from them to accidentally give Trump a victory. Nightmares of Ralph Nader's 2000 candidacy, and how it may have helped George W. Bush claim the presidency, still haunt liberal activists nearly 20 years later.
Schultz is no Nader. To the extent that third-party candidates can play spoiler in an election, it's usually because they're true believers who attract true believers. Nader ran against a mushy centrism that, for many voters, made Third Way Democrats of the Al Gore-Bill Clinton variety barely distinguishable from Bush's laissez-faire capitalism. Schultz apparently has his issues — deficit reduction, for one — but mostly he seems like your run-of-the-mill rich guy running for president because he's got money, time, and ego to spare. It is difficult to imagine there's much constituency there.
Even if he loomed as a greater threat, there's another problem with the idea of boycotting Starbucks: Schultz, with an estimated net worth of more than $3 billion, will be insulated from its effects. He may still care about the fortunes of the company he led for so long, but if the idea of a boycott is to deprive Schultz's election coffers of cash, well, too late.
The people more likely to suffer from a boycott are the baristas at your neighborhood Starbucks.
The most important reason that a boycott is a bad idea in this case: It's anti-democratic. Nobody seems to be saying that Schultz is a terrible man, or that he is promoting ugly and harmful ideas that deserve to be driven from the public square. Mostly, they seem mad that he's in the way of their plans. That's different, and it seems like an insufficient reason to boycott. Schultz wants to exercise his right as an American and run for office, and for that reason only people want to harm his livelihood. It smacks of desperation, a sign that Democrats aren't confident they can win their argument for 2020 on the merits.
None of this means Schultz is untouchable. His policy ideas are easily critiqued. His record as Starbucks CEO is fair game — lefty voters, for example, will be interested in the company's history of anti-union tactics. And Democrats should absolutely educate the public about the possible consequences of a vote for Schultz: He should be made to answer, for example, how an "independent" in the White House will be able to pass an agenda through a partisan Congress. (Spoiler alert: It's probably impossible.)
Americans, of course, should spend their money how they like. I rarely drink Starbucks, for example, but that's because I have the good fortune of living in a funky little college town that sprouts new independent java joints with startling regularity. Don't avoid Starbucks because you're afraid of Howard Schultz's presidential candidacy. Do it for the reason everybody else does: To get better coffee somewhere else.
Continue reading for free
We hope you're enjoying The Week's refreshingly open-minded journalism.
Subscribed to The Week? Register your account with the same email as your subscription.
Sign up to our 10 Things You Need to Know Today newsletter
A free daily digest of the biggest news stories of the day - and the best features from our website
Joel Mathis is a freelance writer who lives in Lawrence, Kansas with his wife and son. He spent nine years as a syndicated columnist, co-writing the RedBlueAmerica column as the liberal half of a point-counterpoint duo. His honors include awards for best online commentary from the Online News Association and (twice) from the City and Regional Magazine Association.