How socialism won at South by Southwest
The conference shed light on how democratic socialism has won over many young voters, while the free market's once-sterling reputation has taken a beating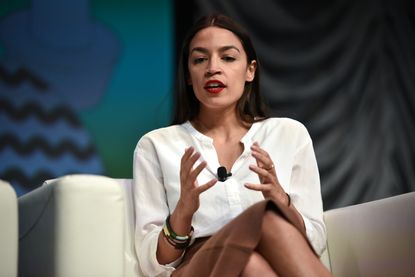 (Image credit: REUTERS/Sergio Flores)
Capitalism took a beating this weekend at the South by Southwest Conference in Austin, Texas.
Alexandria Ocasio-Cortez was cheered. Howard Schultz was, well, not exactly booed, but he did produce a few groans for criticizing socialism. And overall, panels at the conference shed light on how democratic socialism has won over many young voters, while the free market's once-sterling reputation has taken a beating.
Somewhere, the spirit of Milton Friedman is shedding a tear.
Subscribe to The Week
Escape your echo chamber. Get the facts behind the news, plus analysis from multiple perspectives.
SUBSCRIBE & SAVE
Sign up for The Week's Free Newsletters
From our morning news briefing to a weekly Good News Newsletter, get the best of The Week delivered directly to your inbox.
From our morning news briefing to a weekly Good News Newsletter, get the best of The Week delivered directly to your inbox.
Schultz, the former Starbucks CEO who is considering a presidential run, got the weekend rolling by insisting that the "vast majority of Americans are not going to embrace socialism," and drew an audibly negative response from the crowd when he offered up Venezuela as an example.
"You don't like that?" he asked his onlookers. They didn't.
Meanwhile Congresswoman Ocasio-Cortez, the New York Democrat, drew cheers by praising democratic socialism, declaring capitalism "irredeemable," and warning: "We should be scared right now because corporations have taken over our government."
The audience did like that.
As if capitalism — and capitalists — needed more bad news, Axios over the weekend reported on a new Harris Poll suggesting that young Americans are much happier than their elders to give socialism a try. They're more likely to believe government should provide universal health care and tuition-free college, don't believe that high earnings are the result of free enterprise, and are less likely to hope that government continue to allow private insurance.
Oh, and there's this little detail: Those young, socialist-friendly voters will make up 37 percent of the electorate in 2020.
The divide, it's clear, isn't just ideological — it's generational. Older voters might be confused, and reasonably so: Didn't the end of the Cold War prove once and for all that free markets are superior to the alternatives? Maybe. But a whole generation of voters has come of age with a difference set of experiences. And for these younger Americans, "socialism" isn't a dirty word.
Millennials and the young adults coming up behind them might reasonably ask what capitalism has done for them lately. Their formative economic experience wasn't the boom years of the Reagan or Clinton administrations, but the Great Recession that, for a short time in 2007, appeared poised to wipe out the world economy. Young adults have hit the job market in an era of stagnating wages, rising student debt, and soaring housing costs. One study shows they'll struggle to find good jobs and accumulate wealth as compared with their parents, despite being more highly trained.
That disadvantage has made a real, tangible difference in the lives of those younger adults. They're slower to achieve traditional markers of American adulthood — home ownership, marriage, having children — than their predecessors.
Earlier generations of Americans enthusiastically embraced capitalism because it seemed to work. But if you're a single early-30-something still mired in college debt, how likely would you be to say the system was working for you?
It doesn't help that socialism's critics frequently overplay their hand, using the term to describe pretty much anything they don't like. Here's how California's Republican Congressman Devin Nunes spent his weekend:
And then he doubled down:
This is absurd, and transparently petty.
Add to all of this a growing sense that the game might be rigged. Amazon is reportedly paying no income tax this year, but has been offered an array of government incentives to locate its offices in various cities. The big banks that caused the Great Recession got bailouts — and so did the politically connected autoworkers union — but homeowners were left to drown in a tide of foreclosures. Even Nunes isn't too worried about taking a government check: His family's farm reportedly brought in $244,000 in government subsidies over a 20-year period.
It's hard to blame young Americans if they think American capitalism is fraught with unfairness and hypocrisy. Democratic socialists like Ocasio-Cortez at least offer ideas that address concerns about how to pay for things like college and medical bills. Republicans, meanwhile, keep offering tax cuts aimed mostly at the rich. No wonder democratic socialism has become tempting.
If the free market's defenders want to improve their standing with millennials — if they want to keep President Trump's promise that America will never be a socialist nation — they'll have to demonstrate that capitalism actually improves the lives of young people.

Continue reading for free
We hope you're enjoying The Week's refreshingly open-minded journalism.
Subscribed to The Week? Register your account with the same email as your subscription.