Is Trump really proposing to cut Medicare?
Republicans and Democrats keep switching sides on this debate. Here's what you need to know.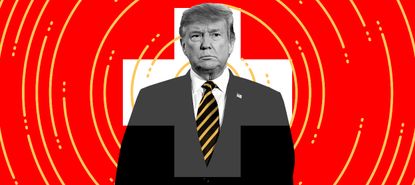 (Image credit: Illustrated | SAUL LOEB/AFP/Getty Images), FreeSoulProduction/iStock)
President Trump was supposed to be different kind of Republican: Back in 2015, he promised to "save Medicare, Medicaid, and Social Security without cuts."
Fast forward to this week, when Trump's new national budget proposal was released. Democratic presidential contenders like Sen. Kamala Harris (D-Calif.), Sen. Bernie Sanders (I-Vt.), and Sen. Amy Klobuchar (D-Minn.) are all pouncing on the president for supposedly including $845 billion in cuts to Medicare in his budget's 10-year window. Meanwhile, Trump's budget director is firing back that it isn't true.
Which is it? Does Trump want to cut Medicare or not? The answer is complicated.
Subscribe to The Week
Escape your echo chamber. Get the facts behind the news, plus analysis from multiple perspectives.
SUBSCRIBE & SAVE
Sign up for The Week's Free Newsletters
From our morning news briefing to a weekly Good News Newsletter, get the best of The Week delivered directly to your inbox.
From our morning news briefing to a weekly Good News Newsletter, get the best of The Week delivered directly to your inbox.
Usually, what people imagine when politicians talk about "cuts to Medicare" is benefit reductions: Seniors getting less coverage, fewer drugs and procedures, or having to pay more money out of pocket. For the most part, those kinds of cuts aren't in Trump's proposal. Instead, his budget looks to reduce what Medicare pays to doctors and hospitals and private insurers for all those things. Hence the argument, from Trump's acting Office of Management and Budget Director Russ Vought, that they're "not cutting Medicare in this budget."
Specifically, Trump's budget would cut the payments that Medicare sends to hospitals to reimburse them for unpaid bills, as well as payments to the outpatient care that hospitals provide. Payments to nursing homes and home health-care providers would be reduced. And Trump's budget also includes a bunch of different policies aimed at lowering prescription drug prices.
Of course, these sorts of changes can bleed into benefit reductions sometimes. But generally speaking, the idea here is to get more value per dollar the program spends — reduce Medicare's expenditures without reducing benefits. Medicare is an enormous program, anticipated to rise from 15 percent of federal spending as of 2017, to 18 percent as of 2028. If Trump's Medicare cuts actually passed (which they won't), and if they actually worked as advertised, that would be a big deal.
The funny part is that the two parties found themselves in opposite roles over the exact same issue several years ago.
When they passed ObamaCare, the Democrats wanted to keep the health-care reform budget-neutral. So they both raised taxes and cut spending elsewhere. And one of the places they cut was, you guessed it, Medicare's payments to providers. The whole thing amounted to around $716 billion in Medicare savings over a decade.
Sure enough, Republicans at the time accused Democrats of cutting Medicare and endangering seniors — including in a series of attacks by Mitt Romney's 2012 presidential campaign. And sure enough, Democrats shot back that these attacks were unfair, because the cuts were to provider payments, as opposed to benefit reductions. Then of course the GOP made no effort to rollback ObamaCare's cuts after they took the presidency and both houses of Congress in 2016.
That's politics for you.
But do these sorts of cost-saving measures actually succeed in reducing Medicare spending without harming benefits?
Providers naturally argue they wouldn't. Tricia Neuman, the director of the Kaiser Family Foundation's Program on Medicare Policy, told CNBC that it's "hard to predict how these proposals would affect patient care if they became law." Chip Kahn, the CEO of the Federation of American Hospitals, told The Washington Post that "the impact on care for seniors would be devastating." (Obviously the hospitals have a dog in this fight.)
The difficulty with predicting the effects is that, while Medicare covers roughly 60 million Americans over age 65, there's still an enormous market of consumers out there covered by private insurers. And those insurers are willing to pay more for health care. Doctors and hospitals and drug companies may be loath to abandon a market of 60 million people, but squeeze them hard enough and they may decide they're better off not taking on Medicare patients. But no one knows exactly where that limit is, or how far the government can bargain Medicare providers down before they start jumping ship.
Medicare's cost growth certainly slowed after ObamaCare was passed, though a lot of other factors could account for that. And Medicare's payment reductions haven't noticeably reduced patient access to health care. That said, ObamaCare set up its Medicare payment reductions on an extremely long glide path, and many of the cuts will arrive over the coming decades. You'd also have to consider that, in a theoretical world where Trump's budget passed, his Medicare payment reductions would be added atop ObamaCare's already-scheduled reductions.
America's total spending on health care is through the roof: almost 17 percent of the economy in 2015. That's 5, 6, or even 7 percentage points higher than most other advanced Western nations. Most of what drives that gap is prices: What American health-care providers charge for drugs, services, procedures and everything else is just way higher than in those other countries. There are definitely enormous savings to be found here.
Ironically, what makes it harder for Medicare to get those savings is that it doesn't cover the entire population. Which gives providers an out. If nothing else, that's a point in favor of Democrats' plans for a Medicare-for-all system: It would finally allow us to get our arms around the entire health care pricing system. For providers, there would finally be no escape from the government's payment terms.

Continue reading for free
We hope you're enjoying The Week's refreshingly open-minded journalism.
Subscribed to The Week? Register your account with the same email as your subscription.