Don't think like a pundit when you vote
In 2020, pick the candidate you actually want to win — not the one you think party leaders like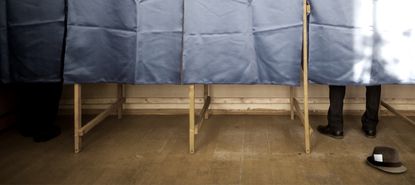 (Image credit: Illustrated | bizoo_n/iStock, sommersby/iStock)
There are 16 declared candidates for the Democratic nomination as of this writing — and former Vice President Joe Biden, the consistent poll leader, hasn't even announced yet.
The majority of these contenders are pretty plausible. Even looking beyond the top tier, entrepreneur Andrew Yang earned a spot on the stage for the first debate by garnering donations from 65,000 different individuals (an order of magnitude more than former Florida Gov. Jeb Bush had tapped at a comparable point in the GOP race in 2016). Meanwhile, South Bend Mayor Pete Buttigieg just rocketed to double digits in the latest Iowa poll, taking third place behind Biden and Sen. Bernie Sanders (I-Vt.) and besting Sens. Kamala Harris (D-Calif.) and Elizabeth Warren (D-Mass.).
Democratic Party leaders are undoubtedly looking back at the 2016 Republican contest and dreading a similar dynamic, where a superfluity of candidates causes the party to lose control of the nomination process and a fluke candidate rises to win. But those leaders should remember another lesson of 2016: The party can decide the nomination, but they can't decide the election.
Subscribe to The Week
Escape your echo chamber. Get the facts behind the news, plus analysis from multiple perspectives.
SUBSCRIBE & SAVE
Sign up for The Week's Free Newsletters
From our morning news briefing to a weekly Good News Newsletter, get the best of The Week delivered directly to your inbox.
From our morning news briefing to a weekly Good News Newsletter, get the best of The Week delivered directly to your inbox.
Hillary Clinton, after all, gained overwhelming party leadership support early in the 2016 race and never lost it, while her primary challenger, Sanders, was left out in the cold. Her Republican opponent won his nomination with essentially no party backing — but he still went on to become President Trump.
Nor was 2016 an anomaly in this regard. In most recent contests where the party elite chose their candidate early — as Democrats did in 2000, 2004, and 2016 and Republicans did in 1996 and 2012 — the party-supported candidate went on to win the nomination but lose the general election. The only party-blessed winner was former President George W. Bush in 2000, and he fought to a tie in the general against a similarly anointed opponent, former Vice President Al Gore.
Stepping back and waiting to see who emerges from a crowded field has a mixed track record, too. It worked for the Democrats in 1976 and 1992, but not in 1988; it worked for the Republicans in 1980 and 1988, but not in 2008. Still, deciding later offers clearly superior odds over deciding early. Why should the Democratic Party in 2020 replicate failure?
Yet if the party leaders do step back, voters will have to vet the field. What does the task require in 2020? How should Democrats vote?
Allow me to suggest a very simple heuristic: Whether you're in New Hampshire (whose early February primary leads the pack) or New Mexico (bringing up the rear in June), vote for the person you actually want to be president.
That ideally shouldn't reduce to "the person you agree with most." Experience, independence, raw political talent, the ability to process new information with speed and discernment — all of these factors properly play into an assessment of who would make a good president. Policy is important, but agreement on the direction the candidate plans to take the country is not the only consideration.
Of course, many voters won't choose this methodically. If you prefer to vote with your gut or pick the person you'd least hate having to listen to for the next four years, fine. That's your heuristic, and frankly, even the most methodical voters often rely on this sort of impulse.
But whatever heuristic you choose, actually make that assessment, actually make that choice. Don't think like a pundit, trying to feel the rumble of the zeitgeist and jump on a bandwagon before everyone knows it's rolling. Even — especially — if you fancy yourself a high-information voter, think instead like a citizen, someone with both the right and the responsibility to choose the most powerful individual on the planet, and then pick the person you believe to be best for the job.
The simplest reason to support the candidate you actually want to win is this: If everybody did that, the candidate most people want actually would win. By contrast, if everyone tries to guess what their neighbors are thinking, the outcome reflects the public's views only to the degree that people are good at guessing. Your neighbor would be voting her guess of your preferences, and you'd be voting your guess of hers. Wouldn't it be simpler and better to vote for yourself?
Thinking like a pundit doesn't just alienate you from your own feelings and assessments. It also alienates you from those very neighbors whose minds you try to read. Pundits and candidates have to read polls to know how various constituencies are responding. But voters can actually talk to people, not just once but over and over. You might be surprised at how they think, and you might influence them through direct engagement — and be influenced in turn.
While any individual interaction is bound to be unrepresentative, collectively those conversations are far more meaningful than any poll data. They constitute a deliberative process far less subject to manipulation than national survey results and more representative than the impressions one might glean from social media.
And speaking of manipulation, if voters think like pundits, candidates will speak like pundits. This creates a destructive feedback loop in which candidates focus on convincing voters of their viability instead of their eligibility for the Oval Office.
With so many candidates in the mix, this might seem like a strange year to press this point. Clearly, a great many candidates consider themselves viable and expect to appeal to the people directly, bypassing traditional party gate-keepers. But I worry. The dynamic of the race so far has sometimes felt less like a contest and more like a cattle call — only instead of obsequiously vamping to impress party insiders, the candidates are pandering to an imagined electorate they believe to be as strident and insecure as a Twitter mob.
The Democrats do not need their own Trump. But they do need a leader. They should choose her the way their party name suggests: by going to the people. And if she really is ready to lead a country of more than 300 million, she should have no trouble standing out from a crowd of 16.

Continue reading for free
We hope you're enjoying The Week's refreshingly open-minded journalism.
Subscribed to The Week? Register your account with the same email as your subscription.