Don't let Trump blow up the Fed
Why President Trump's latest nomination to the Federal Reserve could undermine the central bank's most important asset: Independence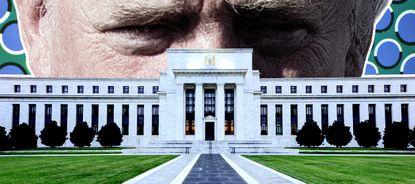 (Image credit: Illustrated | PAUL J. RICHARDS/AFP/Getty Images, jjgervasi/iStock, GrashAlex/iStock)
Economic commentator Stephen Moore, President Trump's proposed nominee to the Federal Reserve Board, claims no interest in being a "disruptor" at America's central bank. And narrowly interpreted, it's a valid statement — no matter what Moore's intent. As a Fed governor, Moore would be just one of a dozen voting members on the bank's policy-making committee. To wield influence beyond his single vote, he would need to persuade his colleagues — overall a group with considerably more economic and financial expertise — to adopt his unorthodox views on Fed policy.
That's unlikely. Moore is a journalist and activist whose specialty is taxes. And for many years, until last April, I sparred with Moore each Saturday afternoon on a radio program hosted by Lawrence Kudlow, now director of Trump's National Economic Council. Although amiable and willing to politely listen to opposing viewpoints, Moore never struck me as someone possessing the sort of deep knowledge of finance and monetary economics that would be required to start institutionally shifting the Fed toward a radically different way of operating.
It would be a massive push. Probably no one, whatever their scholarly or industry background, could nudge the Fed toward making decisions based on something similar to the long-discarded gold standard. A 2012 survey of top economists found unanimous rejection of re-embracing the yellow metal as a guide for U.S. central bankers. It's regarded as crankery of the same sort that contends tax cuts pay for themselves or trade deficits are caused by bad trade deals. Moore's version of the gold standard is a "commodity standard" where the Fed would target an index of various commodity prices when setting interest rates rather than just gold. But most economists don't like that version much better.
Subscribe to The Week
Escape your echo chamber. Get the facts behind the news, plus analysis from multiple perspectives.
SUBSCRIBE & SAVE
Sign up for The Week's Free Newsletters
From our morning news briefing to a weekly Good News Newsletter, get the best of The Week delivered directly to your inbox.
From our morning news briefing to a weekly Good News Newsletter, get the best of The Week delivered directly to your inbox.
Nonetheless, Moore's ascension to the Fed might well be disruptive — and not in a good way. Trump probably isn't trying to stick Moore on the Fed because he's contemplated all the post-financial crisis debates over monetary policy. Instead, it looks like Trump wants someone whom he thinks will be his representative today — and maybe Fed chair tomorrow given Trump's obvious dissatisfaction with Jerome Powell — with the goal of serving his political interests. (Moore, it should be noted, denies he'll be a "sycophant for Trump" and has publicly disagreed with Trump on trade.) If that isn't the case, Trump could easily find a Republican-leaning dove whose qualifications and independence would be beyond dispute.
And it's important that the Fed be independent both in practice and perception. We know what happens when it isn't. In the 1970s, President Nixon pressured Fed boss Arthur Burns to run an expansionary monetary policy in the run-up to the 1972 election. Nixon did this both through face-to-face conversations and hardball tactics such as leaks suggesting he was considering expanding the size of Fed or otherwise giving himself more control over monetary policy. And while we don't know for sure why Burns decided to run a loose monetary policy in an already inflationary environment, his actions "helped to trigger an extremely costly inflationary boom–bust cycle," concludes economist Burton Abrams in How Richard Nixon Pressured Arthur Burns: Evidence from the Nixon Tapes.
It may not really matter exactly why Burns did what he did. His moves eroded public confidence in the Fed's willingness to fight inflation. A 2012 St. Louis Fed study concludes that "the public must be confident in the Fed's ability to lessen inflationary pressures — both now and in the future. In the 1970s, tepid policy responses by the Fed caused the public to lose faith in the Fed's ability to keep inflation in check." It's hard to see how someone so closely aligned with the president — and seemingly chosen for his perceived willingness to keep rates low to help the president rather than his expertise — bolsters confidence in the Fed.
And just what do Republicans think is going to happen the next time there's a Democrat in the White House? Maybe they'll try and run their own novel monetary experiment to help further a left-wing agenda. Progressive are currently in thrall to "modern monetary theory," which I have described as a sort of "fiscal cheat code" that would allow Democrats to finance ambitious health care and environmental plans via risky Fed money printing rather than taxes. With Moore's nomination as precedent, there might be great temptation to nominate an MMTer or two or three to the Fed.
Hopefully wiser heads would prevail in a way that's not happening right now.

Continue reading for free
We hope you're enjoying The Week's refreshingly open-minded journalism.
Subscribed to The Week? Register your account with the same email as your subscription.