Democrats need to get over their fear of disrupting private health insurance
Health-care reform will always disrupt private coverage. We might as well disrupt it out of existence.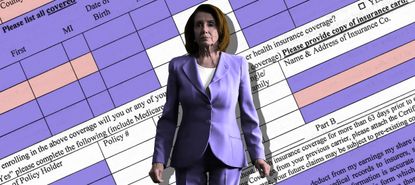 (Image credit: Illustrated | Getty Images, iStock)
One of the biggest problems that has bedeviled Democratic Party attempts to reform the janky American health-care system is fear of backlash. About half the population is insured with private, employer-based coverage, leading liberals to adopt a defensive posture. "A lot of people love having their employer-based insurance," says Nancy Pelosi.
But this reasoning leaves aside an important fact — the private insurance system is itself constantly knocking people off their insurance. There is no way to reform the system in a way that will simultaneously preserve private insurance and not be blamed for people losing their coverage, because the private system is so inherently unstable.
While ObamaCare was being discussed and negotiated, Democrats twisted themselves into knots trying not to fuss with the private insurance system too much. Thus during the 2008 campaign and afterwards, Barack Obama said some version of "if you like your insurance, you can keep it" dozens and dozens of times.
Subscribe to The Week
Escape your echo chamber. Get the facts behind the news, plus analysis from multiple perspectives.
SUBSCRIBE & SAVE
Sign up for The Week's Free Newsletters
From our morning news briefing to a weekly Good News Newsletter, get the best of The Week delivered directly to your inbox.
From our morning news briefing to a weekly Good News Newsletter, get the best of The Week delivered directly to your inbox.
This line blew up in his face spectacularly. One of the objectives of ObamaCare was to clean up employer-based insurance. This made perfect sense, in the context of the ObamaCare approach — before the law, there was a substantial market in absolute garbage policies that didn't really cover anything (which are coming back thanks to Trump, by the way), and lot more with gaps in their coverage. New regulations on guaranteed coverage standards, the medical loss ratio, and so on made employer-based insurance considerably better — but also required substantial restructuring of the market, which destroyed a lot of policies.
Conservatives and the mainstream media had a screaming fit — especially so-called fact-checkers, who are always on the lookout for liberal flubs to give them nonpartisan cred (PolitiFact labeled Obama's claim as "lie of the year" in 2013).
But critically, the freakout was given major strength by the background condition of people being constantly kicked off their insurance. People switch jobs often, and employers routinely shop around for different or cheaper coverage. As Matt Bruenig details, a Michigan study shows that fully 28 percent of people on an employer-sponsored plan were not on the same plan a year later. About half of the population — or 160 million people — is on private insurance. If that's a representative study (and it's surely in the right ballpark), that means about 45 million insurance loss events annually, or 3.7 million per month.
Obama didn't get in trouble over his broken promise because people are deeply in love with their (increasingly crummy and expensive) private insurance. He got in trouble because it was a stupid promise that was logically impossible to fulfill, and he couldn't have avoided sounding like an outright liar. No matter what health-care reform passes, so long as private insurance exists conservatives will always be able to point to millions of people losing their existing coverage and blame it on the reform.
As an aside, it's also worth noting that the ObamaCare exchanges also require people to shop for new insurance every year as a matter of design — and anytime an insurer withdraws from the exchange, which happens all the time, everyone on its plans gets kicked off. Bit of an odd choice from people who are supposedly obsessed with the backlash problem.
At any rate, all this demonstrates the only way around the backlash hurdle — be honest with the public, and hold out the promise of good coverage that is actually permanent, like Medicare-for-all. Yes, if you have private coverage, you will lose it — but in return you'll get something really good that will stay with you for life. No more worrying that losing your job means your whole family losing their coverage, and possibly being driven into bankruptcy, or staying in a lousy job just because you need the insurance. (Medicare also has the advantage of being widely understood already, so fear of the unknown is reduced.)
Conversely, trying to design a health-care reform that preserves private insurance is inescapably vulnerable to backlash, because constant insurance loss is built into the private system. Moderates trying to tiptoe around the backlash problem end up being deceptive about what their plans would do, just like Obama did, which only fuels the backlash — for instance, Medicare-for-some proposals described as letting "people keep employment-based insurance" would absolutely kick millions off their coverage.
Indeed, if framed properly, this could be a powerful argument for universal Medicare. As Bruenig writes, "Critics of Medicare-for-all are right to point out that losing your insurance sucks. But the only way to stop that from happening to people is to create a seamless system where people do not constantly churn on and off of insurance." If we want good coverage that everyone can really keep forever, simply scrap the stupid, inefficient private system and sweep the whole population onto the same high-quality program. As usual, good old Big Government is the best way to go.

Continue reading for free
We hope you're enjoying The Week's refreshingly open-minded journalism.
Subscribed to The Week? Register your account with the same email as your subscription.