How Joe Biden savvily spun his handsiness into a generation war
The former vice president turned his #MeToo moment into a generational issue. He'll probably get away with it.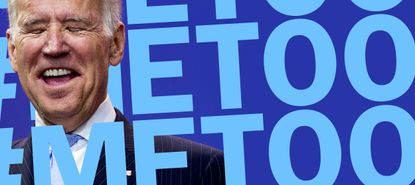 (Image credit: SAUL LOEB/AFP/Getty Images)
Joe Biden is probably not going to be our next president.
This is not because he is incapable of winning a general election, but rather because old Uncle Joe won't be the Democratic nominee in 2020. But when the former vice president loses out to someone like Kamala Harris, it will have everything to do with his record as a senator and concerns about the "optics" of nominating a geriatric white man and the laziness of his own campaign roll-out. His record of being handsy? Nobody who matters cares.
This is not what I would have said even a few weeks ago. It is so easy to forget that not everyone finds Biden's antics creepy, and not only his but those of an entire generation of huggers, kissers, leaners, sniffers, touchers, patters, and dispensers of lurid compliments. This behavior, even more so than racist triangulation on crime and free trade boosterism, is what baby boomer liberalism was all about. Bill Clinton was the master of it, and we all know what his "warm" and "open" style of politics meant behind closed doors. (Just for admitting my distaste I will probably be called a precious entitled soy-faced avocado toast-addicted unemployed millennial. Please. I have a job.)
Subscribe to The Week
Escape your echo chamber. Get the facts behind the news, plus analysis from multiple perspectives.
SUBSCRIBE & SAVE
Sign up for The Week's Free Newsletters
From our morning news briefing to a weekly Good News Newsletter, get the best of The Week delivered directly to your inbox.
From our morning news briefing to a weekly Good News Newsletter, get the best of The Week delivered directly to your inbox.
Biden understands politics better than his critics. This is why it was so easy for him to negate what had been an entire flourishing sub-genre of commentary about his behavior with one bizarre video where he talked into his friend's iPhone about how social conventions have changed and apologized without actually saying sorry. For Nancy Pelosi and the other geriatrics who actually control the Democratic Party, both in Congress and the DNC and in polling booths across the country, that was more than good enough.
So it goes. By Friday afternoon the whole thing was already a joke. "I just want you to know I had permission to hug Lonnie," he said, referring to the president of the International Brotherhood of Electrical Workers Construction, who had just introduced him at the union's annual conference. A few minutes later a group of children — whose? why? — appeared on stage and Uncle Joe was pawing one of them. "By the way, he gave me permission to touch him." Har-dee-har.
Biden knows how this will play out with the kind of voters whose support he would actually need to beat Donald Trump in 2020, i.e., retired moderates in places like Michigan and Ohio, who are just so sick and tired of all the young people with their #MeToos and their tweets and their video game phones and their not wanting to hold hands at Mass anymore.
For them this is pure gold. Biden is such a nice man. Why can't people just be open and loving like that anymore? Why can't they understand that when he smells their hair he's just trying to help? Relax a little.
It's genius. It is also all of a piece with the argument for the neoliberal centrism that Biden has espoused throughout his political career. When Pelosi heaped scorn recently on "the green dream or whatever," she was speaking for an entire generation of older Democrats who don't understand why the 20 and 30-something debt slaves whose childhoods unfolded against the backdrop of the most expensive foreign policy disaster in American history and came of age during the worst financial crisis since the Great Depression aren't happy yet.
But Biden knows more than just his base. Never mind what he says about being out of touch in the iPhone video. He understands the current political mood better than almost any of us. America is post-scandal now. If Trump didn't have to withdraw from the Republican ticket after the Access Hollywood tape leaked and Ralph Northam didn't have to resign from the governorship of one of the nation's most liberal states after images of him wearing blackface surfaced in an old yearbook, the second-in-command of our most popular living former president does not have to forego his last chance at getting the Oval Office for himself because of some hugs.

Continue reading for free
We hope you're enjoying The Week's refreshingly open-minded journalism.
Subscribed to The Week? Register your account with the same email as your subscription.