How Twitter robbed us of wonder
Black holes are awesome. Twitter turned them into a joke.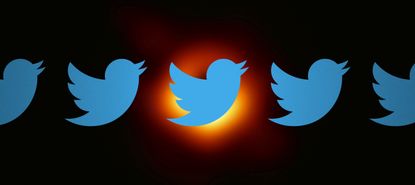 (Image credit: Illustrated | Event Horizon Telescope Collaboration/Maunakea Observatories via AP, Twitter)
Black holes are remarkable celestial phenomena. They are so massive and dense that nothing — not even light itself — can escape their gravitational pull. And now, for the very first time, we have a picture of one.
After two years of analyzing and parsing data from the eight Event Horizon telescopes, scientists this week revealed an image of the event horizon surrounding a black hole in a nearby galaxy. The project was made possible in part by Katie Bouman, an MIT scientist who is just 29 years old, and who helped create the sophisticated algorithms that put together the image from all that data.
The whole thing is incredible, perhaps even mind blowing. And yet, you could sum up Twitter's collective response like this: "LOL, it looks like Sauron from Lord of the Rings!"
Subscribe to The Week
Escape your echo chamber. Get the facts behind the news, plus analysis from multiple perspectives.
SUBSCRIBE & SAVE
Sign up for The Week's Free Newsletters
From our morning news briefing to a weekly Good News Newsletter, get the best of The Week delivered directly to your inbox.
From our morning news briefing to a weekly Good News Newsletter, get the best of The Week delivered directly to your inbox.
To say that Twitter is the real black hole seems almost too easy. But there's no denying that the real-time information network has a particularly annoying knack for being flippant about serious subjects. In this case, it reduced a moment of awe and wonder to a series of dumb jokes. This reaction grated on me. Most of all, it reminded me that not only does Twitter encourage drive-by dismissiveness, but it also has made a mockery of sincerity.
To be fair, the black hole was primed for this sort of teasing: It was hyped as scientifically significant, but for most of us, an image of an orange halo is somewhat unremarkable. To be truly wowed by the reveal takes some quiet reflection, something Twitter certainly doesn't facilitate. The network's character is distinctly temporal — there is what you might call an insistent nowness to it. Twitter is the place to go for breaking news, and this gives the site much of its vitality.
But it's also to blame for some of Twitter's deficiencies. In those rare collective moments in which one's feed is mostly focused on the one thing — a sporting event, a political debate, or national tragedy — there is a desire to stand out from the crowd. At best, this produces an incredible string of creativity and insight. But at worst, it facilitates an environment of dismissal, bad faith, and cruelty.
It's more than that, though. You would need a dissertation to tease out the political dynamics of North American Twitter in 2019. There are endless inside jokes on the network, as well as a complex set of rules around discourse. The dynamics reflect somewhat the fractured, extreme political climate of the moment. Trying to tease out whether Twitter is cause or effect in this mess is a fool's errand.
Still, what troubles me is that this context has had an unintended victim: sincerity. Expressions of thought that tend toward the earnest, the sentimental, the vulnerable, the optimistic, the unadorned — all of these are anathema to the most vocal and active parts of Twitter. Some even believe that the worst thing you can be on Twitter is a "normie" — an ordinary person who holds straightforward, mostly liberal views you barely need to hear to know.
This, too, has cultural roots. At least since the 1990s, sincerity has for good reason been linked with a naïve sort of credulousness; a feeling that the world is basically good, the ideals of liberal democracies are pure and helpful, and that the universe is fair. To be sincere was to take the world at face value and ignore what was more likely to be true: that underneath the veneer of a modern, rich society was environmental decay, colonial exploitation, and a persistent underclass.
What has Twitter done to the legitimate cultural roots of healthy skepticism? When a momentous scientific occasion turns into one long joke, it's as if we have collectively made it harder for any of us to be wonderstruck — to revel in the fact that while the world often feels like it's going to hell, there are still rare moments of awe and beauty to be found. In our quest to be brutally honest, we have also made it more difficult to truly appreciate that which is good.
In a world filled with so much acrimony, condescension, and apathy, perhaps the occasional dose of sincerity would do us good, even if it feels a bit out of place.

Continue reading for free
We hope you're enjoying The Week's refreshingly open-minded journalism.
Subscribed to The Week? Register your account with the same email as your subscription.