Uber is basically promising investors it will become a monopoly
Oh goodie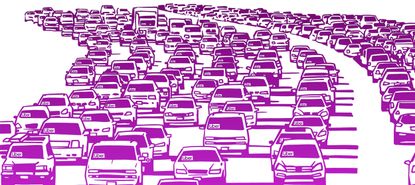 (Image credit: Illustrated | roberuto/iStock, Uber)
Sign up to our 10 Things You Need to Know Today newsletter
A free daily digest of the biggest news stories of the day - and the best features from our website
Thank you for signing up to TheWeek. You will receive a verification email shortly.
There was a problem. Please refresh the page and try again.
The ride-hailing behemoth Uber is still barreling towards its public debut. As of now, the company hopes for an initial market value at around $100 billion. And while that's actually a drop from expectations, it would still be the biggest IPO since Alibaba, the Chinese e-commerce giant, went public in 2014.
What's unclear is the justification for such an enormous valuation. Uber isn't profitable: It lost more than $10 billion over the last three years and over $3 billion in 2018 alone. Moreover, examine the inner workings of Uber's business model, and it's not clear how Uber can ever become profitable. Yet it has already raised $20 billion from investors — more than any other startup — and seems headed for a massive stock market debut.
What gives?
Subscribe to The Week
Escape your echo chamber. Get the facts behind the news, plus analysis from multiple perspectives.
SUBSCRIBE & SAVE
Sign up for The Week's Free Newsletters
From our morning news briefing to a weekly Good News Newsletter, get the best of The Week delivered directly to your inbox.
From our morning news briefing to a weekly Good News Newsletter, get the best of The Week delivered directly to your inbox.
One should never discount the possibility that Wall Street investors aren't as smart as they think they are. But the other explanation is that Uber has a plan: These investments aren't a bet that Uber will become a competitive company. They're a bet it will become a monopoly.
Here's the basic sketch of the problem: Under a free market system, companies are supposed to compete to come up with new innovations and better business models. When they do, they can offer more value for less cost, and pull customers away from competitors. Everyone's always trying to become a monopoly, but no one is ever supposed to actually get there, because rivals always come up with something to knock the king off the throne and because an actual sustained monopoly would shut down innovation and gouge customers.
Sure, there are certain "natural" monopolies like roads and power grids. But these are understood to be unusual quirks in specific markets that, by their very nature, don't allow for competition. In those cases, companies should be regulated as public utilities. If a normal company becomes a monopoly, something has gone seriously wrong.
This brings us back to Uber. It's actually really difficult to fit the company into this story about innovation in a way that also makes sense of its giant valuation. Its ride-hailing app is certainly nice, but it's hardly uniquely innovative anymore, as Lyft or any number of local cab company apps can attest. The business of driving people from place to place is a pretty straightforward one, and doesn't lend itself to technological breakthroughs or big economies of scale. Uber is trying to break into other markets like food delivery, but the same issues apply there. It could eventually offer customers unique value in the realm of automated cars, but then it would be an automated vehicle company that happens to have a ride-hailing service tacked on. Thus far, ride-hailing remains 80 percent of Uber's revenue.
The other thing to note is that a big part of why Uber is unprofitable is that it pays drivers too much and charges too little for fares. Under the status quo, there's no way for it grow into profitability simply by claiming a bigger market share.
All of which gets us back to the question of why investors keep throwing gobs of money at the company. The simple story about how it's just better than its rivals doesn't scan. Something else is going on.
The point about Uber's fares being too low for it to make enough money is telling. Most likely, Uber is making a long-game effort to price out all its rivals. "[Uber's] IPO documents show that it plans to keep spending heavily to win market share, even if it continues to rack up multibillion-dollar annual losses," the Financial Times reported. "It amounts to a forceful reminder of the company's founding mantra that ride-hailing is a business with strong network effects and a winner-takes-most, if not all, market."
"Strong network effects" is economics-speak for the theory that the ride-hailing market is actually quirky in a way that's similar to those other "natural monopoly" markets. And that whoever dominates that market first will most likely dominate it in perpetuity. Thus, the purpose of the money Uber gets from investors isn't to fund new innovations. It's to keep plugging the hole in Uber's finances left by its low fares, so the company can keep functioning financially as it undercuts its rivals.
Investors are just betting that Uber is most likely to become king of ride-hailing first. Then it can cut driver pay and jack up ride fares, and neither its drivers nor its customers will have any competitors to flee to. And it will finally have big profits to spit out to shareholders. "Many investors and analysts expect that once [Uber and Lyft] are public, they will stop cutting prices and giving drivers bonuses so aggressively, which would help pave the way to profits," the Times continued.
Frankly, Uber's biggest "competitive advantage" is arguably that it exists in a kind of gray zone. It's not a traditional taxi cab company, so it's not regulated like a traditional taxi cab company. And its platform design was new enough when it came out that it could get away with claiming its drivers were independent contractors instead of employees, which allowed Uber to avoid all sorts of costly requirements like providing benefits and minimum wages.
But that means remaining in that regulatory no man's land is a core feature of Uber's business model, and of its potential value to shareholders. The company's extremely aggressive tactics to undercut local regulatory efforts aren't just an offshoot of the troubled reign of its former CEO, Travis Kalanick. They're central to its business model. If Uber is ever regulated like a normal employer or taxi cab business, it's done for. The company has nothing else going for it.
As it turns out, the walls may be closing in. The other thing revealed by Uber's IPO paperwork is that its revenue growth is slowing down and almost flatlined over the last six months. Meanwhile, its market share in the U.S. fell from 78 percent to 67 percent over the last two years.
Uber's IPO will no doubt be enormous. But there may be a hint of desperation in there too.
Continue reading for free
We hope you're enjoying The Week's refreshingly open-minded journalism.
Subscribed to The Week? Register your account with the same email as your subscription.
Sign up to our 10 Things You Need to Know Today newsletter
A free daily digest of the biggest news stories of the day - and the best features from our website
Jeff Spross was the economics and business correspondent at TheWeek.com. He was previously a reporter at ThinkProgress.