The GOP is massively overplaying its hand on abortion
Republicans will deeply regret Georgia's 'heartbeat' bill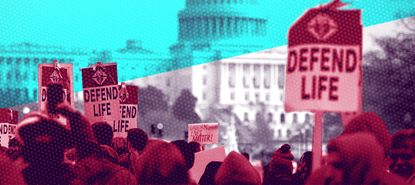 (Image credit: Illustrated | ANDREW CABALLERO-REYNOLDS/AFP/Getty Images, sanchesnet1/iStock)
Sign up to our 10 Things You Need to Know Today newsletter
A free daily digest of the biggest news stories of the day - and the best features from our website
Thank you for signing up to TheWeek. You will receive a verification email shortly.
There was a problem. Please refresh the page and try again.
Georgia Gov. Brian Kemp (R) signed a sweeping and dystopian bill into law Tuesday which outlaws abortion when a heartbeat is detected, usually around six weeks after conception. It might lead to life imprisonment for women who violate the law, hang second-degree murder charges on those who miscarry under certain circumstances, and allow prosecutors to charge women for obtaining out-of-state abortions as well as anyone who helped them. This mind-boggling escalation of the abortion wars was presented by the state GOP to the public with a completely straight face, like they had just tweaked Atlanta's zoning laws and not turned millions of women exercising their reproductive rights into murderers.
While movement conservatives might be patting themselves on the back today, they are almost certainly overreaching in ways that could have dire consequences for them next year. Most importantly, abandoning the right's incremental anti-abortion strategy in such spectacular fashion could finally awaken pro-choice forces and lead to a massive election day counter-mobilization.
Georgia's patently absurd law is little more than the very predictable and very-much-only beginning efforts to put a variety of laws that challenge Roe v. Wade into the federal court system, with the goal of getting a hearing before the Supreme Court as soon as possible. This is the fourth such law passed just this year, with the always reliably despotic Alabama legislature set to pass even more Gileadian legislation soon, which would effectively outlaw it altogether and carry 99-year prison sentences for abortion providers.
Subscribe to The Week
Escape your echo chamber. Get the facts behind the news, plus analysis from multiple perspectives.
SUBSCRIBE & SAVE
Sign up for The Week's Free Newsletters
From our morning news briefing to a weekly Good News Newsletter, get the best of The Week delivered directly to your inbox.
From our morning news briefing to a weekly Good News Newsletter, get the best of The Week delivered directly to your inbox.
You can think of these chilling laws as the inevitable consequence of Anthony Kennedy handing his Supreme Court seat, his legacy, and thus the future of abortion rights into the pillowy hands of President Trump. A coordinated, national attack on abortion rights is just the latest in a long line of potentially irreversible consequences stemming from Republican victories in the 2016 election that we are only just now beginning to feel tangibly. It will all get dramatically uglier before it gets better.
Georgia's draconian law is unlikely to be enforced for long, and this new law will be challenged immediately in court too. And all of the heartbeat laws may meet with varying fates at the district and appellate levels, and would likely be consolidated into a single case by the Supreme Court. What happens then is anyone's guess, but it seems unlikely that Brett Kavanaugh and Neil Gorsuch have spent their entire adult lives plotting to kill Roe only to be the ones who keep it alive. It would be like if Captain Ahab had a clear shot at Moby Dick and decided to have a cocktail instead.
The danger here for the Republican Party is obvious: The spectacle of ever-more barbaric anti-choice legislation unifying the progressive movement around an imminent threat to a core issue. It's the same dynamic that affected the GOP's efforts to sabotage and play legal Calvinball with ObamaCare — hugely successful and mostly consequence-free at the level of politics while Obama was in office — versus their McCain-thumbed Waterloo when they tried to take it on directly with repeal.
That's why up until recently states have avoided a frontal assault, preferring instead to push the envelope on when to make abortion illegal (like 20-week bans based on pseudoscience about "fetal pain"), or to try and place as many obstacles between women and their doctors as possible — ultrasound requirements and informed consent laws and parental consent laws and waiting periods, all designed to convince the wavering to give up and just carry the baby to term. This relentless campaign has done incredible damage to reproductive rights at the state level, where abortion is effectively illegal or unavailable in many parts of the country. Seven states have just one abortion provider, and Kentucky may soon have zero.
Conservatives could simply have pocketed, for the time being, decades of gains for the anti-choice movement, circling the wagons around red states and celebrating the de facto elimination of abortion in them. Indeed, had far right activists not insisted on this confrontation, they could have back-burnered the whole conversation until after the 2020 elections, thus avoiding the risk of backlash. But after generations of stalking legal abortion, the right can sense that victory might be at hand. They couldn't resist the urge to escalate. They need to be able to say they've overturned Roe. And it may be their undoing.
In order to win re-election, President Trump needs a deflated Democratic and progressive resistance, a sense of apathy generated by the seeming inability of House Democrats to hold the president accountable for anything or halt the country's dramatic slide into illiberal democracy, and perhaps a dose of fatalism about the possibility of recapturing the Senate and thus governing even if Trump loses. The last thing he needs is a bunch of overwhelmingly male state legislators enacting cookie-cutter abortion bans that remind progressives of how easily the U.S. drifted into reproductive tyranny on The Handmaid's Tale. Even in states that have put a variety of countermeasures into effect, there is a huge difference between having to endure an ultrasound and having no access to abortion at all. The former might lead to reluctant acquiescence; the latter might lead you to fight.
You can imagine a more modest strategy. A series of state-by-state bills or ballot measures to outlaw the made-up practice of "executing babies," as the president enjoys phrasing it, or the "Born Alive Abortion Survivors Protection Act" as the cynics in the Senate GOP like to call them, would have fired up the conservative base without unduly antagonizing the left, where blue state Democrats will mostly never have to deal with these laws. It helps that since newborn babies are never killed by doctors and newly homicidal parents anyway, these laws would effectively be as close to pointless as possible, save for the violence against truth and decency that is now as routine as the president's juvenile name-calling. Conservatives could also have simply moved the goalposts incrementally — pushing 18 or 16-week bans that would further erode abortion without presenting the public with such a seemingly clear choice between legal abortion with some restrictions and abolition.
"Heartbeat laws," though, are a different matter, and not only because they are mostly on the wrong side of national public opinion. Only 21 percent of Americans want stricter abortion laws. Despite the deliberately appealing nomenclature of these bills, they aren't even popular in some of the places they are getting passed, including Georgia, where a recent poll found the bill underwater, 49 percent to 44 percent. When people realize that such laws ban abortion before most women know they are pregnant, support collapses.
That's why it's a bit of a mystery why the whole Democratic presidential field isn't camped out in Georgia right now, preparing to move on to Alabama, and making as much noise as possible on the way. Perhaps the ballyhooed (and absurd) fear that a woman can't beat Trump is being subconsciously transmogrified into an aversion to other issues that affect women, or a belief that Hillary Clinton's progressive position on the issue cost her in 2016. They must put those fears aside.
Democrats have both the moral and public opinion high ground here. They should use it.
Editor's note: A previous version of this article mischaracterized the state of Georgia's 20-week ban. It's been corrected. We regret the error.
Continue reading for free
We hope you're enjoying The Week's refreshingly open-minded journalism.
Subscribed to The Week? Register your account with the same email as your subscription.
Sign up to our 10 Things You Need to Know Today newsletter
A free daily digest of the biggest news stories of the day - and the best features from our website
David Faris is an associate professor of political science at Roosevelt University and the author of It's Time to Fight Dirty: How Democrats Can Build a Lasting Majority in American Politics. He is a frequent contributor to Informed Comment, and his work has appeared in the Chicago Sun-Times, The Christian Science Monitor, and Indy Week.