American farmers are reaping the climate denial whirlwind
Record flooding and Trump's trade war are both the result of political choices we've made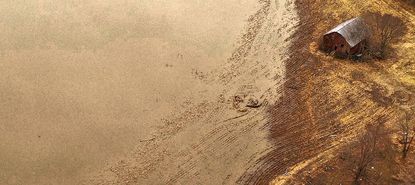 It's commonly thought on the right (and sometimes on the left) that the United States will not be harmed too much by climate change. With our wealth, geography, and relative isolation from the rest of the world, we will be able to fence out climate refugees and continue to drive gas-guzzling SUVs until the end of time.
This idea is sorely mistaken. It's true that America will not be as catastrophically harmed as Bangladesh, India, or the Maldives. But we are far from immune — just witness this season's epic flooding across the Midwest, which has drowned farmland throughout the region. American farmers are paying for a generation of U.S. dithering and denial about climate change.
The last 365 days in the U.S. have been the wettest since modern records started being collected 124 years ago. A NASA analysis found that from "May 1, 2018, to April 30, 2019, the lower 48 states collectively averaged 36.20 inches (919.48 millimeters) of precipitation, a full 6.25 inches (158.75 mm) above the mean." This can be seen in satellite groundwater measurements from a few weeks ago:
Subscribe to The Week
Escape your echo chamber. Get the facts behind the news, plus analysis from multiple perspectives.
SUBSCRIBE & SAVE
Sign up for The Week's Free Newsletters
From our morning news briefing to a weekly Good News Newsletter, get the best of The Week delivered directly to your inbox.
From our morning news briefing to a weekly Good News Newsletter, get the best of The Week delivered directly to your inbox.
Note especially how wet the Midwest is. Constant storms have caused enormous flooding across the entire region, not to mention a record-breaking streak of tornadoes, and farmers are suffering as a result. As of May 26, "U.S. corn planting [was] just 58% complete, compared with 49% last week and the five-year average of 90%." The figures in Illinois and Indiana were just 35 percent and 22 percent, respectively. Meanwhile, "Soybean plantings in the 18 states that represent 95% of the 2018 soybean acreage are only 29% complete, vs. the five-year average of 66%."
"I've never had a yield where I couldn't get my crop planted," Indiana farmer Kendall Culp told The Washington Post. "This is unprecedented, what we're facing." Even Culp's 80-year-old father had never seen it this bad.
The usual caveat applies here: One can't say that any individual weather disaster was 100-percent caused by climate change, because it doesn't work like that. Rather, climate change increases the background likelihood of extreme weather occurring. Epic deluges that surpass 124 years of history are just what climate models predict will happen more frequently as the planet gets hotter — and it's worth noting that the previous record was only set three years ago, from April 2015 to March 2016. It's a safe bet that this new record won't stand for another 124 years.
Naturally, President Trump is making everything worse with his senseless omnidirectional trade wars. China has halted its imports of U.S. soybeans, while retaliatory dairy tariffs from Europe, Canada, and Mexico have lacerated dairy farmers, especially in Wisconsin. Last month he announced a $16 billion farmer bailout — up from $12 billion last year.
Now, as Bernie Sanders argues, American farm and trade policy could badly stand some reform — particularly in the area of anti-monopoly policy. Huge agricultural conglomerates operating abusive and highly-polluting factory farms have degraded the quality of American food and driven smaller, more sustainable farms out of business both in the U.S. and abroad. But Trump is plainly incapable of reaching an actual equitable arrangement with U.S. trading partners. And until that happens, farmers have to plant every year within the existing policy framework.
Meanwhile, Trump has gone backwards on climate policy, withdrawing from the Paris Accords and canceling President Obama's Clean Power Plan. U.S. emissions were up 3 percent in 2018, driven partly by increased power usage during the hot summer. This in turn has slowed international progress on climate policy, with other countries hesitant to undertake expensive sacrifices without the participation of the largest historical greenhouse gas emitter. And when it's not blowing up U.S. climate policy, the Trump administration is actively trying to harm international climate diplomacy.
Trump is just the most recent instance of U.S. dithering on climate policy — for decades driven by crackpot science denial on the right, and timidity and corruption on the center-left. Last year it was the residents of Paradise, California who paid the price, when their city burned to the ground in a matter of hours. Today it is farmers. Tomorrow it might well be me, or you.

Continue reading for free
We hope you're enjoying The Week's refreshingly open-minded journalism.
Subscribed to The Week? Register your account with the same email as your subscription.