Why Trump may regret picking a tariff fight with Mexico — even if he wins
Timing is everything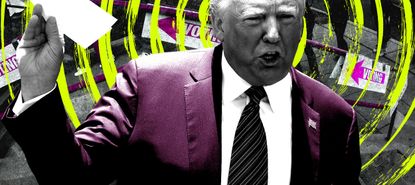 (Image credit: Illustrated | Mark Wilson/Getty Images, NICHOLAS KAMM/AFP/Getty Images, Elen11/iStock)
Donald Trump won the first round of his standoff with Mexico over immigration policies. Despite heavy opposition to his use of tariffs as leverage on immigration policies, even from his own party, the move worked. Trump gained at least some short-term concessions that could improve matters on the border. But will that translate into a lasting victory at the southern border – and will it boost his chances at re-election next year?
First, Trump might have to convince people that he actually won the first round. Americans have long experience with politicians who spin every development, no matter how damaging, into victories. The president has more of a reputation than most others in national politics for bragging and self-promotion, which makes it even more difficult to overcome skepticism.
Skepticism is a wise starting position in any event, but is it warranted here? The New York Times ran a lengthy analysis on Saturday that declared that Mexico hadn't agreed to anything new. The government of Andrés Manuel López Obrador had already agreed to increase its security presence on its own southern border in March, the Times reported, and an earlier agreement — already touted by the Trump administration in December — committed Mexico to holding more of the asylum seekers on their side of the border. But the Times report later notes significant additional concessions by Mexico. They had to significantly increase their numbers on the southern border to 6,000 troops — and had to actually deploy them in force, which hadn't begun until Trump threatened to apply tariffs. The López Obrador government also agreed to "accelerate" the protocols that held asylum seekers in Mexico, as well as expand them, in order to keep more of them from entering the U.S.
Subscribe to The Week
Escape your echo chamber. Get the facts behind the news, plus analysis from multiple perspectives.
SUBSCRIBE & SAVE
Sign up for The Week's Free Newsletters
From our morning news briefing to a weekly Good News Newsletter, get the best of The Week delivered directly to your inbox.
From our morning news briefing to a weekly Good News Newsletter, get the best of The Week delivered directly to your inbox.
The Washington Post offered a more positive view of the agreement. Their headline suggested that Mexico had "talked Trump out of [his] tariff threat," and the analysis said they did so "by agreeing to an unprecedented crackdown on Central American migrants and accepting more-expansive measures in Mexico if the initial efforts don't deliver quick results." Those expansive measures, reported according to communications between negotiators, "include the deployment of a militarized national guard at the Guatemalan border, thousands of additional migrant arrests per week and the acceptance of busloads of asylum seekers turned away from the U.S. border daily."
The only major demand that Trump didn't win in the fight was an adoption of a "safe third country" protocol by Mexico. That would force migrants from Central and South America to apply for asylum in the first safe country they enter — arguably Mexico, although drug cartel violence might make that a questionable call. López Obrador had long opposed that policy, and he managed to avoid it — for now. In one measure of who won this standoff, foreign minister Marcelo Ebrard told reporters that they only staved off the demand by asking Mike Pence for time to show that other actions would be effective in solving the American border crisis.
"In the meeting with the vice president of the United States," Ebrard told reporters on Monday, "they were insistent on the safe third country issue. We told them — I think it was the most important achievement of the negotiations — 'let's set a time period to see if what Mexico is proposing will work, and if not, we'll sit down and see what additional measures' [are required]." If the numbers of migrants hitting the U.S. border do not decline appreciably, Ebrard said, Mexico might have to adopt the protocol to avoid damaging tariffs.
Even apart from Trump's later claims of secret provisions in the agreement — which Mexico's diplomats denied — Trump won the first round of this wrestling match. Mexico now has to show positive improvement over the next 90 days (with a 45-day review mark) or make even more concessions to avoid tariffs, which Trump announced were "indefinitely suspended" rather than canceled. "You have to give the president credit," said Mitch McConnell, who had publicly criticized Trump's use of tariffs as leverage on immigration policy. "It worked."
But for how long, and how well? This first-round win makes it almost impossible for Congress to overturn tariffs if Mexico's actions don't significantly alleviate the border crisis. However, a new round of tariffs will do real economic damage in the U.S. as well as Mexico, at just the time when Trump will need a strong economy to keep his re-election hopes alive.
The review period for this agreement comes 90 days from now. That puts off another potential round of tariff brinkmanship to immediately after Labor Day, when voters begin to pay more attention to the Democratic presidential primaries. A show of toughness from Trump might play well with voters, but if tariffs start dragging down the U.S. economy as we head into the holidays and the first Democratic contests, it will drag down Trump's numbers with it. López Obrador will certainly understand that.
Even incremental improvement might be a political problem for Trump. He ran on the demand to build a border wall, and has used the crisis over the last several months to argue that's more necessary than ever before. What happens if Mexico's harsher enforcement alleviates that pressure? Congress isn't likely to act in a bipartisan manner on immigration reform and border security in an election year, especially not after the divisive fight over Trump's national emergency declaration. The path of least resistance for Democrats and no small number of Republicans will be to argue for a pause rather than going full steam ahead on Trump's "big, beautiful wall."
Can Trump win re-election without the wall? Can he generate the same kind of enthusiasm for his campaign if the pressure on immigration gets reduced? Unless Trump wins big in this gamble by forcing a solution that eliminates most of the pressure on the border, he might end up in a twilight zone where immigration hasn't improved enough to claim a lasting win, but no longer hits a crisis level that will energize the populist-conservative base Trump needs for re-election.
Trump did prove that American trade carries a lot of leverage with Mexico, a point that argues for more potential success than most of his critics credited at the beginning of this standoff. For that reason alone, perhaps it's best to be a little skeptical — but not close-minded — about the potential for further success.

Continue reading for free
We hope you're enjoying The Week's refreshingly open-minded journalism.
Subscribed to The Week? Register your account with the same email as your subscription.