The Democratic debates are going to be a fiasco
The party will waste critical airtime on hopeless wannabes rather than substantive engagement between top candidates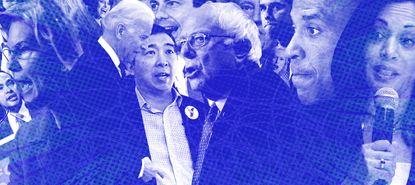 (Image credit: Illustrated | Chip Somodevilla/Getty Images, Scott Olson/Getty Images, Dustin Chambers/Getty Images, JOSH EDELSON/AFP/Getty Images, pashabo/iStock, sanchesnet1/iStock)
Sign up to our 10 Things You Need to Know Today newsletter
A free daily digest of the biggest news stories of the day - and the best features from our website
Thank you for signing up to TheWeek. You will receive a verification email shortly.
There was a problem. Please refresh the page and try again.
Democrats will hold their first two presidential primary debates on June 26 and 27 in Miami, and so far they are shaping up to be a total fiasco. There are now 24 declared candidates seeking to cashier President Trump — almost enough for a full Major League Baseball roster—and the flimsy standards the party set to get a slot on stage will be met by almost all of them. Instead of substantive debates between the leading candidates, the party is going to get a chorus line of never-gonna-be-presidents yapping at each other for two hours.
Most of these people have no chance of becoming the nominee. They know it. The Democratic National Committee knows it. And the top tier candidates know it too. The debates should be structured as such, rather than like cattle-call auditions for The Voice.
It is understandable, after the unity-destroying trainwreck of the 2016 primary, that the DNC didn't want to appear to be needlessly excluding particular candidates so early in the process. But their rules for making the first two rounds of debates in June and July — 65,000 individual donations with 200 or more donors from each of at least 20 states, or hitting 1 percent or higher in three or more qualifying polls — turned out to be Maginot Line inadequate. With the increasing ease of dropping a few bucks into a campaign and the 24/7 attention already given to the 2020 election, it was inevitable that basically anyone with even the slightest national profile or resources could meet one of these two bars.
Subscribe to The Week
Escape your echo chamber. Get the facts behind the news, plus analysis from multiple perspectives.
SUBSCRIBE & SAVE
Sign up for The Week's Free Newsletters
From our morning news briefing to a weekly Good News Newsletter, get the best of The Week delivered directly to your inbox.
From our morning news briefing to a weekly Good News Newsletter, get the best of The Week delivered directly to your inbox.
The DNC announced that no more than 20 candidates would make the first debate, and they got their 20. The rules are so lenient that the DNC will have to apply controversial tiebreaker rules just to keep it at 20. Rather than the Varsity/Junior Varsity structure of the early 2016 GOP debates, candidates will be randomly assigned to one of the two 10-person shows. Including time for the moderators and commercial breaks, no one will crack even 10 minutes of speaking time. That's not enough for a Julian Castro or a John Hickenlooper to distinguish themselves from the frontrunners, which raises the question: why are they up there in the first place? 10-person debates make for neither particularly good TV, nor especially substantive discourse.
The last time Democrats had a large primary field, the first debate was also quite packed. On April 26, 2007, eight contenders met on stage: former Sen. Mike Gravel (Alaska), former Sen. John Edwards (N.C.), Sen. Chris Dodd (Conn.), Sen. Joe Biden (Del.), Sen. Hillary Clinton (N.Y.), Sen. Barack Obama (Ill.), Rep. Dennis Kucinich (Ohio), and Gov. Bill Richardson (N.M.). With so many crowded on stage, there was little time for anything except a single question on each subject directed at each candidate, or occasionally something like a roll call vote on particular policy questions. At one point the participants were literally asked for a show of hands about whether they ever stored a gun in the house. (What will this year's show of hands be? "Have you ever deliberately thrown recycling in the garbage?") There was no interplay between the candidates, the audience and the moderators, and virtually no back-and-forth between the hopefuls themselves.
The cold truth about the 2008 Democratic primary race is that there were only ever four serious candidates — Clinton, Obama, Edwards and former Vice President Al Gore, who never got in the scrum. No one outside of those four and 2004 nominee John Kerry ever topped 5 percent in polling. Those four had something else in common — they were already national figures. Clinton was one of the most prominent senators in the country and the former first lady, Obama had become a star after his bring-down-the-house speech at the 2004 Democratic National Convention, Edwards was the party's 2004 vice presidential nominee, and Gore was of course the Democrats' 2000 standard-bearer. Dodd and Biden never had a chance against them. In fact, most of the extraneous characters on stage that first night in South Carolina were floating listlessly around 1 percent, and nothing that transpired helped them gain any ground on the frontrunners. Did you even remember Gravel or Richardson being there? I did not. In 10 years, you also will not remember that Rep. Tulsi Gabbard (HI) was in Miami.
The same dynamic from the 2008 cycle is at play now. There are probably only seven people with an actual chance of being the Democratic nominee — Biden, Sen. Bernie Sanders (Vt.), Sen. Elizabeth Warren (Mass.), Sen. Kamala Harris (Calif.), South Bend, Indiana Mayor Pete Buttigieg, Rep. Beto O'Rourke (Texas) and Sen. Cory Booker (N.J.). Maybe you throw Sen. Amy Klobuchar (Minn.), who has at least hit 3 percent in a poll, into that group and make it eight. The improbable rise of the baby-faced and heretofore completely unknown Buttigieg is proof enough that you shouldn't definitively rule anyone out, but it would be unprecedented for the eventual nominee to be below 5 percent even this far out. This is no knock on the individual aspirants, many of whom are dedicated and qualified public servants who would make perfectly fine presidents, like Washington Gov. Jay Inslee and New York Sen. Kirsten Gillibrand. It's just a recognition of reality.
This misbegotten debate format means that the party is also wasting critical airtime and free advertising on the likes of tech weirdo Andrew Yang, who comes off like one of the hapless incubator housemates from HBO's Silicon Valley, and the loopy spiritual guru Marianne Williamson, who wants to "harness love" to "generate a massive wave of energy" which will "override all threats to our democracy." The party faithful, while understandably eager to take on the loathed President Trump, are perhaps not dedicated enough to sit through four hours of listening to people who are rather transparently hawking their books, auditioning for third-tier cabinet posts or jockeying to be the Jim Webb of the 2020 primary debates. And senior Democrats really should consider whether they want the party represented to a national audience by some of these goofballs.
The DNC is tightening the rules for the third debate in September, but they don't go far enough. They set the same too-high cap of 10 candidates on two nights, when they really should at this point be drawing the line at a single debate by applying tiebreaker rules to funnel the field. The fundraising requirements are more than doubled — 130,000 unique donations with a minimum of 400 donors in each of at least 20 states, and candidates must also score 2 percent or higher in at least four different national or early state polls (as opposed to the either/or structure of the requirements for the first two tilts). While this will probably eliminate the truly fringe contenders like Rep. Eric Swalwell (CA), it may still leave Democrats with a single, unwieldy 10-person debate or, worse, another two nights of debate which pit the leading talent against the hopelessly outmatched.
This is not the end of the world. The winnowing of candidates will happen, eventually. And in fairness to Democrats, these early debates are a) likely to be inconsequential and quickly forgotten, and b) not obviously harmful even if the two-debate format lurches into the winter. After all, Republicans were still holding their second "undercard" debates for lower-polling candidates at their seventh debate in January 2016, and they eventually won both Congress and the presidency. That should make it easy to look past the DNC's sins in this instance.
After all, as Marianne Williamson — who has qualified for the debates! — says, "The first step in forgiveness is the willingness to forgive."
Continue reading for free
We hope you're enjoying The Week's refreshingly open-minded journalism.
Subscribed to The Week? Register your account with the same email as your subscription.