The fantasy of online privacy
The internet was always envisioned as a tool for surveillance, and the issues go well beyond any single platform or website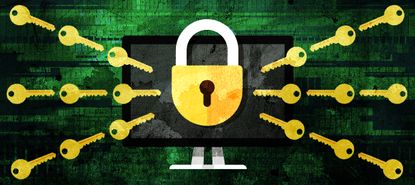 (Image credit: Illustrated | vladwel/iStock, RuDVi/iStock, javarman3/iStock)
Sign up to our 10 Things You Need to Know Today newsletter
A free daily digest of the biggest news stories of the day - and the best features from our website
Thank you for signing up to TheWeek. You will receive a verification email shortly.
There was a problem. Please refresh the page and try again.
I am old enough to remember when the internet and social media in particular were unambiguously good things. Not long ago we were gushing about Barack Obama's digital team and their ability to convince teenagers that electing a first-term senator to the White House would usher America into a golden age of freedom and prosperity. It is almost impossible now to convey, especially to those who have come of age in a world in which these things were already ubiquitous, the mood of techno-optimism presented in public schools during the 1990s. Al Gore's Information Super Highway was going to make everything of value — the latest scientific research, classics of art, literature, and music, informed debates about public policy — freely accessible to billions.
Since then a kind of Spenglerian gloom has begun to pervade our attitude toward this technology. There is a great deal of concern-trolling these days about fake news and bots and Russian troll farms and so-called "deep-fakes," computerized simulation videos that to my eyes barely rise to the level of a Bad Lip Reading parody. It turns out that instead of turning all of us into Mozart-listening, Tolstoy-reading geniuses, having a 24-hour distraction engine has left us with short attention spans and an appetite for hardcore pornography and millions of words of Twilight fan fiction. Why is anyone surprised that the leveling of discourse has made it possible for the dumbest and loudest people to receive an outsized amount of attention? Thirty years ago if one of this country's enemies wanted to influence American politics it had to depend upon spies and useful idiots with established positions in our public life; now all they have to do is make a few Twitter accounts. The only really amazing thing about all this is that, contrary to what a thousand take merchants have suggested, the internet actually hurt Donald Trump in 2016.
Nothing in our conversations about the pros and cons of the modern internet seems to me more naïve than our complaints about privacy. Facebook's stock took a hit Wednesday after it was reported that Mark Zuckerberg had been aware as early as 2012 that some of what his company was doing might fall afoul of nascent Federal Trade Commission standards. All of this is supposed to outrage us in light of what we already know about the Cambridge Analytica would-be scandal, in which a company used Facebook for the purposes for which it exists.
Subscribe to The Week
Escape your echo chamber. Get the facts behind the news, plus analysis from multiple perspectives.
SUBSCRIBE & SAVE
Sign up for The Week's Free Newsletters
From our morning news briefing to a weekly Good News Newsletter, get the best of The Week delivered directly to your inbox.
From our morning news briefing to a weekly Good News Newsletter, get the best of The Week delivered directly to your inbox.
Most people seem to envision the ideal relationship between media and platforms like Facebook as something akin to that between publishers and bookstores. Barnes and Noble sells a wide variety of books to a broad base of customers whose tastes and interests vary; they will stock the latest anti-Trump tell-all alongside Mark Levin, but they draw the line at David Duke tracts and jihadist manifestos and "How to make a bomb"-type pamphlets. Surely it should be this simple.
The problem is that Facebook is not really a bookstore in this analogy — at least not in any straightforward sense. To understand what they do you have to imagine a chain for whom selling books is not really the point; the books, which are rather enticingly free, are only there to give the store's owners a sense of what you might be interested in, information that they then sell to other companies that will in turn try to hawk everything from clothing to medicine to political candidates. If you think the neat blue website pays engineers hundreds of millions of dollars to let you share dog scrapbooks and spy on your old high-school classmates out of the goodness of its founders' hearts, you're delusional.
But the issues go well beyond any single platform or website. The internet, as Yasha Levine showed us in an admirable and unfortunately neglected book last year, was always envisioned by the military industrial complex responsible for its creation as a tool for surveillance. It should come as no surprise that neoliberal capitalism, the only system with even more global reach than the American armed forces (with which big tech is increasingly allied anyway), would turn it to the very purpose for which it was designed. There was never going to be another way.
This doesn't necessarily mean that we have to live with the status quo. It is possible to imagine a future in which the moral hazard of putting all the information available from search engines and email use into the hands of private corporations disappeared. Instead of Google and Gmail we could have a massive Library of Congress search engine and a free — with paid upgrades available for those who need additional storage — Postal Service email platform. I for one would not mind entrusting Uncle Sam with the knowledge that the phrase beginning with "M" I am most likely to search for information about is "Michigan football recruiting."
The sad truth, though, is that these things have already been tried. Very few people remember now that the post office once attempted to get into the email business and made various attempts to keep digital commerce within the purview of the government rather than in the hands of private corporations. These efforts failed time and again, often due to Silicon Valley lobbying efforts. (Internal incompetence was also an issue: imagine paying $1.70 per email in 2002.) This problem might be solved easily enough if those corporations had no say in the matter, like the coal companies under the post-war Labour government in Britain. But even if forcibly nationalizing search, email, and other basic internet services now seems like the ideal solution, it would involve the most radical use of government power since the New Deal. I doubt there is a single member of Congress who would even entertain the idea.
What does that leave with us? A box of Band-Aids for some gaping wounds. We can insist on disclosure, but nobody is ever going to read through those terms of service documents. We can also attempt to limit the relationship between digital advertising and free social media services, but the latter could not exist without the former. Nor could the unlimited amount of "content" produced by wage slaves or unpaid amateurs.
I don't mean to sound unduly cynical. The fact that hundreds of companies know virtually everything about me because I use technologies that are all but unavoidable for anyone who participates in modern life is terrifying. I wonder how many other people now think that the old arrangement — in which we took photos with real cameras and paid people at department stores to make prints of them and shared them in the privacy of our homes with people we really love, and had beautifully clear conversations on reliable pieces of hardware, and paid for newspapers that offered good wages to their writers and editors thanks to the existence of classified ads — was so bad. In the future we should be more mindful of the power of technology to destroy things we value. But how many of those things are still left?
Continue reading for free
We hope you're enjoying The Week's refreshingly open-minded journalism.
Subscribed to The Week? Register your account with the same email as your subscription.
Sign up to our 10 Things You Need to Know Today newsletter
A free daily digest of the biggest news stories of the day - and the best features from our website
Matthew Walther is a national correspondent at The Week. His work has also appeared in First Things, The Spectator of London, The Catholic Herald, National Review, and other publications. He is currently writing a biography of the Rev. Montague Summers. He is also a Robert Novak Journalism Fellow.