The rise and rise of Elizabeth Warren
Why her 2020 opponents should be scared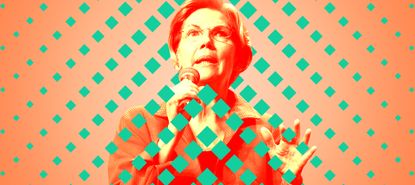 (Image credit: Illustrated | Scott Olson/Getty Images, Misha Shutkevych/iStock)
I would never say anything rude about Susan Sarandon, and if I did, I hope 10,000 swords leap from their scabbards to avenge her. But I do wish she would lay off poor Elizabeth Warren, whom the Stepmom star recently dismissed as "someone who used to be Republican" and a tool of Wall Street. This is pretty unfair to the woman who came up with the idea for the Consumer Financial Protection Bureau pretty much out of thin air all the way back in 2007.
It's also something we should get used to hearing from supporters of Bernie Sanders — this is the second cycle Sarandon has spent campaigning for him in Iowa — and the 20 or so other remaining candidates for the Democratic presidential nomination. Warren is running second behind Joe Biden in virtually every poll of the 2020 race — an exception is this one from Monmouth, in which she and Bernie are tied for first. She is a formidable organizer. She draws huge crowds. And she has gotten here despite beginning her campaign with one of the most boneheaded stunts in recent political history. If her opponents weren't scared, they would be fools. (They might well be fools, but not for this reason.)
How has Warren managed to edge her way to the top in such a crowded field? I and many other observers assumed that there was too much overlap between her potential base of support and Bernie's for her to go anywhere in the polls. It probably is the case that if Bernie were to drop out tomorrow, Warren would be the second choice of many his supporters (at least among candidates who will actually qualify for the next debate). That is not going to happen, but if it did, she would instantly become the frontrunner by a decent margin.
Subscribe to The Week
Escape your echo chamber. Get the facts behind the news, plus analysis from multiple perspectives.
SUBSCRIBE & SAVE
Sign up for The Week's Free Newsletters
From our morning news briefing to a weekly Good News Newsletter, get the best of The Week delivered directly to your inbox.
From our morning news briefing to a weekly Good News Newsletter, get the best of The Week delivered directly to your inbox.
This is what makes Warren so remarkable. Her 20 or so percent in the polls is largely coming from people who were firmly behind Hillary Clinton in 2016. She has managed to convince moderate Democrats to support a platform that is, if anything, even more radical than the one proposed by Sanders: banning the world's largest corporations from operating and using their online platforms, slashing apart monopolies, a much higher top tax rate and a much lower threshold for the estate tax, a 2 percent tax on assets above $50 million which increases to 3 percent at $1 billion, $500 billion for new housing, and, of course, single-payer health care.
How has she managed to sell mainstream liberals on all this? By being a team player. Instead of criticizing her party's establishment and attacking other candidates, she emphasizes unity and the importance of winning back Democratic control of the Senate. (Good luck with that one.) In public, when she is asked about her views on health care, she smiles and says, "I agree with Bernie"; in private conversations over cups of tea at her townhouse in Washington, she assures Democratic bigwigs that she is not going to start a Bernie-style "revolution."
Warren is the candidate her opponents wish they could be. Instead of using emotive rhetoric — or half-remembered anecdotes about her old pal Barack — as a substitute for having an actual policy agenda, her singular mix of folksy, slightly awkward charm and wonkishness allows her to say things that would otherwise alienate the kind of Democrat who is never going to feel the Bern. She does not do uplift. She does not rant. Instead she patiently explains why her plans will help ordinary working Americans while managing to convince party leaders that under President Warren their heads will not end up under a guillotine. She has also been savvy enough to understand that primary voters in places like Iowa do not care about impeaching Donald Trump, a subject she has all but abandoned over the last two months.
Warren is surging in the polls for the not very complicated reason that she is sober, serious, and thoughtful. It is refreshing to think that this is still a viable, if still far from certain, path to a presidential nomination.

Continue reading for free
We hope you're enjoying The Week's refreshingly open-minded journalism.
Subscribed to The Week? Register your account with the same email as your subscription.