Facebook doesn't care about your mental health
The social media giant might nix likes, but that doesn't mean it has your mental well-being at heart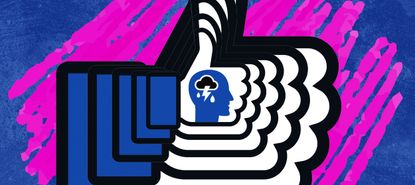 (Image credit: Illustrated | ihorzigor/iStock, Wikimedia Commons, DickDuerrstein/iStock, Murata Yuki/iStock)
We all know that little thrill of creating a popular post on Facebook. Watching the likes rack up is like getting a steady stream of dopamine bursts, and it can be both seductive and addictive.
That same buzz can have its downsides, though. We all know the feeling of watching the posts of others get unending positive feedback. We become jealous, assuring ourselves that the only reason these people are getting attention is because they're popular, good looking, etc. We spiral into self-loathing and comparison.
Now, after experimenting with hiding likes on Instagram in select countries, Facebook is exploring doing the same on its main platform, ostensibly to rein in its envy machine.
Subscribe to The Week
Escape your echo chamber. Get the facts behind the news, plus analysis from multiple perspectives.
SUBSCRIBE & SAVE
Sign up for The Week's Free Newsletters
From our morning news briefing to a weekly Good News Newsletter, get the best of The Week delivered directly to your inbox.
From our morning news briefing to a weekly Good News Newsletter, get the best of The Week delivered directly to your inbox.
That Facebook is considering this at all is encouraging. After years of appearing to ignore criticism about its effects on society at large, the company finally seems to be listening. But it's also a stretch to say that Facebook genuinely cares about your mental health: At root, there is a basic contradiction between Facebook's business model and its new-found altruism. Relying on Facebook to look after its users' mental health is a bit like asking McDonald's to keep its customers' blood pressure in check: At some point, a company's need to make money is at odds with its supposed desire to do good.
The problem with likes is that they mark out how successful or happy others are, which in turn can foster a feeling of envy and insecurity. It's a real phenomenon: Academic studies strongly point to a correlation between Facebook use and jealousy, which can become part of a broader pattern of depression.
The experiment of hiding likes on Instagram was interesting to witness. It had a sort of flattening effect where the posts of, say, a popular "influencer" friend and another contact with fewer followers were at least superficially the same. Yes, it's obvious who ultimately has the most clout, but in the common example of a group of friends all posting things from the same event, hiding likes makes it harder to tell who is winning the popularity contest.
Yet, it's important to note that Instagram didn't hide the number of likes from posters, only from viewers. As such, that metric's effects remained: Users still equated higher likes with success. Dopamine rush achieved.
Then again, of course Facebook would want you to post things that get more likes. The company's success relies upon you posting more and producing "engagement" from other people so that people spend more time on the app so that the value of Facebook's targeted ad business increases. This is especially important to the company in North America, where the addressable market seems to have peaked, and young people especially are fleeing the platform. Facebook had a full 15 million fewer users in the U.S. early this year compared to 2017.
Facebook's reliance on engagement is baked in, and it undermines a supposed desire to combat how the platform fosters envy. It also encourages inflammatory content, posts that reaffirm a reader's views (regardless of whether those views are true), and a feedback loop in which the posts that get the most engagement are also the ones pushed higher in a user's feed. Sure, hiding likes can have some benefit, but the way Facebook is built means that this will always be a minor step at best.
I believe the company is comparatively sincere about its recent efforts to improve, from this possible experiment to its Oversight Board to a renewed focus on privacy. Yet, since it is a massive business with thousands of employees and shareholders and billions in revenue, it is impossible and perhaps even futile to separate sincere belief from the convenient effect of marketing Facebook as a kinder, gentler organization that now cares more about its users.
Social media is structured around engagement, and metrics surrounding that engagement influence society at large. One tragic example: Recently on Canada's west coast, a young boy named Carson Crimeni died of an overdose. In the hours prior to his death, he was filmed by peers who were bullying him and encouraging him to consume the drug that killed him, and those videos were then posted to social media.
Such a senseless loss is impossible to blame on one thing. But it's also hard to ignore that social media's inducement to post popular or controversial things plays a part in a desire to film rather than help. When you build a thing that runs on attention, any attempts to mitigate the where and how that attention lands will only ever be half measures.

Continue reading for free
We hope you're enjoying The Week's refreshingly open-minded journalism.
Subscribed to The Week? Register your account with the same email as your subscription.