The zombie movement to impeach Trump
It just won't die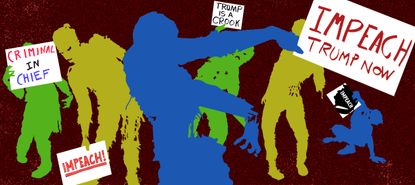 (Image credit: Illustrated | Pavel Talashov/iStock, RINGO CHIU/AFP/Getty Images, Spencer Platt/Getty Images, Photoco/iStock)
One of the worst things about having a phone is the fact that other people can use it to call you. For four years now I have received the same call at least twice a day, always from numbers somewhere in northern Virginia. When I pick up, the robotic voice informs me that this is the last chance for me to claim an extended warranty for my vehicle due to a recall. The fact that the 2004 Pontiac Vibe in question was totaled on September 11, 2015, does not deter the scammers any more than the fact that I have spent nearly half a decade now alternating between pushing the "1" button in order to be removed from their calling list and telling their representative that our old Vibe is actually an 1874 model. ("Is it still eligible?")
I think of these zombie calls (which you would think our new activist FCC would be able to do something about) whenever I see a new round of stories about House Democrats who claim to be pursuing Donald Trump's impeachment. This cause, like the living dead, seems to arise again to feed on the brains and attention spans of mortals no matter how many times it is shot down, including by the party's leadership.
This week Politico reports that some 137 Democrats in the House now support bringing articles of impeachment against the president for, well, something. Part of the problem they face is that none of the horses they pick — the report of Robert Mueller's special counsel investigation, his long and painful hours of testimony in the House — ever manages to come in. This has not stopped Rep. Al Green of Texas from attempting to impeach Trump for saying rude things about professional football players, but he has thus far failed to win the support of most high-ranking members of his party.
Subscribe to The Week
Escape your echo chamber. Get the facts behind the news, plus analysis from multiple perspectives.
SUBSCRIBE & SAVE
Sign up for The Week's Free Newsletters
From our morning news briefing to a weekly Good News Newsletter, get the best of The Week delivered directly to your inbox.
From our morning news briefing to a weekly Good News Newsletter, get the best of The Week delivered directly to your inbox.
Speaker Nancy Pelosi presumably likes Trump about as much as the average member of her caucus, but she also understands that impeachment, in addition to not polling well nationally, will not do Democrats elected in seats won by Trump in 2016 any favors. This is to say nothing of the fact that, even if a suitable pretext could be found and the Democratic membership of the House united, impeachment would be dead on arrival in the Senate. It is difficult to imagine a rhetorical weapon Trump would feel more comfortable wielding on the campaign trial than "Fake FAILED impeachment by Liars in the Democrat Party." Which is why Democratic leaders generally regard impeachment as a pipe dream.
The exception here, seemingly, is Rep. Jerry Nadler of New York, the chairman of the House Judiciary Committee, who has gone so far as to suggest that the House is already engaged in "formal impeachment proceedings." This is the pretext he is using for requesting access to the millions of pages of raw material used by the special counsel investigation. The argument, if I understand it correctly, is that Trump is already in the process of being impeached on the basis of the unknown information that Nadler's committee has never in fact seen but must now access. That's principled liberalism for you. (As opposed to principled conservatism, which involves pretending that the oversight and investigation charades they performed during the Obama administration were patriotic exercises of their constitutional duty, but that the same sort of thing done by opponents of President Trump is lib whining.)
Does Nadler really believe that impeachment will go anywhere? Some of his allies in the House give a very different impression when they speak with barely disguised contempt of "the whole Al Green crowd," which is something John Boehner might have said about Louie Gohmert. If it's not a sincere attempt to censure the president in the hope of having him removed from office, what is it? A rally-the-troops gesture? A fundraising gimmick? Good evidence that politicians, so far from being busy, have almost nothing worthwhile to do with their time?
It is 426 days until the 2020 election. That's 529 more than it's been since Trump took office. If Democrats were serious about the former, they would stop behaving as if the latter was some kind of freakish aberration, a mutable, accidental result that can be corrected by yet another round of hearings about what Don Jr. wrote in response to a series of Nigerian prince emails.
It's time to kill the impeachment zombie — for good this time.

Continue reading for free
We hope you're enjoying The Week's refreshingly open-minded journalism.
Subscribed to The Week? Register your account with the same email as your subscription.