California should be thankful Trump refuses to help with its homelessness problem
This is the guy known for family separation and the Muslim ban, remember?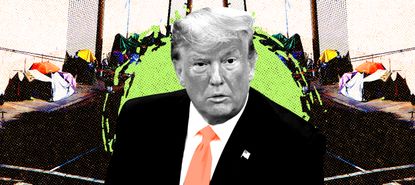 (Image credit: Illustrated | Mario Tama/Getty Images, Mark Wilson/Getty Images, Yuri Parmenov/iStock, Aerial3/iStock)
Out of the abundance of the heart, the mouth speaks. And out of President Trump's mouth on Tuesday came a disgraceful spew of contempt for the homeless.
"We can't let Los Angeles, San Francisco, and numerous other cities destroy themselves by allowing what's happening," he said of homelessness to reporters aboard Air Force One. Real estate investors who bought in these places now want to leave, Trump continued, because they purchased property for "the prestige of the city, and all of a sudden they have tents." Homeless people are on our "best highways, our best streets, our best entrances to buildings ... where people in those buildings pay tremendous taxes, where they went to those locations because of the prestige," the president added, so he is "looking at it" and will "be doing something about it."
Let's hope not. The Trump administration on Wednesday rejected a request from California for federal funding to address homelessness, and while much coverage of the decision has cast the move as hypocritical, it is almost certainly a boon. You don't want the Trump administration trying to solve homelessness.
Subscribe to The Week
Escape your echo chamber. Get the facts behind the news, plus analysis from multiple perspectives.
SUBSCRIBE & SAVE
Sign up for The Week's Free Newsletters
From our morning news briefing to a weekly Good News Newsletter, get the best of The Week delivered directly to your inbox.
From our morning news briefing to a weekly Good News Newsletter, get the best of The Week delivered directly to your inbox.
This should be obvious. Remember, this is a president splitting up families and caging kids at the border, slashing refugee admissions, banning travelers with only the barest pretense that the reason isn't their religion, and helping Saudi Arabia commit war crimes in Yemen. Is that the person you want dealing with one of the most vulnerable populations in America?
Who looks at Trump, says, "Wow, this guy's ethics suck," and then pivots to, "Hey, maybe we should ask him to help out with homelessness"? The answer is California Gov. Gavin Newsom (D), apparently.
If Trump did grant California the funds requested, there is a strong chance they'd come with unwanted strings attached. Housing and Urban Development Secretary Ben Carson's letter to Newsom claims California has undercut police responses to homelessness and blames the state's sanctuary cities for perpetuating the problem by redistributing resources away from homeless Americans. This administration has already attempted to use federal funding to coerce cities into dropping their sanctuary status; if Carson's reply to Newsom was a "yes," do we imagine it wouldn't have similar incentives?
The extant legal climate surrounding homelessness should also give us particular pause. We have good reason to think this administration would lean toward criminalization in its response to homelessness, and if that's true, it would have plenty of cruel models to follow. Municipalities around the country — including progressive bastions like Los Angeles and Seattle — have ordinances in place which criminalize aid to the homeless and/or homelessness itself.
Search something like "arrested for feeding the homeless," and Google will serve up a miserable bounty. The logic behind these arrests varies. Sometimes it's supposed to deter do-gooders from competing with government services or attracting homeless people to public spaces. Sometimes it's cast as a permitting issue; sometimes there's a ban on public "food sharing;" sometimes it's ostensibly a public health measure.
Other cities have gotten more creative. Pensacola, Florida, briefly prohibited the homeless from using blankets. The repealed rule was ostensibly about "camping." In New York, former Mayor Michael Bloomberg's administration banned food donations to homeless shelters because their nutritional content could not be assessed. And data collected by an advocacy organization in Florida showed Osceola County, which is south of Orlando, spent over $5 million to arrest just 37 homeless people a remarkable 1,250 times between 2004 and 2013, typically for "violations of local ordinances prohibiting activities that many homeless people do to survive, such as sleeping in public or panhandling." (Zillow puts the county's median home value in 2009 at $120,000, which means the county would have spent less of taxpayers' money by buying each of those 37 people a house.) Other cities make it illegal to sit on the sidewalk or sleep in public, or they do things like changing sprinkler schedules and removing benches in public places to make life outdoors more uncomfortable.
Does it seem like a stretch to say this is the playbook that would guide a Trump campaign against homelessness? It doesn't to me.
Yet despite what I think is warranted caution about involving Trump in any proactive program for homelessness, there is one way his administration gets the issue right: Deregulatory housing reform would help. Whatever we think about the merits of other proposals — whether you're all-in for funding a more tightly woven social safety net or think the above criminalization sounds about right — making it easier to build a diversity of affordable housing options should be common ground.
Tuesday's report on homelessness from Trump's Council of Economic Advisers points to restrictive zoning, density restrictions, and onerous building codes as contributing factors to America's affordable housing shortage, which is part (though certainly not all) of the homelessness crisis. Broad adoption of something like the Minneapolis 2040 plan, which ended single-family zoning and won due praise from progressives and free marketers alike, would be a step in the right direction on multiple policy fronts.
Insofar as the White House backs this regulatory reform, it is reducing, not expanding, state coercion. It makes sense to support that sort of move on homelessness from this administration. Inviting Trump to take a more energetic approach is a far riskier option.

Continue reading for free
We hope you're enjoying The Week's refreshingly open-minded journalism.
Subscribed to The Week? Register your account with the same email as your subscription.