Why Trump thinks he can get away with anything
America has a long history of letting bad presidents off the hook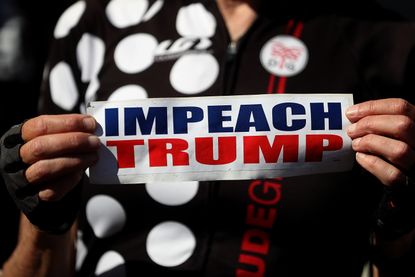 (Image credit: Getty Images)
Why does President Trump seem to believe he can so brazenly get away with unethical and possibly illegal behavior — like allegedly pressuring Ukraine to investigate the families of his political rivals — without any kind of consequence?
Experience, probably.
The president has plenty of personal familiarity with being immune to the consequences of his actions. Throughout his career as a private citizen, he steered multiple businesses into bankruptcy, yet somehow kept climbing the cultural ladder — from Queens landlord to bestselling "author" to TV star and finally to political leader. The first 70 years of his life, before he arrived in the Oval Office, led Trump to believe that by deploying charm, bluster, and showmanship, he could get away with pretty much anything.
Subscribe to The Week
Escape your echo chamber. Get the facts behind the news, plus analysis from multiple perspectives.
SUBSCRIBE & SAVE
Sign up for The Week's Free Newsletters
From our morning news briefing to a weekly Good News Newsletter, get the best of The Week delivered directly to your inbox.
From our morning news briefing to a weekly Good News Newsletter, get the best of The Week delivered directly to your inbox.
Politics hasn't taught him any different.
Trump doesn't have to look far back into the past to get the impression that presidents can get away with just about anything they dare. From Richard Nixon to Bill Clinton to George W. Bush, America has a rich recent history of letting its presidents off the hook for bad behavior. We are paying for that leniency now.
The details of the president's interactions with Ukraine are still coming into focus. That country's foreign minister over the weekend denied Trump had pressured Ukrainian President Volodymyr Zelensky to investigate former Vice President Joe Biden's son, Hunter Biden, during a July phone call. But Trump seemed to acknowledge Sunday that he had suggested such an investigation, as did his attorney, Rudy Giuliani, in a CNN interview late last week.
As Tom Nichols wrote for The Atlantic: "If this isn't impeachable, nothing is."
Indeed, House Speaker Nancy Pelosi (D-Calif.) has warned that congressional investigations into Trump may reach a "new stage" thanks to the Ukraine allegations controversy. Given her well-known aversion to impeachment, however, those words feel like an empty threat. And that makes sense. While we proudly proclaim that America has no king, that our president is a citizen like any other, our treatment of the executive branch has long tended to be monarchical. The most notable example of this, of course, came when former President Gerald Ford pardoned his predecessor, Richard Nixon, after Nixon resigned over the Watergate scandal. Ford reasoned that the time needed to bring Nixon to trial for his crimes would only prolong the nation's divisions over the scandal.
"During this long period of delay and potential litigation, ugly passions would again be aroused," Ford told the nation, just a month after taking office. "And our people would again be polarized in their opinions. And the credibility of our free institutions of government would again be challenged at home and abroad."
So Ford sought quick closure to the scandal, but he may have paid a price: He lost the 1976 presidential election to Jimmy Carter by the narrowest of margins — a margin that many observers attributed to the unpopularity of his pardon decision.
From then on, lesser examples accumulate. Ronald Reagan left office with his popularity intact despite presiding over the Iran-Contra scandal; Bill Clinton was similarly esteemed even though he had actually been impeached. And when George W. Bush left the nation mired in unwinnable wars and a near-depression, Barack Obama came to office and decided to skip the myriad prosecutions that so many Democrats wanted him to pursue.
"We need to look forward as opposed to looking backwards," Obama said.
Here is where that kind of thinking has gotten us: Trump's conversation with Zelensky reportedly took place on July 25. Why is that date significant? Because Robert Mueller, the special counsel in the Russia investigation, testified before Congress one day before. The event was a dud, and it seemed to put the nail in the coffin of the impeachment saga. Trump appeared off the hook. Is the timing a coincidence? Maybe. But it leaves a bad taste in the mouth.
Impunity for bad behavior, it seems, just breeds more bad behavior.
It may be impossible to successfully impeach Trump right now, given the politics of the Senate. But he won't be president forever. If his successor is a Democrat — a big if — that person must find a legitimate, nonpartisan method for holding Trump accountable for his bad deeds. Because if we don't look backwards, we may never be able to move ahead.
Want more essential commentary and analysis like this delivered straight to your inbox? Sign up for The Week's "Today's best articles" newsletter here.

Continue reading for free
We hope you're enjoying The Week's refreshingly open-minded journalism.
Subscribed to The Week? Register your account with the same email as your subscription.