Trump, Boris, and the welcome resiliency of democracy
Are we witnessing a pushback against right-wing populism?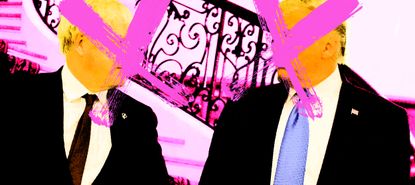 (Image credit: Illustrated | Stefan Rousseau - Pool/Getty Images, Ksenia Palimski/iStock)
The global march of right-wing populism is neither inevitable nor irresistible. Indeed, the creaky institutions of liberal democracy may have some life in them yet.
Tuesday dawned with news from the United Kingdom that the Supreme Court ruled that Prime Minister Boris Johnson's move to suspend Parliament — and potentially grease the wheels for a "no-deal" Brexit — was unlawful. Later in the day, in the United States, House Speaker Nancy Pelosi announced that the House will move forward with a formal impeachment inquiry against President Trump.
Of course, for now, Trump is still president. Brexit is still the official policy of the United Kingdom. The forces that made both things possible are not in retreat. But this week's events provide evidence that liberal democracy is resilient — perhaps more resilient than we thought — and will not simply roll over and die. The question now is whether the pushback against the populist agenda can translate into something more sustained.
Subscribe to The Week
Escape your echo chamber. Get the facts behind the news, plus analysis from multiple perspectives.
SUBSCRIBE & SAVE
Sign up for The Week's Free Newsletters
From our morning news briefing to a weekly Good News Newsletter, get the best of The Week delivered directly to your inbox.
From our morning news briefing to a weekly Good News Newsletter, get the best of The Week delivered directly to your inbox.
Where did Johnson and Trump go wrong? In short, both men forgot about democracy.
More precisely, they relied on democracy — in the form of elections — to propel them and their ideas to power, but then tried to short-circuit democratic processes once they were in charge. They cultivated their populist contempt for the elites and the usual norms of debate so thoroughly that they abandoned the effort to persuade anybody to their perspective. Johnson was so desperate to get Brexit done that he gave up trying to get Parliament's approval for a deal, and decided instead to try to remove Parliament as an obstacle. Trump, meanwhile, apparently tried to put his thumb on the scale for the 2020 elections by pressuring Ukraine's government to go after the family of former Vice President Joe Biden.
Neither was an act of fair play.
Given how polarized our politics have become, expecting any kind of justice for bad behavior on behalf of our political leaders can feel futile. The Brexit process has marched onward even as Parliament — and much of the U.K. — showed signs of buyer's remorse. Every controversy involving Trump has fizzled out, and he's emerged unscathed and immune to the usual laws of politics. And Pelosi's reluctance to pursue Trump's impeachment was so steadfast that my colleague Ryan Cooper this week lamented that her "ignominious failure of leadership could end with her being the final speaker of the House in American history" — an extreme conclusion, perhaps, but one warranted by the facts.
So it's notable that at least part of this new wave of pushback is bipartisan in nature: The U.S. Senate, controlled by Republicans, voted unanimously to ask the Trump administration to release the whistleblower complaint that kicked off the Ukraine controversy. That isn't the same thing as a vote to convict the president on impeachment charges, but the cooperation is still remarkable, and perhaps a sign of how far Trump has overstepped.
In the U.K., the opposition to Johnson has also covered the political spectrum: There have been defections from his Conservative Party in recent weeks, and his own brother stepped down from Parliament rather than have to choose "between family loyalty and the national interest." Johnson has even lost the working majority his party had in Parliament just a few weeks ago.
This is a reminder that democracy starts with elections, but it doesn't end there — and that saving liberal democracy, at home and abroad, might simply mean engaging in it ever more vigorously over the long term. It means defending the independence of the courts. It means piling up facts until the truth they represent is irrefutable. It means applying steady pressure to your representatives until the moment comes that, finally, they see the need to act. Liberal democracy scored a pair of victories this week because the people who care about it haven't given in to despair and defeatism.
This is a much-needed proof of life for liberal democracy.
Want more essential commentary and analysis like this delivered straight to your inbox? Sign up for The Week's "Today's best articles" newsletter here.

Continue reading for free
We hope you're enjoying The Week's refreshingly open-minded journalism.
Subscribed to The Week? Register your account with the same email as your subscription.