The Democrats' Senate strategy has a red state problem
To win the Senate, Democrats must avoid nationalizing elections. Can they pull it off in a presidential year?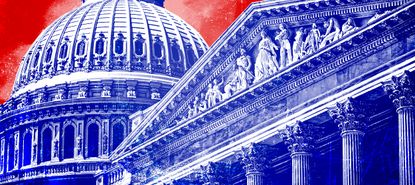 (Image credit: Illustrated | Bill Chizek/iStock, -slav-/iStock)
Tuesday's victories in deep-red Kentucky, where the Democrats appear to have squeaked out a win for the governor's mansion, and increasingly blue Virginia, where the Democrats took decisive control of the state government, have buoyed the spirits of a party just coming off a panic about weak polling for their three presidential frontrunners in swing states. And they deserve to feel upbeat.
But Democrats shouldn't get ahead of themselves in their celebration, because these results don't reveal any material change in the overall landscape. Virginia has become a must-win for Democrats, not a swing state, and Kentucky is still emphatically Trump country. These victories confirmed the main pattern of 2018: The Democrats are gaining increasing support in once Republican suburban areas, but they are making little or no headway in rural white counties.
They also confirmed another lesson of 2018: Ticket-splitting is still possible when a particular contest is distinguishable from the larger political context. In 2018, Sherrod Brown won re-election to the Senate in Ohio even as the Democratic candidate for governor failed to achieve victory, while in Iowa the Democrats flipped two of four House seats while also failing to claim the governorship. Similarly, in Kentucky this week, an unpopular GOP governor came up short even as the Republicans dominated the other statewide contests.
Subscribe to The Week
Escape your echo chamber. Get the facts behind the news, plus analysis from multiple perspectives.
SUBSCRIBE & SAVE
Sign up for The Week's Free Newsletters
From our morning news briefing to a weekly Good News Newsletter, get the best of The Week delivered directly to your inbox.
From our morning news briefing to a weekly Good News Newsletter, get the best of The Week delivered directly to your inbox.
Those lessons have implications for the other big national contest of 2020, one that looms almost as large as the presidential race: the battle for the Senate. Even if the Democrats win the presidency, to translate any of their plans into action, they are going to have to take the Senate. But taking the Senate means achieving victory in deep red territory.
True, the top targets for the Democrats in 2020 are two purple-to-blue states with relatively unpopular senators. Sen. Cory Gardner (R-Colo.) has the third-lowest approval rating of any sitting senator, and his disapproval rating is 3 percent higher. Representing a state that has trended more and more Democratic over the past decade, Gardner is properly seen as highly vulnerable. The other target, Sen. Susan Collins (R-Maine) has swatted away past challenges with ease, but she may be seriously vulnerable for the first time, as Trump has polarized the historically independent voters of the Pine Tree State.
In those two contests the Democrats might well benefit from nationalizing the Senate contests and tying Trump around their opponents' necks. But there are few if any other races for which that is the case. That's another lesson of the 2018 midterms, where four incumbent Democratic senators — in Florida, Indiana, Missouri, and North Dakota — lost their re-election bids even as the Democrats succeeded in decisively flipping the House. Nationalizing a Senate race is deadly if you're running blue in a red state.
To win the Senate, the Democrats need to win in states Donald Trump won in 2016, and that he has anywhere from a good chance to a dead certainty to win in 2020:
Iowa: The state's junior senator, Joni Ernst (R), has seen her net-approval numbers crater in the last quarter. The drop was most pronounced among Republicans, which may mean they will rally back to her in the end, but also means she has no room to triangulate to shore up her support among independents. Iowa is a genuine swing state that moved dramatically from 2012 to 2016, and snapped back significantly in 2018 as well. But it has many characteristics of deeper red states, such as a high proportion of rural dwellers.
North Carolina: Republican Sen. Thom Tillis currently has worse net-approval numbers than either Gardner or Ernst, and his approval ratings are scraping the bottom of the Senate barrel. North Carolina is a red-trending-purple state, and Tillis barely beat Democratic incumbent Kay Hagan in the Republican wave year of 2014. But it's also a state where Trump currently runs better than in other swing states.
Arizona: Appointed Republican incumbent Martha McSally still has a barely positive net-approval rating, but her numbers are dropping and she's drawn a strong challenger in astronaut Mark Kelly. Arizona is another red-trending-purple state, but it's also a state whose more popular senator — a Democrat — is practically defined by her independence from the national party. Trump may well be an albatross in this state — but the Democratic brand hasn't become a draw.
Kansas: The Democrats are making a serious play for an open seat in this deep red state, with a strong candidate in former Republican state Sen. Barbara Bollier. Her chances only get better if the Republicans repeat their error of 2018's gubernatorial race and nominate Kris Kobach. But Kansas remains an overwhelmingly Republican state, one where Trump is certain to win.
Georgia: The state actually has two Senate elections in 2020: Sen. David Purdue is defending his seat, and Sen. Johnny Isakson is retiring, triggering a special election. Purdue is favored to win re-election, but the Democrats could make a real race of either contest depending on who both parties put up.
Texas: Sen. John Cornyn (R) is very likely to win re-election, but as in Georgia there are signs that Texas is trending in a Democratic direction, and the right candidate could make a difference, as Beto O'Rourke almost did in 2018.
Alabama: The Democrats will be defending their own most vulnerable senator, Doug Jones, here. His chances look better if he faces a rematch with scandal-plagued provocateur Roy Moore, but his net approval rating isn't terrible regardless, and if the contest isn't nationalized, he could make a strong case for himself as a good defender of Alabama's interests.
In some of these cases — such as Arizona and Texas — the national trends that Democrats have been riding are part of what are putting them in contention. These are increasingly well-educated, racially diverse, and suburban states — resembling Virginia in all these respects. In others — like Alabama — the opposite is the case, and Kentucky is the better point of comparison. But it is hard to imagine that in any of them the Democrats would benefit significantly from allowing the contest to be maximally polarized along the lines of the national contest — even though, all else being equal, strong down-ballot candidates and a strong presidential effort would benefit each other.
That's the challenge for the Democrats in a nutshell. You can't beat something with nothing, so to win the presidency they will need to run a strong candidate on a strong positive agenda. That agenda and that nominee must expand support in multiple directions: to bring out enthusiastic turnout from minorities, to win over educated moderate suburbanites, and to blunt Trump's appeal to working-class white voters. That's a tall enough order.
But to win the Senate, they'll probably need to encourage candidates to separate themselves to some extent from at least parts of that agenda so as to be viable in states where "Democrat" remains an ugly word. In the best-case scenario, where a Democrat wins the presidency on a mandate of big structural change, that probably means a post-victory repeat of the frustrating intra-party negotiations that characterized the first year of the Obama administration.
Winning is never all you hope it could be. It sure beats losing, though.
Want more essential commentary and analysis like this delivered straight to your inbox? Sign up for The Week's "Today's best articles" newsletter here.

Continue reading for free
We hope you're enjoying The Week's refreshingly open-minded journalism.
Subscribed to The Week? Register your account with the same email as your subscription.