Barack Obama speaks from the dead
What is the former president's real legacy?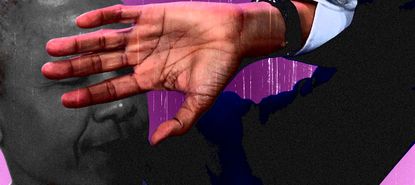 (Image credit: Illustrated | Justin Sullivan/Getty Images)
When John Henry Newman's Apologia pro vita sua was published in 1863, Cardinal Manning was asked what he thought of the justly celebrated autobiography of his erstwhile friend. "It is singularly interesting; it is like listening to the voice of one from the dead."
I think of these words whenever I read anything about Barack Obama's post-presidential career: the Yeats-quoting Nobel laureate hidden away in the offices of the WWF (the environmentalist group, not the late professional wrestling organization), "producing" (whatever that means) various specials for Netflix, reading books by illiberal Catholic political philosophers, lecturing the nation's youth on their use of social media. What he has to say about the state of the Democratic party and the country really is interesting. But only in the sense that it would be interesting — and no doubt highly amusing — to hear what LBJ or Nixon had to say about contemporary American politics. There is even something distinctly spectral in his appearance — the features somewhat pallid, the hair almost shockingly gray, like a Victorian ghost.
Many of us are tempted to commune with spirits. Partly out of courtesy, but also, one suspects, out of sheer boredom, Obama has been inviting aspirants to the Democratic presidential nomination to visit him in his Washington office, rather like the equally gloomy Oswald Spengler did the menagerie of would-be nationalist politicians in inter-war Germany. Very few of the words that have issued forth from the oracle have been reported. While apparently despairing of his party's increasing radicalization (he is reported to have said that he would intervene to prevent Bernie Sanders from obtaining the nomination), he also does not take an encouraging view of the chances of his old chum, Joe Biden. If the story the latter has told repeatedly about asking Obama not to endorse him is true, it would appear that the request was unnecessary. Were they ever really friends, I wonder?
Subscribe to The Week
Escape your echo chamber. Get the facts behind the news, plus analysis from multiple perspectives.
SUBSCRIBE & SAVE
Sign up for The Week's Free Newsletters
From our morning news briefing to a weekly Good News Newsletter, get the best of The Week delivered directly to your inbox.
From our morning news briefing to a weekly Good News Newsletter, get the best of The Week delivered directly to your inbox.
Obama finds himself in a somewhat vexed position. On the one hand, he would prefer not to see someone like Sanders or Elizabeth Warren face Donald Trump in 2020. But the candidate who still appears to be in the best position to oppose hardline progressives within the Democratic party is Biden, even as he embarrasses himself in debate after debate and his campaign finds itself short of the funds necessary to run the sort of operation expected of a front-runner. It may well be the case that following twin defeats in Iowa and New Hampshire, where his poll numbers are faltering, Biden is able to hold on in South Carolina, and to repeat this success on Super Tuesday. The math is still very much in his favor. But that does not mean that Biden is mentally or physically up to the task of a demanding general election contest against the seemingly inexhaustible Trump, much less to the diurnal rigors of presidential life. Obama understands this perhaps better than anyone save Biden's own family, who seemingly do not care.
So what can Obama do? Even he appears to have acknowledged that it is too late for someone like his friend Deval Patrick, the former governor of Massachusetts, to enter the race and win the nomination on a health and sanity ticket. If Biden collapses (figuratively or otherwise) and someone like Sanders or Elizabeth Warren appears, would he actually speak out publicly against them? If he did, would he be acting on behalf of his party and his country, or narrowly in defense of his own political legacy, such as it is?
In order to answer that question it is necessary to arrive at some kind of definition of what we mean when we talk about the consequences of Obama's presidency. It has become a truism lately that Obama has fallen out of favor with his party's base, particularly among younger progressives. This is somewhat belied by the fact that he is not only the most popular living politician in America but also among the most admired men in the world according to public polling. As usual, our opinion makers forget that there are millions of rather ordinary Democratic voters who revere the former president and are at best skeptical of the party's leftward ideological trend. (Many of them are black.) For these voters, Obama is not simply the president who (for example) expanded Americans' access to Medicaid; he is a symbol of something almost ineffable. In this sense the modern president he resembles most is his immediate successor, whose actual accomplishments in office will always matter less than what his election itself represented.
So is Obama's legacy dead? In one sense, I think the answer is yes, and not because 20- and 30-something activists are demanding Medicare-for-all.
It would be difficult to think of a more transformative decade in American history than the one that encompassed most of Barack Obama's presidency. When the freshman senator from Illinois took the oath of office, the iPhone was a relatively new technology, one that could not even be used outside of major metropolitan areas. The nasal drone of a dial-up internet connection could still be heard in millions of homes. Same-sex marriage was a fringe cause that had been rejected by voters in solidly blue states, including California. The price of gasoline was much higher than it is today, and there seemed to be no choice but to invest in alternative sources of energy. New albums sold millions of copies on CD. Motion pictures were shot and exhibited on film. Netflix was a service used to send people DVDs in the mail, which some people found slightly more convenient than going to Blockbuster. Amazon was an online bookstore. Google was a search engine like Yahoo, which Microsoft attempted to acquire for $44 billion. Facebook was a novelty mostly beloved of college students, not one of the world's largest publicly traded corporations. Twitter, too, was a curiosity and Instagram did not exist. YouTube was a Wild West of pirated material, lately in competition with something called Google Video. The leadership of the Democratic party was committed to building a wall across our southern border. Russia was an emerging diplomatic partner of the United States. Benedict XVI was at the beginning of his papacy. General Motors was bankrupt. The global economy appeared on the verge of collapse.
Set beside the sweeping changes that occurred over the course of his presidency, Obama's actual achievements in office — the auto bailout, "Cash for Clunkers," the passage of the Affordable Care Act, DACA, the Iranian nuclear deal, winning a Nobel Peace Prize — seem mostly insignificant. They certainly do not live up to the scope of his ambitions as a newly inaugurated president who spoke incessantly about "the fierce urgency of now." The wars in Afghanistan and Iraq did not end. Guantanamo Bay did not close. Libya needlessly became a hellscape, Mubarak fell in Egypt. The relentless financialization of the economy, the decline of wages for working-class Americans, the concentration of wealth in the hands of a vanishingly small portion of the population, the subsuming of ordinary human social interaction into technology, the addition to cheap consumer goods made abroad, the spoliation of the planet, the epistemic disjuncture between right and left, the growth in racial animosity — all of these continued apace, and the actions necessary for their arrest or reversal eluded him.
It is this curious paralysis in the face of a country — and a world — evolving too rapidly that I think constitutes Obama's real legacy. Whatever else might be said of it, it is certainly not dead.
In a famous letter written while he was a young student, Obama declared his sympathy for "a certain type of conservatism which I respect more than bourgeois liberalism," a "reactionary fatalism" that he identified with T.S. Eliot. This self-assessment was remarkably prescient. Many decades later it is difficult not to see Obama as a distinctly Prufrockian figure, brooding, anxious, obsessed with hesitations and misapprehensions of which he is only too painfully aware:
Want more essential commentary and analysis like this delivered straight to your inbox? Sign up for The Week's "Today's best articles" newsletter here.

Continue reading for free
We hope you're enjoying The Week's refreshingly open-minded journalism.
Subscribed to The Week? Register your account with the same email as your subscription.